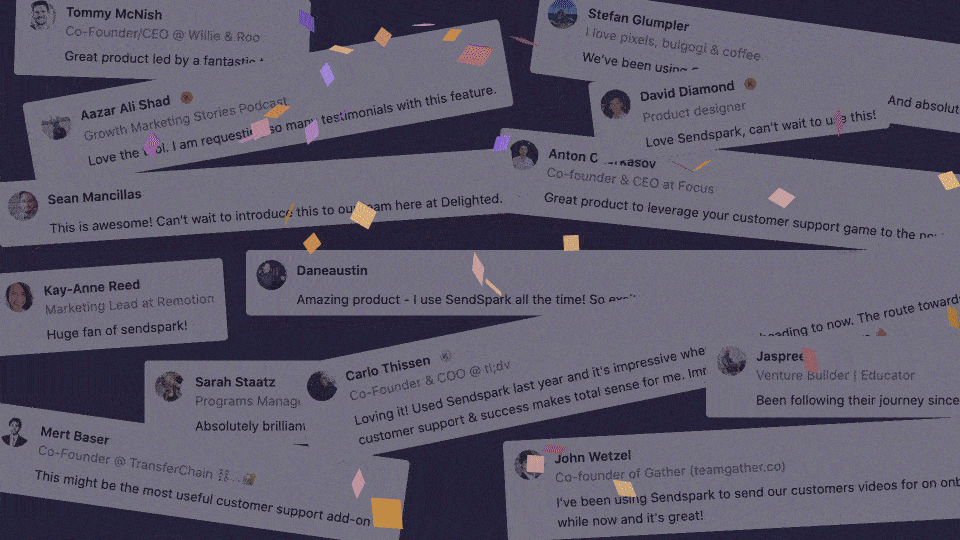 In a flash, our Product Hunt launch has ended.
The race to the top was close, but in the end with all of your support, we made it to #1 Product of the Day, August 03, 2021 (a first for Sendspark) and we could not be more excited! (Shout out to Hyperbeam! It was close!).
Seeing all the feedback and how you've used the new feature has made us so happy. This is just the beginning for Request Video, and we'll keep improving it with your feedback.
Thanks for all your support, and until we launch again, see ya 👋
Here were all of the great products that made the top five:
1. Request Video by Sendspark
Request Video helps you get videos from your customers. Just send someone a link to instantly get customer testimonials, video feedback, support issues, and more.
2. Hyperbeam
Bootstrapped to over 1 million users, Hyperbeam lets you watch TV or surf the web with your friends -- even when you're physically apart. You can share controls over the show, and even chat, voice, or video while you're watching.
3. AdonisJS
AdonisJS is a fully featured web framework for Node.js. Developers can use it to handle HTTP requests, query the database, authenticate users, upload files, and more.
4. ShuffleAI
A little creepy, but definitely fun -- ShuffleAI lets you chat with famous podcasters (including Naval, the All-In Besties, Kara Swisher, and Joe Rogan) with AI.
5. the upside network
The upside network partners with local creators to make local startup media. They provide creators with all they need to launch and maintain products and newsletters. And, they handle sponsorships and operations to share revenue with local partners.
There were tons of other great products featured on Aug 3rd, 2021. Feel free to check them out (and the new products launched today!) right on Product Hunt.
We're super honored to launch with you, and will continue to cheer for you long term. 🙌 It certainly takes a village to raise a startup.