COVID-19 has thrown the world off kilter. Businesses are shutting down. We're working from home. Our friends are getting sick. And the only way to go is forward.
For those of us who are in growth roles, it is up to us to ensure that business keeps moving forward as close to usual as possible. We must do our part to make sure our customer base continues to grow, our co-workers can keep their jobs, and the economy holds it together.
And we must do this all from our homes, without the usual conferences, events, and in-person meetings we normally rely on to build relationships.
Here are some ways Sendspark can help you continue to grow and engage new customers from home:
Sales & Customer Success
Send personalized video to prospective customers
When you're missing out on conferences and in-person meetings, Sendspark can help you continue to build relationships online. Just record and send video emails to introduce yourself to target accounts. While nothing beats a face-to-face conversation, Sendspark videos can help you cut through the noise in a way an email just can't.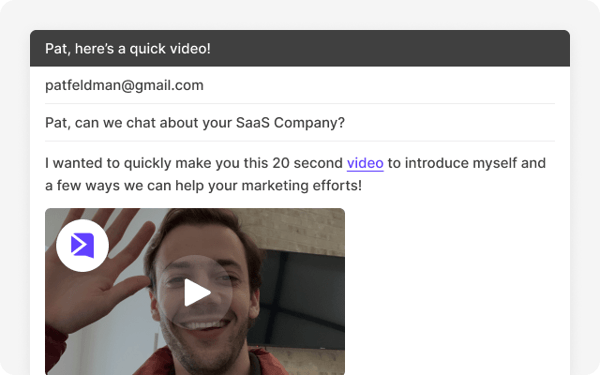 Follow up, personally
Keep in touch with customers or other business contacts with short, friendly videos. Sure, your lighting is poor, you haven't put on makeup. and your home office is messy. We're all in the same boat here. Use this tough situation as an opportunity to connect and bond with potential customers. In this time of social distance, we need human connection more than ever.
Shower customers with love
While customer office visits are not recommended, show customers you care with personalized videos. Share important updates from your company, or just tell them you care, you're thinking of them, and you'll be there when things get worse.
Marketing
Send video updates to your community
Keep your customers in the loop with video updates. Whether you have good news or bad, tell your customer with video. You can record and share a video directly from Sendspark yourself, or you can request a video from someone else on your team, like the CEO or the product manager, to share in your newsletter. Looking for inspiration on what to say? Make a video from a template with Wideo.
Share customer testimonials
Your customers want to hear from other customers. How are they handling similar circumstances? What advice can they share? How are they successfully implementing your product? Request videos from current customers to include in your email or social media communication.
Source videos for virtual events
As an event coordinator, Sendspark can help you collect and share videos from guest speakers online. You can request videos from guest speakers with a Video Request link, and share them with would-be attendees over email, social media, or a virtual event application like Clowder.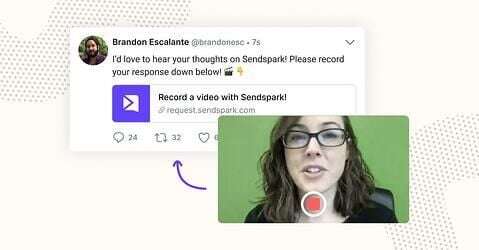 Leadership
Make company-wide announcements
Whether this is a daily update, an inspirational message, or a friendly touch of positive reinforcement to uplift your team members, video can connect distributed team members. As we continue to embrace social distancing, seeing the faces of your team members is both grounding and uplifting.
Request feedback
You're doing the best you can. Let your employees or customers know that you value their feedback by asking for it. Share a video request link, so they can easily make suggestions for you with the click of a button.
Interview job candidates
When you have to cancel in-person interviews but still want to get a feel for someone's personality, invite them to record a video through Sendspark. You can use the video to qualify candidates, and share them with other decision makers in the organization.
Get Started with Sendspark
You are welcome to create a free Sendspark account for yourself or your team. To help out over the next few months, we are cutting our prices in half through August 1st. Please email us at hello@sendspark.com or chat us through the app on the bottom right of our website to redeem the discount.
At Sendspark, we know that the best way we can help the world is by continuing to do what we're best at, and supporting your charge forward. It takes strength to continue forward amidst uncertainty, but we believe in your ability to think intelligently, adapt, and continue forward. We will do everything in our power to support you and honor your contribution to society.