In the wake of COVID-19, medical schools are cancelling revisit weekends for accepted students. While this is clearly the best decision to protect the safety of prospective students and the community at large, it poses new challenges to Admissions Directors who now need to showcase their schools online.
When it comes to choosing a medical school, there are three main factors that students consider:
The Social component - How will they vibe with the student body? Will they fit in and find their people? What is the status of the active student organizations?
The Informative component - Will this program provide the ideal environment with the right curriculum and special programs to thrive in their medical journey?
The Geographical component - Is the city and culture the right fit for their personal needs and hobbies beyond medical school?
Without being able to gather prospective students in-person, it's up to innovative Admissions Directors to figure out how to communicate all of this information virtually for the first time.
Showcase your school with video
Sendspark is a video engagement platform to connect communities online. With Sendspark, you can easily record and share videos with prospective students.
What makes Sendspark different from other video platform like YouTube and Facebook is that you can easily request videos from anyone with a quick-share link. This provides a streamlined process to obtain videos from students, faculty, and other speakers to showcase many faces and voices within the community.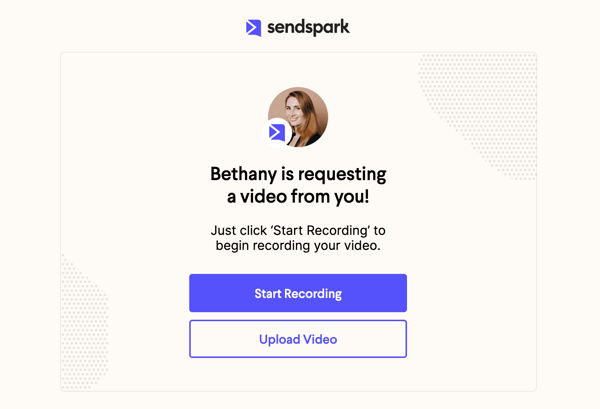 Here are some ways Sendspark can help share your culture and build personal connections with prospective students now and throughout the application process:
1. Build social relationships
Request quick videos from current students to share why they chose your school or answer specific questions from prospective students. The videos capture natural energy, emotion, and expressions to allow prospective students to feel the vibe or your student body.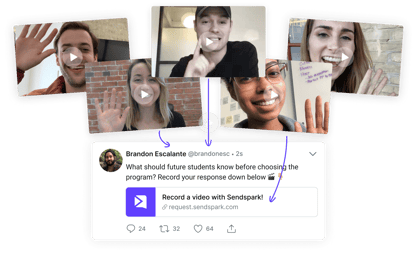 Once you have these videos, you can easily share them through your usual channels - email marketing, private Facebook groups, or even text messages.
2. Share academic information
Capture videos from faculty, program heads, and residency directors sharing the details of their program to convey technical information with a human touch. If you are already planning on having live online conferences through Zoom or Google Meet, Sendspark can be a great supplement by helping you collect and share bite-sized videos that prospective students can engage with at any time and review throughout the process.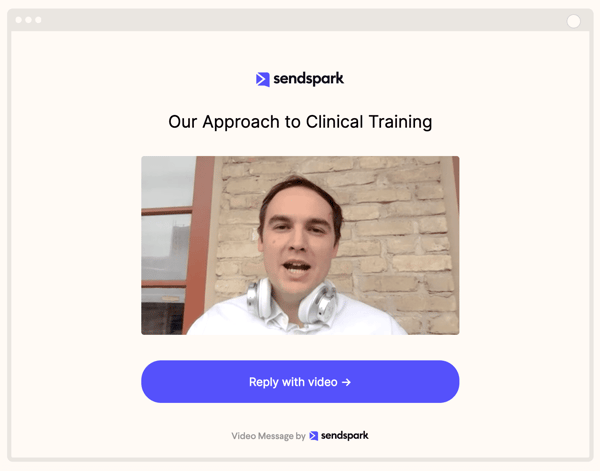 You can also collect bite-sized videos from current students to share their experience and provide prospective students opportunities to connect.
3. Show what it's like to live in the city
Let current students share the details of their daily life - like their living arrangements, cafeteria, or favorite study spots to help prospective students envision their potential future at your school.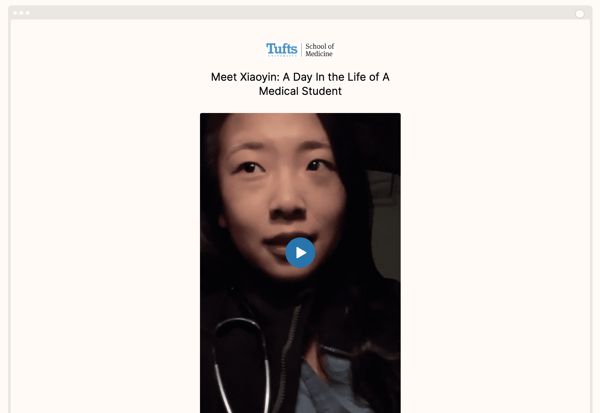 With Sendspark, you'll be able to really show students what their life could look like at your school and build personal relationships - all without an in-person event.
Logistics
Sendspark is made to work within your usual workflow. You can record videos from any device, without installs. You can share videos through email, social media channels, and any of your usual communication channels.
We take security and compliance very seriously and can customize your account to your needs. Please feel free to contact us with any questions through our website chat (bottom right).
Pricing
Sendspark costs $6,000 / year. This includes all features, unlimited videos, and unlimited video requests from students or people outside of the organization.
Getting started
With commit to enroll decisions just around the corner, we know you're pressed for time, so we are taking steps to ensure a swift and effective on-boarding process. We will have your team up, running, and sharing videos with prospective students within an hour of signing the contract.
To get started, chat us through the contact button on our website or schedule a call to learn more.