Artificial intelligence tools (AI) are part of the latest trends in script writing, content writing and blogging. While many content and copywriters might be afraid of AI technology, it's there to help them in their work.
In this article, we will dive deeper into learning more about the best free AI script generators.
Top 6 best free AI script generators
Best Free AI Video Script Generators for Sales
Sendspark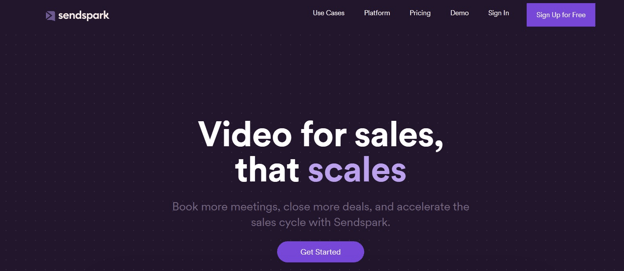 If you want a powerful AI video script generator, Sendspark is the right choice to go with. Sending video messages in email sales will increase replies and engagement rates by up to 300%. However, you need to know what you are saying and Sendspark's AI video script generator has all of the necessary traits needed.
Before you use their AI video script generator, you can choose what you need it for. The five options include:
Prospecting
Follow-up includes two options (Either after a meeting or when not getting a reply)
Welcoming new users
Customer Success
Sendspark offers a demo version, but to see what it offers for free, you need to contact them directly on their website.
Happy Scribe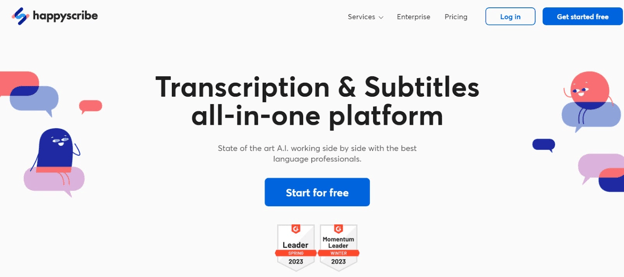 With the rise of social media usage, closed captions are becoming more important than ever. Facts show that around 70% of videos are watched without sound. Having subtitles on your videos is becoming necessary and important. Happy Scribe allows you to use many free options so you can generate these subtitles on your videos and turn them into a script.
Additionally, you can use Happy Scribe to edit subtitles in only a few minutes and it's completely free. Generating subtitles has never been easier and the best part is that you can download them in many different formats. In other words, Happy Scribe offers you the following:
Subtitle editors
Subtitle converters
Hardcode subtitles
Scalenut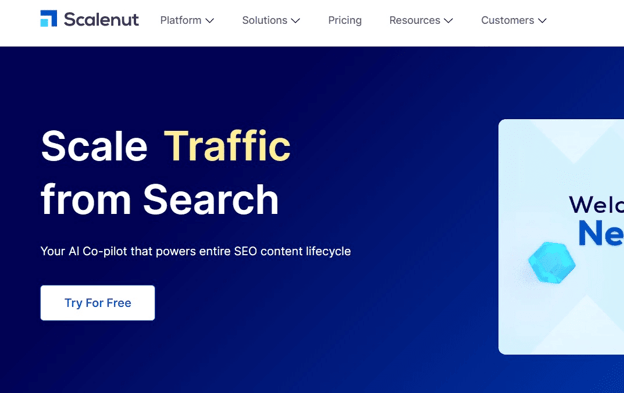 If you're a website owner or someone who is looking to rank higher on Google, Scalenut is an excellent option for you. Scalenut offers SEO options that you can use for optimizing your articles at the maximum level for search engine visibility.
Scalenut's AI technology analyzes all of your current content and provides you with topics and brief suggestions. Additionally, it can find you all of the SEO-friendly keywords you need for improving your site's search engine ranking.
Scalenut has a unique copywriting tool that generates articles and scripts in a matter of minutes, allowing you to customize them when needed. Overall, it's easy to use and once you enter an SEO keyword, it will generate a SERP overview of the competition and provide you with content suggestions such as images, meta tags, links, key terms and the word count.
Scalenut's key features include:
Cruise mode: Allows you to create articles from the title to the conclusion in a few minutes.
Content optimizer: Creates SEO-optimized content for specific keywords based on the competitive analysis.
AI copy and content writer: Has more than 40 templates you can use for personalizing content.
Copyscape: Allows you to verify that the content is original and not copied.
Scalenut is free forever and allows you to write up to 2000 AI words per month and you can activate it even after your one-week trial ends. You get up to two SEO reports, 40 AI tools, content grading, competitive research, content briefs, a Chrome extension, and more.
Comparison of the three tools
Consider that all three tools are free, and each of them serves for sales in their own way. If you are looking to convert audio-to-text and are into subtitle editing, Happy Scribe is the right choice for you. This is mainly if your target audience is international and you are aiming to grant them subtitles in their local language even if they don't speak the language the video is offered in.
On the other hand, if you want to send video messages via email and are concerned about selling through videos, Sendspark is the top choice to go with. As we mentioned before, email sales will increase engagement rates by 300% and Sendspark is an excellent choice for creating video welcoming scripts for your email, follow-ups, prospecting, and more.
Then, we have Scalenut. Scalenut is the better choice if you are not planning on generating too many free AI words each month and want to expand your SEO rankings on Google.
Best Free AI Video Script Generators for Marketing
Copy AI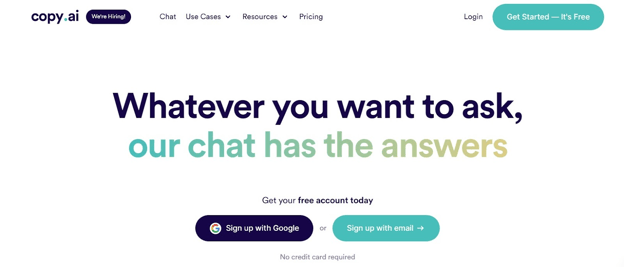 Copy AI has an excellent scriptwriting tool that can help you create storylines. Recently, they introduced GPT-3, the latest algorithm for natural language processing (NLP). The second you start using the tool, it'll analyze the story, topic and story (script) you are trying to write. Afterward, it'll create a list of scripts you can use based on your inputs.
Key features of Copy AI include:
Free templates for generating stories. The more specific your details are, the better your story will be.
Natural language processing takes much less effort and time for editing your stories and will give them more time to focus on important aspects of the story.
Whether it's long-form storytelling, Copy AI can easily write at the same level a professional content and copywriter would.
It can serve as a Chrome extension, making it easy for generating scripts on Google Docs and other applications.
Copy AI is free to use, but for only 2000 words per month. If you exceed this limit, you'll need to pay up to $36 per month.
ContentBot.Ai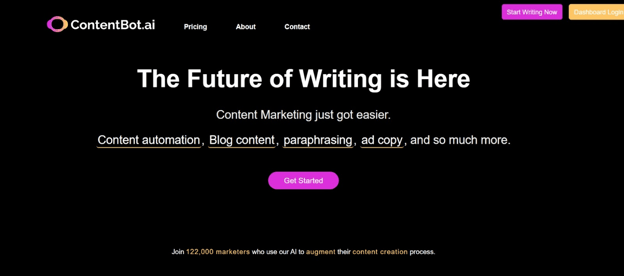 ContentBot.ai is one of the best free AI script generators you can use. Over the years, they've brought many improvements in the writing industry and are highly benefiting copy and content writers, marketing agencies, and more.
ContentBot is considered an advanced AI writer and is an excellent choice for both short and long copy. Their recent innovation has been a button called "Blog Shot", which allows you to create an entire blog post just by pressing that button.
Additionally, the platform has a drag-and-drop blog post builder that allows you to create high-quality articles by dragging content blocks in the editor. Overall, ContentBot has many features and offers you the following:
Blog Shot: An entire blog post only by clicking the button.
Blog Wizard: Gives you the power to guide the AI in creating a blog post.
AI Writer: Drag and drop blocks that you can include in blogs and articles.
AI paraphrasing tool: Rewriting all long-form content.
SEO tools: Keyword insights and reports you can use.
Plugins: Directly used from WordPress.
Marketing form of copy: This includes landing pages, ideas, Facebook and Google ads, headlines, video descriptions, slogans and more.
Social media content: Photo captions, sales copy on social media descriptions, and more.
Any feature of the platform has free access and you get 5000 free words for AI writing, but an extra 30,000 words if you leave them a review on G2.
Writesonic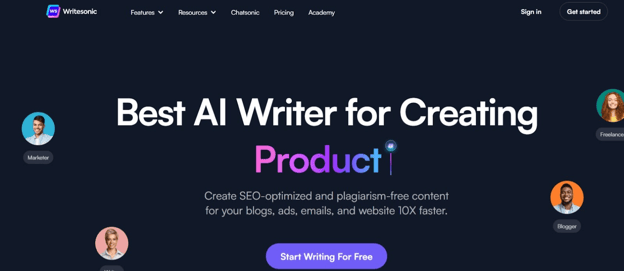 Writesonic is a common name that many content and copywriters know of. The reason many people use this exact platform is because of how many more features and flexibility it offers compared to other free AI script generators.
Additionally, Writesonic greatly differs in their content quality in both their free and paid plan. Writesonic has a special feature called ChatSonic, which is an AI conversational chatbot that includes the most recent Google data and adapts to different personality levels. In other words, ChatSonic is also known as an alternative to ChatGPT. However, many people still don't know about it. Chatsonic's personality levels include:
Poets
Interviewers
Astrologers
Philosophers and more
Moreover, the platform has more than 100 AI templates and allows you to generate scripts and blogs in only a few clicks. Key features with Writesonic include:
More than 100 templates: Allows you to generate scripts, emails, social media posts and much more.
An AI script and article writer: Create an entire script and article in a few seconds.
Photosonic: Allows you to generate AI art from inputting texts
Can create content in more than 25 languages
Surfer SEO integration: Integrates the platform with surfer SEO accounts for optimizing your content and increasing SEO rankings.
Chatsonic: Engages in conversations and answers questions instantly.
The platform is free to use forever and allows you to generate up to 25,000 words monthly. However, if you choose the "Premium quality" content generator, the amount of monthly free words will decrease to 22,500.
Comparison of the three tools
Comparing the three best AI script generators for marketing, we can start out with GPT-3 which belongs to Copy.ai. It's considered an excellent option if you are trying to tell a story that is persuasive and you are looking to create a script from it. Based on the inputs you give it, that's the type of story you'll get.
Afterward, we have Contentbot.ai, which has blogshot. If you are a marketing agency that wants to create content as fast as you can, Blogshot is the right choice for you. In this case, you should go with contentbot.ai.
The third tool is writesonic which uses chatsonic. Chatsonic likes to chat and adapts to different personality levels. Let's not also forget that writesonic offers you a free plan of generating up to 25,000 words per month, more than the competitors.
If you need a conversational AI chatbot that can adjust to different personalities and need to put out more than 10,000 words of content each month, writesonic is the best choice to go with.
What we learned
There are many AI content generators on the web, but not all of them offer you the same free features. Therefore, we managed to gather the best free ones and recommend them to you. Of course, there are hundreds of content generators out there, but no matter which one you choose, always deeply analyze what it offers and if it's worth the cost or not.
After all, it's not just about generating a script or any other type of content, but making sure the ones you are generating are high-quality.
If you're looking for an AI subtitle generator for your sales content, look no further than our reliable tool. Book more meetings, close more deals, and accelerate the sales cycle with Sendspark.