Suffering from Loom gloom? Check out our comparison of the seven best Loom alternatives!
Loom isn't one of the best-known screen recording and video messaging apps out there by chance.
It's a great product that meets a need that more and more people on remote teams have been discovering - mainly since Covid-19 put most of the world in lockdown.
That is, the need to create and send quick, off-the-cuff messages to customers and co-workers. And there's no format better for that than video.
But Loom doesn't do everything, and finding the right Loom alternative for your business can be a tricky task.
So we've made it easy for you!
First of all, we'll look at what's good and not-so-good about Loom. And then we'll set it off against six competitors:
Why Look At Loom Alternatives?
Let's face it: Loom does some things brilliantly, and some that it doesn't do well or even at all.
So we'll set the scene with a quick assessment of Loom itself.
Where Loom Excels
Loom is easy to use
Loom definitely owes some of its popularity to its ease of use. With a Chrome extension and a desktop app, it's very easy to start using Loom online or off. The UI is intuitive for recording, editing, sharing, and managing your videos.
Loom has a free plan
You can record up to 25 videos of up to 5 minutes in length. There are some fun effects in the recorder. You can trim videos, you can download your videos, and there's a good suite of sharing options.
Loom has some cool features at a low entry price
When you install Loom, you get a 15-day Business package trial that lets you test out their premium features without spending a dime.
Some of those features are:
in-video drawing tools
filler word removal
transcriptions and subtitles
custom branding
landing page calls-to-action
An unlimited number of videos and video length
And at $8 per user per month, Loom is very affordable.
Where Loom Falls Down
Loom is very general
As we'll see, Loom does a small number of things really well - but there are a lot of things it just doesn't do. Whether that's a problem for you depends on your priority use cases.
Loom looks "Loom-y"
Videos are heavily branded with Loom's branding and calls-to-action for your viewers to sign up for Loom. This is great for Loom, but not as great when you want to send videos to your own customers!
Loom is slow for sales prospecting
With Loom, every video needs to be created from scratch. They do not have any functionality around templates or customizing existing videos, so it is slow if you need to create a lot of similar videos (for sales outreach, welcome videos, or other types of repetitive communication).
Comparison Use Case: Customer-Facing Sales and Marketing Videos
Which Loom alternative is the right one for you will obviously depend on how you plan to use a screen recording and video messaging platform.
One area that loads of people use Loom for is recording and sharing quick videos with prospects and customers as part of sales, marketing and customer success processes.
Personalized video messaging should be a no brainer for customer-facing teams, right?
Right.
So that's the test we're going to put these Loom alternatives to.
Best Loom Alternatives #1: Sendspark
We started Sendspark because - as marketers - we wanted a way to share videos with customers that looked more branded and professional, and integrated better within existing customer communication workflows.
Loom is a screen recorder first and foremost, with messaging tacked on. Sendspark has been designed from the ground up to focus on every aspect of customer-facing video messaging.
Let's Compare Sendspark to Loom…
For Ease of Use
Loom's easy to use, but Sendspark is even easier:
Sendspark's options for sharing videos are totally consistent: you copy a link or an embed code and paste it where it's needed. Loom generally relies on inline workflows, but when you want to add an animated GIF preview to an email, you have to copy and paste it across.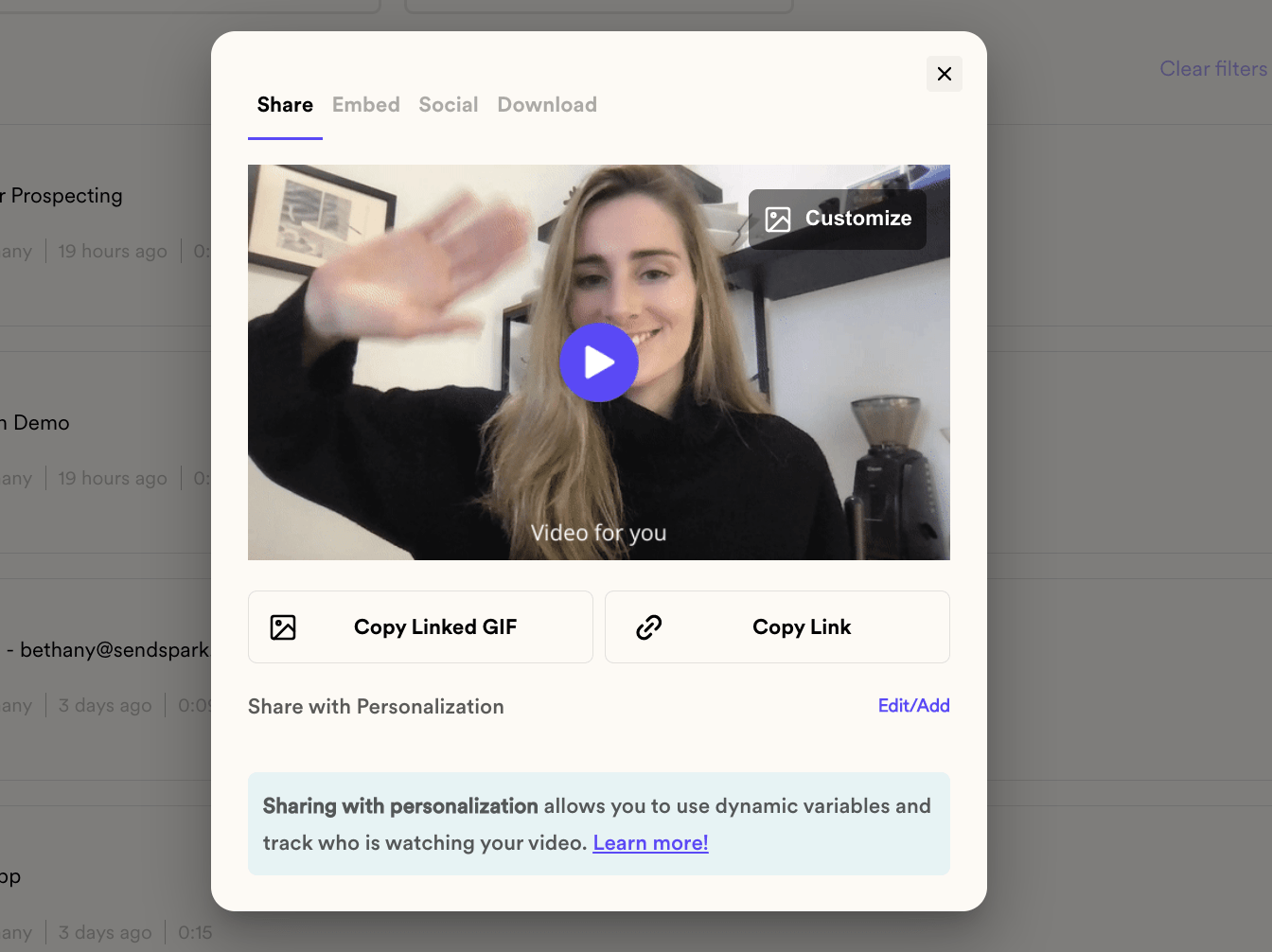 Sendspark's customization page is clearer and cleaner.
Sendspark lets you create and save video templates. This is brilliant for building out multi-stage message campaigns or for messaging large numbers of people. Loom doesn't have anything similar for saving you time as you scale up your messaging.
Sendspark has made it really simple to embed your videos into third-party message automation platforms like

HubSpot

, Outreach, SalesLoft, Reply, MailChimp, ConstantContact, Customer.io etc - explaining what you need to do in the sharing modal and in

an extensive Help Center

.
Sendspark lets you add dynamic variables to personalize videos at scale. This makes Sendspark a lot stronger for sales prospecting, or anytime you want to send auto-personalized videos out.

Sendspark lets you combine videos, so you can record personalized videos on existing videos to personalize what needs to be personalized, and re-use core content to move fast. This makes Sendspark a lot more scalable for sales outreach, user onboarding, and customer support.
For Branding
This really is Sendspark's strong suit. Loom doesn't come close.
We've already mentioned how "Loom-y" Loom video landing pages look, even when they're customized and branded. Sendspark gives Pro users a lot more control over how their pages look - e.g. logo size, colors, call-to-action buttons etc. All this makes a big difference to recipients, who will pay more attention to distinctive-looking content!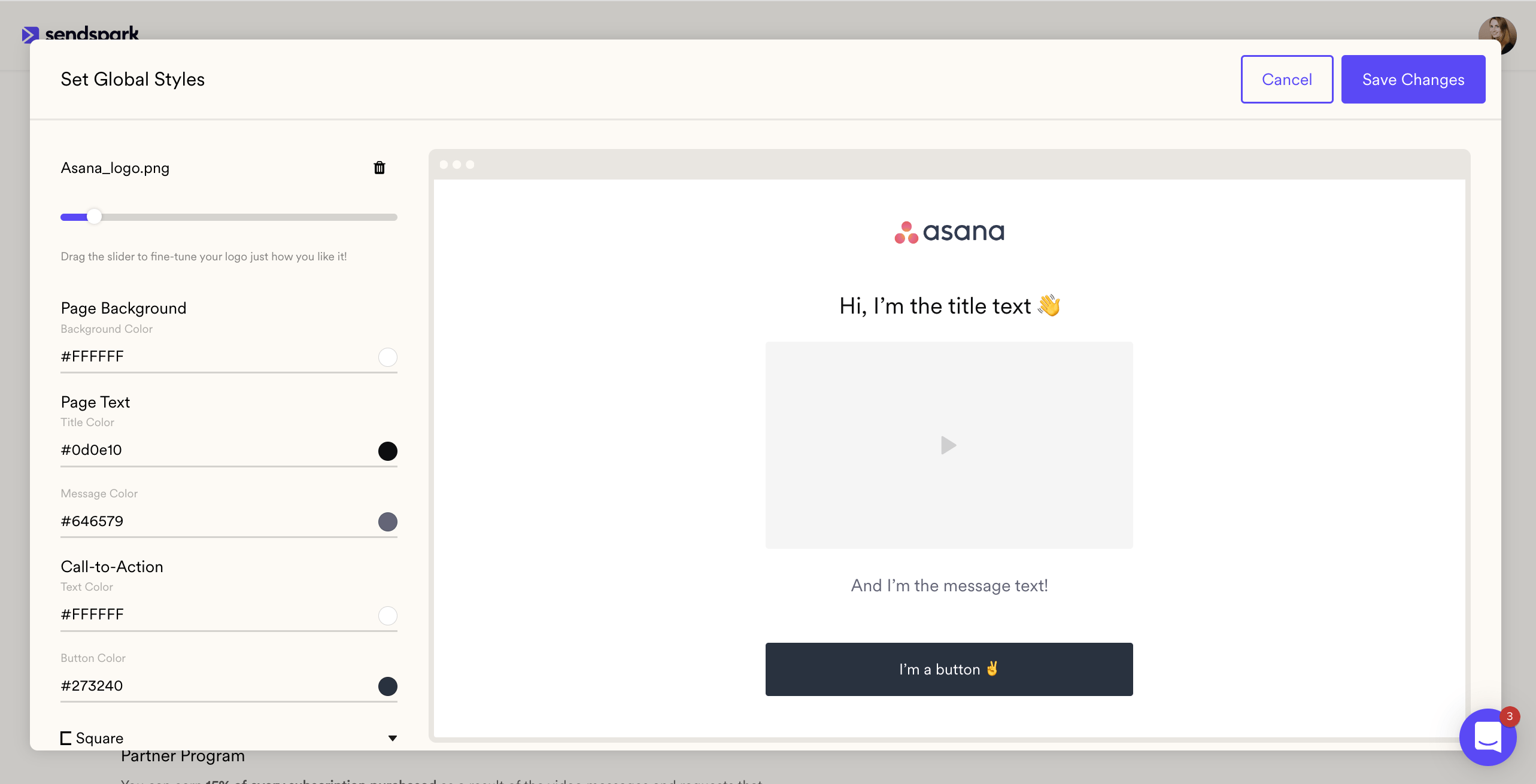 You can totally white-label your Sendspark content by using a custom domain. This is a feature Loom just doesn't offer.
Again, Loom doesn't help your messages to stand out from the rest of the video crowd. Sure - you can add or upload an animated GIF preview for emailing. But Loom doesn't let you customize the auto-generated preview GIF in-app, so they end up looking the same. Sendspark doesn't have this problem: you can customize your previews in-app, adding logos and captions.
Sendspark helps you to get your correspondents video messaging you! It has a fantastic "Request Video" feature, which sends a link to contacts and allows them to record a video in response without downloading or installing anything. This is great for getting testimonials or just facilitating real conversations.
For Video Editing
Sendspark and Loom both have fast, lightweight video capabilities, including:
If video editing is a bit part of your workflow, maybe look at some other options.
For Other Features
Both tools are focused on screen-recordings and video messages, so they are not weighed down with many features not covered above:
Sendspark offers custom domains for the ultimate in branded, tailored video. Loom does not.
Sendspark offers features for video personalization at scale, which makes it stronger for sales outreach and customer communication.
Both offer good, solid analytics dashboards for seeing how your videos are being received.
For Price
Both tools have free and paid-for price tiers.
Loom provides 25 videos per month in the free package and restricts video length to 5 minutes.
By contrast, Sendspark gives you 30 videos and no time limit.
At $12 per month, Sendspark's entry level package is a little more expensive than Loom's - but the features provided differ, making straight-up comparison tricky.
Best Loom Alternatives #2: Veed
Veed is, first and foremost, video creation and editing platform. Of all the tools we're looking at, Veed lets you create the most polished and distinctive videos. It also has messaging capabilities, which pits it as a legitimate Loom alternative.
Let's Compare Veed to Loom…
For Ease of Use
Veed is definitely more challenging to use than Loom, but that's because it has way more functionality.
Like Sendspark, one click on Veed's extension takes you directly to the recorder. But that's offset by not having sharing and download options on the same page as the editing functions - you have to click back and forth. Loom has everything in one place, which is handier.
For what it's worth, Veed has a really straightforward UI. I found it a lot of fun to use!
For Video Messaging
Messaging is not Veed's strongest suit. It feels a bit like it's tacked on top of the app's real purpose (editing).
Using Veed's in-app sharing features just gives you a link to paste into an email or social media. It does not produce animated thumbnails of the sort Loom, and Sendspark create. In fact, you don't get any preview image at all if you share on social platforms (see below).
Beware: when Veed offers you a "download as GIF" option, it actually converts the entire video into a silent GIF! If you want any kind of preview to share, you'd have to create it in another app.
Using the email share option in Veed forces you to use Outlook, which is not to everybody's taste!
For Video Editing
This is where Veed is outstanding - especially compared to Loom's super-basic functionality.
As well as trimming your footage, Veed lets you overlay graphical elements like emojis, waveforms, logos, etc., and select when they appear. It allows you to transition between background images. It lets you draw on the screen and add effects during the editing process, not just during the recording.
In Veed's free package, you can add subtitles automatically, manually or from an upload file - although the auto-generated subtitles will almost always need to be edited. This is a premium-only feature in Loom.
For Other Features
Veed's focus on customization and quality gives it an edge here as well.
On the paid packages, you get higher resolution video options and audio cleaning.
On the Pro package, Veed has a beta tool for translating subtitles into more than 50 languages.
For Price
Both Loom and Veed have free packages available.
On the free tier, Veed lets you create an unlimited number of videos, with a maximum length of 10 minutes (compared to Loom's 5 minute/25 video cap).
At £10 per month per user (around $14), Veed is a lot cheaper than many comparable video editing tools, but it's not as cheap as Loom.
Best Loom Alternatives #3: Nimbus
Nimbus Note is primarily a note-taking app. We've included it here because it does have screen recording and messaging features like Loom. But if that's your main use case with Nimbus, maybe think again.
Let's Compare Nimbus to Loom…
For Ease of Use
Loom is definitely easier to use. I found it hard to locate the "activate webcam" setting in Nimbus, which led me to think it didn't have that functionality at all at first.
Nimbus' UI is dated-looking and confusing, compared to Loom's clear and intuitive layout.
Anybody using the free version of Nimbus will quickly get frustrated at how often they are stopped in their tracks by a pop-up warning that the thing they're trying to do is only for premium users!
For Video Messaging
Nimbus is designed for sharing messages ("Notes") inside an organization's workspace.
If you want to share a video outside the Nimbus platform, you have to upload a file to somewhere else (e.g., Google Drive) and then share it from there.
And you can only upload to Google Drive on the paid packages…
Nimbus is not really a viable option for sharing video messages outside your own company.
For Video Editing
While you can only trim your recordings in Loom, Nimbus has zero editing capabilities in its free version.
On the paid packages, Nimbus lets you crop and trim videos.
And that's it.
Irritatingly, it lets you select edits you want to make but then tells you to upgrade when you try to save them.
For Other Features
OK, this is not exactly an "apples and apples" comparison. Nimbus is doing something rather different from Loom, and maybe that's what you need. If you already have it for other purposes and you're only sharing videos internally, maybe it could stand in for Loom, Sendspark, or Vidyard GoVideo.
Nimbus' recording tools are really part of a wider screenshotting toolset called Nimbus Clipper. If you want to create and share dynamic screenshots, that's what Nimbus is really for.
Nimbus has image and OCR text recognition for scanning documents and pages; it lets you export screenshots as PDFs, etc.
It comes with the whole "Notes" messaging infrastructure we've already mentioned.
For Price
At $4 per user per month, Nimbus is cheap and offers unlimited recordings.
But Vidyard GoVideo offers that for nothing!
The editing tools available to paid customers are only as good as Loom's free tools.
Best Loom Alternatives #4: Bonjoro
Bonjoro looks like Loom at first glance, but it's more complicated than that. It incorporates a whole CRM-lite system, making it great for salespeople to send out messages to prospects in bulk and across multi-step campaigns.
Let's Compare Bonjoro to Loom…
For Ease of Use
As a complex sales funnel management tool as well as a screen recorder, Bonjoro needs a fair amount of setup before you can start using it. Their primary onboarding flow estimates 14 minutes, but it took me a lot longer.
You have to add contacts into Bonjoro, and each one is a six-click process.
You also have to customize your landing pages before sending a video - even a test video.
You will frequently come across this rather unhelpful "empty state" screen until you have done a lot of setup work.
For Video Messaging
It depends. For sustained messaging campaigns across large numbers of people, Bonjoro's CRM features make it the best Loom alternative in this blog. For a one-off, off-the-cuff, personalized messages… not so much.
Unless you connect your email address to your Bonjoro account (which can't be a Gmail or other public domain address), emails from the platform come from a Bonjoro address - which is really impersonal and likely to be left unread.
Bonjoro's "Roll-Ups" tool for creating template messages and landing pages is great when you need to send a lot of similar messages (like Sendspark's message templates).
Bonjoro lets you set up team inboxes within a workspace so that different people can collaborate on the same campaigns.
But, if you just want to send a message to somebody, it's not easy!
For Video Editing
Bonjoro has a slight edge over Loom here, but it's not in the same class as Veed.
Recording and editing options are basic but easy to use.
Video landing page customization is better than most Loom alternatives we've looked at, but it's annoying to have to set them up in advance!
Unlike Sendspark, Bonjoro gives you no option to customize animated GIF thumbnails in-app.
For Other Features
Again, as it is doing something rather different from Loom, Bonjoro has more extra features.
Bonjoro's CRM features are definitely handy - it's valuable to have contacts' interaction histories, lead scores, etc., visible when messaging them. But is it really an alternative to a comprehensive CRM solution?
Bonjoro has translation features, which Loom does not.
For Price
Bonjoro doesn't have a free package - just a 15 day free trial of the Pro plan, which costs $33 per month.
Per-user, Bonjoro's Grrrowth plan is actually better value than Pro, at $79 per month for up to three users. And as a collaborative tool, Bonjoro is more useful with more users in an organization.
Even so, this is a pricey tool that will be too expensive for many businesses.
Best Loom Alternatives #5: Vidyard GoVideo
Vidyard's free tool, GoVideo, competes directly in the same space as Loom. We put Vidyard itself head-to-head with Loom in an earlier blog, so this time we'll just compare Loom to GoVideo.
Let's Compare Vidyard GoVideo to Loom…
For Ease of Use
While their UI's are very similar, Loom just wins out with a simpler, more intuitive interface.
While their browser extensions and recorders are comparable in simplicity, Vidyard GoVideo's editing and sharing home page has weird navigational quirks, with options in all four corners of the screen.
Vidyard is often criticized for being confusing, but users really praise its customer support. I didn't find it confusing as such, but it was definitely less straightforward than Loom.
For Messaging
Really hard to separate the two. Vidyard GoVideo and Loom do more or less the same things, so it'll depend on individual taste.
Personally, I prefer the consistency of Vidyard's messaging workflow. All sharing options are implemented inline, whereas Loom makes you copy-and-paste certain elements. Sendspark's consistent but the other way around.
Vidyard's video landing page customization options are more extensive, although most of the best features are restricted to paid users.
One point where Loom's landing pages win, though, is the inclusion of emoji reactions and replies on the free tier.
For Video Editing
Video editing functionality is pretty much identical - that is, basic.
Vidyard GoVideo has some in-recording drawing tools which are only available to paying Loom users.
For Other Features
Vidyard GoVideo is part of the wider Vidyard video platform. If you're interested in those other features, check out our earlier blog.
For Price
Well, Vidyard GoVideo is free by definition… and it has some tasty features as well.
No limits on monthly recordings and a maximum recording time of one hour
Only five videos per month can be embedded - something that Loom, Sendspark, Bonjoro, and Veed don't restrict at all.
Best Loom Alternatives #6: ClickUp Clip
ClickUp is first and foremost a project management tool (think Monday, Basecamp, etc - only better). However, it does include a screen recording tool called Clip which earns ClickUp a place on this list or Loom alternatives.
Let's Compare ClickUp Clip to Loom…
For Ease of Use
There's no doubt that Loom is easier to use for a total novice than Clip. Loom launches its recorder from a browser extension. With Clip, you have to create a recording in the context of a task. That extra complexity is just inevitable for a tool that has way more functionality and that aims to fit recording natively into a whole load of other team and project management workflows.
If you just want to film yourself and send that over social or email - Loom's great (although it's not as intuitive to use as Sendspark, in our opinion). But if you want to use it alongside chat, to make annotations, to attach to tasks, etc, you'll have to use other software or integrate Loom yourself.
For Video Messaging
Clip lets you share links to your videos in the ClickUp workspace, or download them to send onwards. It is not geared towards video messaging in the same way as Loom (that's Loom's primary use case).
For Video Editing
Like Sendspark, ClickUp Clip does not position itself as a video editing tool - and so it doesn't include any functionality in this respect.
Loom's minimal capabilities (trimming the beginning and end; a few in-recording effects) will not be of interest to anyone looking to create really polished recordings, but they do give you a few options that ClickUp Clip doesn't.
For Other Features
Clip beats Loom hands down for other features. Although the screen recorder lacks some of the functionality Loom offers (no webcam, no video editing), that is outweighed by the many other features that make up the ClickUp offering as a project management and productivity tool.
The use case Clip is optimized for is using video to communicate about collaborative tasks within the ClickUp ecosystem. For that, it's ideal.
For Price
Clip wins here, from our point of view.
ClickUp's free forever plan includes unlimited Clip recordings with no time restriction (just a 100MB storage limit), as well as all the other apps that make up the suite
At the basic $5 per month level, that cap on storage is removed
Loom's free package, as we've seen, restricts to you 25 videos a month of no longer than 5 minutes' duration
The Loom Business package costs $8 a month and adds only a handful of extra features
Best Loom Alternatives #7: BombBomb
BombBomb is a platform for video email, with an inbuilt email design feature and contact list. Let's see how it stacks up against Loom!
Let's compare BombBomb to Loom
For Ease of Use
BombBomb is harder to use than Loom, although its feature set is perfect for many people (especially video email users). The dashboard is clean (if not easy to navigate). You need to download a separate app to enable screen capture, which isn't very practical.
With BombBomb, it's not immediately obvious how to record screen recordings. It looks as though you can only record audio and webcam-style video. You need to download a separate piece of software called 'BombBomb Screen Recorder' to enable screen capture. This isn't the case with Loom, which gives you everything in one package.
The interface takes a little time to figure out. It's not overwhelming, you can find everything easily; the main menu appears at the top of your screen. But it's harder to figure out BombBomb than Loom when you're getting started.
The video recording tools are straightforward in both Loom and BombBomb. You won't get lost trying to figure out what to do before, during, or after making your video.
For Branding
BombBomb is designed to send video emails. There's an inbuilt email design feature like you'd find in email campaign platforms such as Mailchimp or Convertkit. Loom gives you few no branding options (for most subscription tiers). Everything you record and upload with Loom will display their branding very visibly.
With BombBomb…
You can create a branded email that using a drag and drop interface. You can change the 'from' email and subject lines with ease.
BombBomb doesn't have much in the way of video branding. You can't change the header, background color, or the call-to-action button (aside from switching it on or off). However, you can add a call-to-action button top of a video which is a nice touch.
Neither platform has particularly good branding. BombBomb lets you customize emails, but only to a degree. Loom lets you create templates, but your ability to customize these is limited at best.
For Video Messaging
Loom is a top video messaging app. Although it has its own negatives - videos fail to upload frequently, for example - it's excellent for video conversations.
That being said, BombBomb is no slouch either. The main difference is that BombBomb is optimized for email conversations, where Loom works with social messengers, apps like Slack, and more.
The 'send' option on BombBomb is just another way to open up the email editor. To share elsewhere, you need to click the 'share' icon. This doesn't feel smooth. Loom's recording sequence is more intuitive.
BombBomb's secondary sharing features are the same as Loom's - you can click to copy a URL or grab the embed codes. With these you can share directly to Facebook, LinkedIn, or Twitter with a single click.
BombBomb offers privacy settings, meaning you can choose whether your video is public or password-protected. We thought this was a nice touch.
BombBomb lets you personalize video messages with templates. The 'share with personalization' feature lets you embed videos in platforms like Hubspot or Convertkit to send video at scale.
For Video Editing
Neither platform is designed for video editing. There is little in the way of customizing a video once it's recorded on both Loom and BombBomb. However, BombBomb does let you trim the video and customize the thumbnail.
For Other Features
BombBomb includes a contact list option for 'Plus' accounts. This makes sense as the platform is made with email communications in mind. You can add contacts individually or bulk-import them from a file, then send messages out at scale.
For Price
For both BombBomb and Loom, there are three paid tiers, but only Loom offers a version that's free indefinitely. BombBomb offers a 7-day free trial, which is time-limited (but requires no credit card).
BombBomb is built as an email video tool, but the main email designing features are only unlocked at 'Plus' plan or higher, which makes the 'Essentials' plan feel a little lacking on features, especially at $33 per user, per month.
Conclusion
It all comes down to your use cases.
For quick, customized messages to prospects and customers, Sendspark is the best Loom alternative we've looked at.
For making awesome-looking videos with a little bit more time and effort, Veed is a real contender.
In the context of an entire integrated productivity suite, ClickUp's Clip is a very handy tool. To come close, you'd need to integrate Loom with a lot of other products.
And for building out sales campaigns across a whole team, Bonjoro is a quality Loom alternative as well.
Vidyard GoVideo and Nimbus have their advantages too, as we've tried to show.
It all depends on you!
Sendspark makes it easy to create or import videos and distribute them across email, social, and the web. Sign up now if you want to start recording and sharing videos for free.