Let's look at the best platforms for creating personalized videos at scale.
Why Create Personalized Videos at Scale?
Personalized video sees an average of 16x higher click-to-open rates and a 4.5x increase in unique click-throughs in email compared to non-personalized content.
However, the cost and time of recording personalized videos can make them infeasible to implement at scale in your B2B sales and marketing process.
So the question is… how can you personalize videos at scale?
We put together a list of the best video personalization software.
Sendspark – for sales & customer success teams
Hyperise - for email marketers
Idomoo – for advertisers
Why Pick the Best Software to Personalize Videos at Scale?
It's important to choose the right video personalization platform before you get started, because you'll want to continue to use the same one for a long time.
The beauty of video personalization is that you can set it and forget it. Once you set things up, you should be able to use your personalized videos long-term: video emails, website videos, in-product tutorials, or anywhere else you want to humanize your communication.
While you will want to continue to refresh your content, it's important to choose the best video personalization platform that will grow with your business.
How to Pick The Best Platform for Personalized Videos at Scale
These are the factors we recommend you consider as you choose the best video personalization platform.
Does the technology work?

Video personalization is highly technical. This probably goes without saying… But, you want to make sure that the platform you're using is actually going to work. You don't want to create personalized videos at scale, only to realize you're using the wrong names or dynamic variables on each video.
Does it help you achieve you goals? In addition to the technical aspect of creating personalized videos, you want to make sure that the software you're using is going to drive the results you're looking for. In this post, we're looking at video personalization in the B2B context to create and strengthen customer relationships.
Is it fast and easy to use? Personalizing videos at scale is supposed to save you time… Not cost you more! You want to make sure that the video personalization platform you choose is intuitive and easy to use.
Source: Reddit
Does it integrate within your existing workflow? Once you create the personalized videos, you should be able to incorporate them into your existing customer journey – the emails, messages, and webpages that you are already using. You should also be able to measure the video views, engagements, and conversions in your CRM.
Is the cost worth it? Price is a big factor considering which video personalization platform to use, especially when you have great options to choose from.
With all that in mind, these are the three best platforms to create personalized videos at scale:
3 Best Platforms for Personalize Videos at Scale
Best Video Personalization Platform #1: Sendspark
Sendspark is a platform for businesses to create personalized videos at scale. Sendspark is designed to improve communication across the sales process: prospecting, demos, onboarding, customer support, and customer success.
With Sendspark, you can easily record videos of yourself or your screen, or upload your own. Then, you can share videos in email, with a link, or directly from your CRM or marketing automation platform.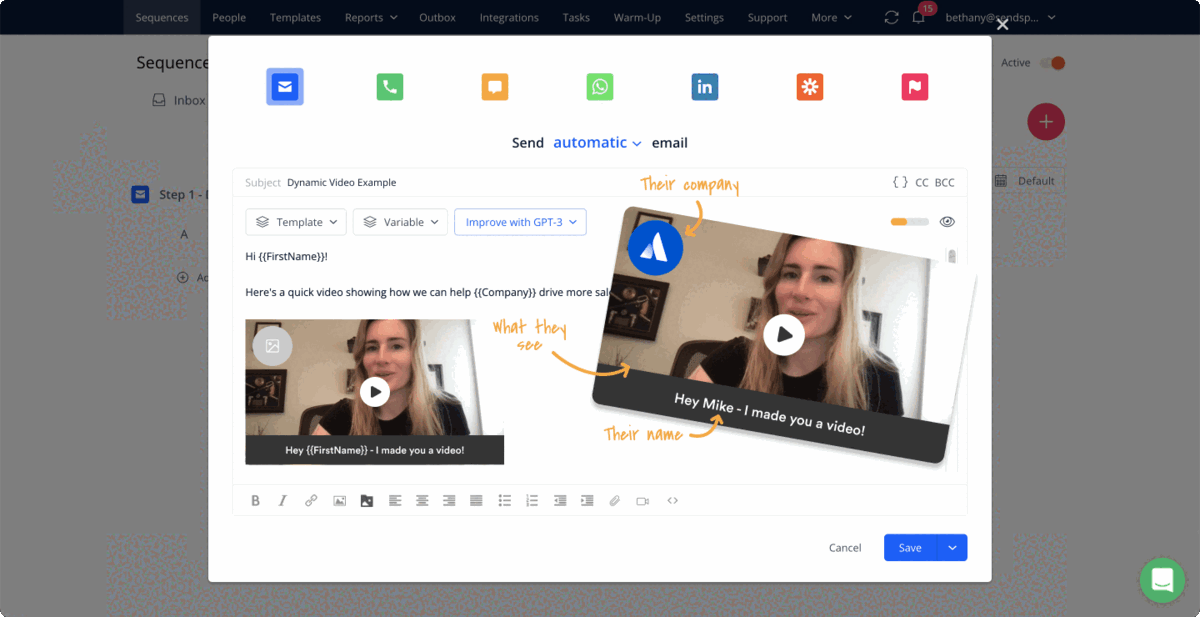 Sendspark's features for Video Personalization at Scale
Customizable Thumbnails – are the first things that viewers see when they receive a video in their inbox. You can easily customize these for each recipient to deliver a personalized experience, without altering the rest of the video.
Templates - let you apply the exact same page content to your video, so you can record personalized videos, and then instantly add a title, message, and call-to-action without typing
Who Sendspark is the Best for:
Sendspark is best for sales and success teams. If you are looking to send personalized videos at scale for sales outreach or other types of customer communication, Sendspark is the best software for you. In addition to the personalization features, Sendspark also includes great branding options, detailed analytics, CRM integrations, and admin features to manage your team.
And most importantly – Sendspark drives the best results. Sendspark was rated #1 for video email results by G2 for 2022. With Sendspark, you will book more meetings, close more deals, and delight more customers.
And Sendspark also took home the #1 prize for ease-of-use, so you won't have any trouble getting starting creating and sharing videos.
How does Sendspark work?
Sendspark is a Chrome extension. Install it, create a free account, and record custom videos directly from your browser (no app install required).
Sendspark lets you choose between camera recordings and screen recordings. You can use both separately or together, with any camera or microphone connected to your system. This gives you lots of options for custom video creation.
Once you're done recording, you can customize videos in several ways on Sendspark's website.
First, you can add on-screen text and customize it using personalization slugs (e.g. "first name"). This lets you send out unique messages to large potential customer cohorts easily.
Second, you can create custom landing pages featuring your branding, your CTAs, and your on-page text. None of this requires an app; it's all done in your browser in just seconds. You can even create a video template (or templates) to customize videos the same way each time.
Sendspark Pricing
Sendspark offers a free trial, so you can start sending personalized videos at scale for free here.
Best Video Personalization Platform #2: Hyperise
Hyperise is a platform for hyper-personalizing images and videos for email marketing.
Hyperise's features for Video Personalization at Scale
Video personalization layers – that let you add text to videos and use dynamic variables on different screens in your video
Text-to-voice – so you can write a script, and have an AI create modify the video for each of your viewers (with their own first name or other personalization tokens).
Who Hyperise is the best for:
Hyperise is best for email marketers. Unlike Sendspark, you cannot record videos from Hyperise. And while Hyperise general has more features for mass-personalization, it is not easy to make any edits to existing videos, or send videos off of the fly. Each personalized video is a campaign, that you need to put a couple hours into before you embed it in your email marketing.
Also, the personalized videos you send with Hyperise do not look or feel natural (and they're not supposed to!).
So, while with Sendspark you can create a lot of genuinely personalized videos quickly, with Hyperise you send one bulk personalized video email that acts more as an "email-ad."
How does Hyperise work?
Hyperise is a personalization toolkit that lets you enrich video content with text, images, CTAs, and more. Hyperise can even identify unknown visitors and add their emails and logos to videos on your website using performance cookies.
Hyperise works as a web app. You choose images, videos, and other visual assets. Then you populate them with text, personalization slugs (e.g. "first name"), and more.
Hyperise is full of advanced features. You could literally spend hours playing with the tool and never see its whole feature set. This can be a blessing, but also a problem; working with Hyperise quickly, and at scale, can be difficult.
Another problem is that the Hyperise web app is quite heavy. Changes can take a while to appear in-browser; the website and app can be slow to load.
If you're an experienced marketer, designer, or video editor, Hyperise can let you do virtually anything to personalize your images. If you're just looking for a quick solution that helps you create multiple personalized videos, consider a simpler app (like Sendspark).
Hyperise Pricing
Hyperise pricing starts at $149 / user / month for personalized video.
Best Video Personalization Platform #3: Idomoo
Idomoo is a good option to create personalized video advertisements and embeddable videos. You can upload your own videos, and then add dynamic elements that appear native in the video.
Idomoo's features for Video Personalization at Scale
Add dynamic elements (like first name, location, real-time data – like the score of a live sporting event)
Embed videos on social media feeds and stories
Who Idomoo is the best for:
Idomoo is best for marketers and advertisers who want to increase click-through-rates with more effective video advertisement. Using personalized videos, advertisers can see up to 8x higher conversion on their videos on their website pages and advertisements. These videos are not made to be shared in email, like with Sendspark and Hyperise, but rather embedded elsewhere online.
How does Idomoo work?
Idomoo is a personalized video marketing app that helps teams create, manage and promote custom videos to increase customer engagement. Its dynamic video marketing tech uses data personalization, self-service templates, and APIs.
Idomoo is technically complex. It uses a combination of in-browser web app and cloud-based video engine to create high-quality videos. To make life easier, you can use Idomoo's pre-designed video templates and APIs.
Idomoo can be integrated with users' CRMs or CSV files, which means that customer data can be used to generate personalized content. Social media profile information can also be used to create personalized videos automatically.
Idomoo is a highly complex tool that's difficult to use and expensive. It does (and costs) more than most organizations need it too - but if you're looking for advanced features, it's a good choice.
Idomoo Pricing
Idomoo does not have public pricing available. Reviews suggest that Idomoo pricing starts at $1,500 / month.
Sendspark Personalized Videos at Scale for Free
Ready to start sending personalized videos at scale? Create your free Sendspark account here to connect with new customers today!