When it comes to email campaigns you are likely always looking for new ways to spice up the content. Customer testimonials are a good way of adding some engaging content to your emails and helps sell your products to other businesses while improving the relationships you have with existing clients. So how should you go about using these testimonials?
How to Use Customer Testimonials in Emails
1. Product Review Emails
Whenever you are trying to sell a product to anyone you'll find it much easier to get the sale if you have some quick, easily verified reviews from previous customers.
As such, you should make use of customer reviews you have, in particular the highly-rated ones. Include short quotes from these reviews alongside the rating. You can get these ratings from online sites, social media or simply by asking for reviews from previous clients. For B2B sales you are likely best to go the direct route and get a testimonial from them directly.
Revolution Tea provides a good example of using product reviews to encourage customers to buy from them again by including good product reviews alongside a coupon for a discount to previous customers.
Source: Really Good Emails
Business writer Esther Mixon of OX Essays and Elite assignment help says "It helps to build trust and transparency with clients, just make sure when you're picking out punchy lines for your email that you don't misrepresent that review."
2. Case Study Emails
Product reviews and praise may get some bites but real interest can be grabbed for indecisive potential clients if you have some good case studies. You can do this in text or video form and should be made in collaboration with a prior client if possible.
Get the client to say in their own words how the product helped them, what they got and the results of the product. It is possible to do a quick transformation of this if there are fairly long reviews available with a lot of detail that you already have from clients.
However, the best way again to do this is to get in touch with the businesses you've worked with previously and get them to pull together some material. This helps maintain a good relationship with them and means you are definitely not taking any of their comments out of context.
3. Storytelling Emails
If you feel a case study is too cold a format then you might want to go with a storytelling approach. "Clients may not believe you when you tell them something but they absolutely will pay attention to first-hand accounts of other clients," presses Laura Shard a project manager for Revieweal and UK Writings.
Let people hear directly from the client as I've said before, but this time make it less formal and more personable with how the product or service truly impacted an individual.
This can be tricky when your clients are businesses, but trust me there will be someone whose life was impacted by the changes your product or service brought and wants to talk about it.
You can even do these in serial format covering various milestones in their journey. The best way to do storytelling is to give a brief overview in the email and link to further content on your site. You can see this in the way meditation app Calm advertises to customers.
Source: Really Good Emails
As well as this heartwarming email from Fetching Fields telling the story of Amanda and Henry.
Source: Really Good Emails
4. Quotes in Emails
You can see the use of quotes in all three of the previous examples but they absolutely are critical to get across transparency and trustworthiness, especially if these quotes can be cross referenced elsewhere. Clients will feel more likely to trust your business with their business if you can give them evidence of previous happy clients as said and you can really bolster a text based case study by adding direct quotes stating the results your clients have been experiencing since using your product or service.
Everlane is a great example of this putting the quote front and centre of their advertising campaign for their jeans.
Source: Really Good Emails
5. Visuals in Emails
It's a fact that most people skim read emails, especially if they are too wordy. The best way to keep interest is to mix your text with a good use of visuals to draw the eye and get information across quickly and effectively. We can actually see this in the design work that has gone into this email from Vimeo overviewing their video output in 2020.
Source: Really Good Emails
You quickly get the data you need and how customers are using the service but you also don't have to read screeds of text to get the highlights.
6. User-Generated Content in Emails
The best content relating to your clients is stuff they've delivered themselves. If you don't have a blog already get one, it's a good way to share all the information you want to get across without trying to squeeze it all into an email.
You can then link to this content via email to disperse the message in a more reader friendly way that they can peruse at their own pace.
If you do already have one, get guest posts from previous clients. You can even set out specific guidelines for them to use that are easily accessible and keeps you from having to reject content too much.
If customers have made their own posts, video reviews or social media posts relating to the product or service you provide ask their permission and share that with your clients. The fact they've gone out of their way to create content relating to your product is a huge boon and really gives potential clients a boost to their trust in you.
7. Video Emails
Get creative with your use of testimonials! Don't just do the basics, try and add videos and your own special flair to the email to show your companies personality and the image you want to portray. You can use Sendspark to request video testimonials from customers and easily embed videos in emails.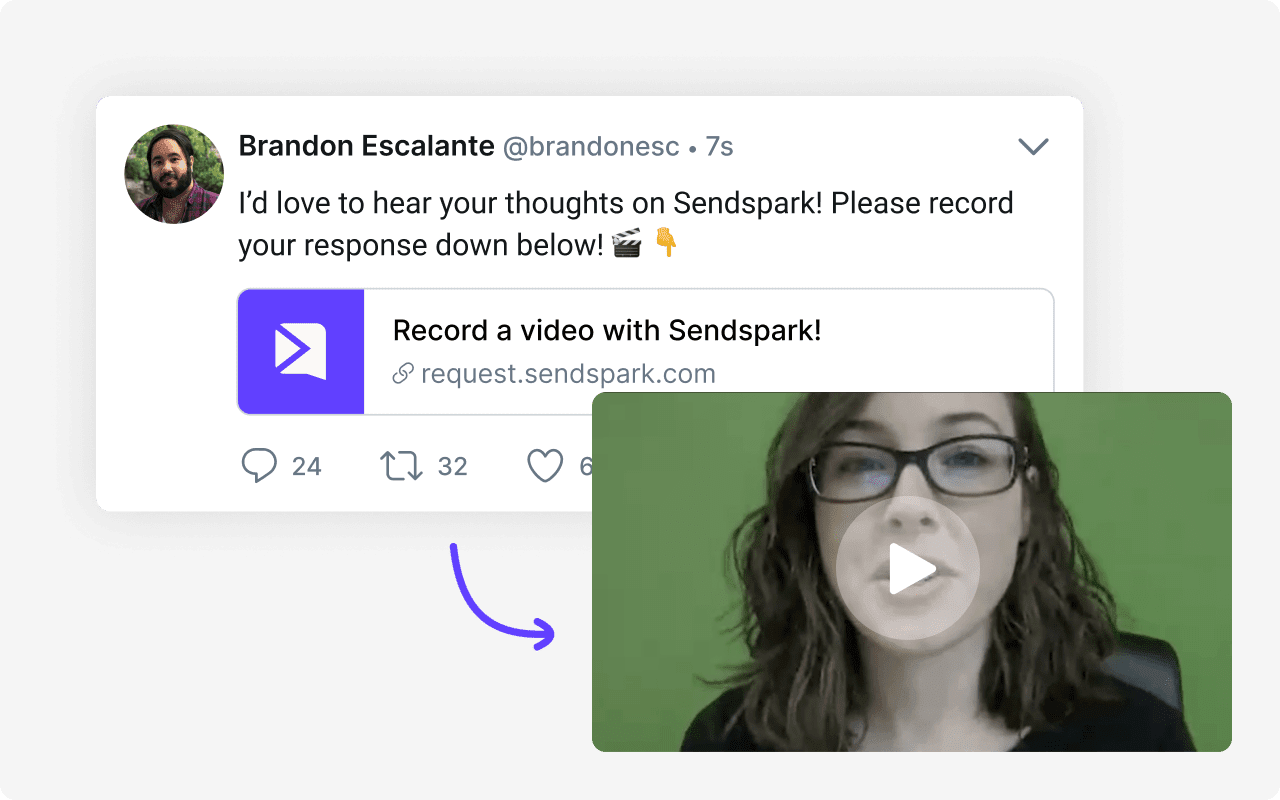 Make sure to identify the right voice and ton for your various email lists. Break down client lists by demographic, location, interest and history then send the best testimonial that fits them.
Final Thoughts on Customer Testimonial Emails
Customer testimonials are vital tools you can use when selling your product or service to others. Take the time to do some research on the clients you are talking to and try and personalize the emails you send out to them appropriately.
For each client consider adding direct quotes for a product or service review to help show transparency and trustworthiness and when you are writing up case studies to show the actual results your previous clients have gotten.
Make use of anything your clients are already making on their own and ask them to guest write for your blog or provide dedicated testimonials for you to use. Most of all try and keep your emails short and more visual in nature where you can.
About the Author
Marketing strategist and writer Rebecca Leigh, Assignment writer and Custom essay, spends most of her career attending tech and marketing conferences or consulting with businesses. When she gets a moment she also contributes articles to online sites like Big Assignments.