Video testimonials are one of the best ways to grow your business. They provide credibility, social proof, and a little bit of fun.
No surprise there. We know video testimonials are great when we have them… It's getting them that's hard!
Here are 3 easy ways to get testimonial videos from customers:
1. Get videos testimonials by email 💌
Asking for testimonials via email is natural because we use email to talk to our customers all of the time.
Sendspark offers a Request Video feature that makes it really easy to get video testimonials via email.
You can simply copy a Video Request Link from your Sendspark dashboard and send it to a customer by email, text message, or any messaging platform.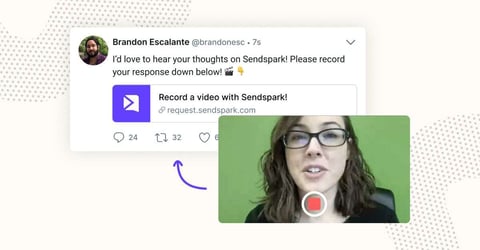 They click to record or upload a video, and the video goes straight to your Sendspark account, where you can download it or share it out.
This is a super streamlined process, because you can email a customer if they'd be willing to record a video testimonial, and then reply with the video request link in email when they say yes.
2. Ask for video testimonials inside your application 📹
Asking for videos within your application is awesome, because you can time the ask when something good just happened, and you know your customer will be especially happy.
You can use the Sendspark Request Link + Intercom, or another in-app messenger, to automatically trigger the video testimonial request from inside your application.
Also, platforms like VideoAsk and HumanAgency let you embed widgets on your website or application for users to record video testimonials anytime.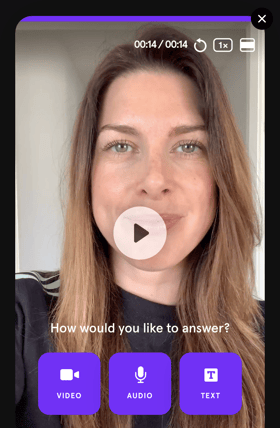 3. Record customer testimonials "in person" 👩‍
Recording a video testimonial yourself in person is a great way to make sure that you capture exactly what you want in the video, because you're driving with the best video testimonials questions.
In today's remote-first world, simply going to your customer's office with a camera in hand might not be a possibility, but that doesn't mean you're out of luck!
You can record a customer interview on Zoom or Whereby, and edit snippets for customer testimonial videos.
It's a little different than what we normally see, but hey, sometimes it takes being different to stand out and get ahead. 🤷‍♀️
One last tip!
When you're just asking for a customer to record a video for you, they can feel self conscious. They don't really know how to dress, what to say, the level of formality, etc.
One easy way to alleviate these concerns is to send a video asking for a video testimonial back.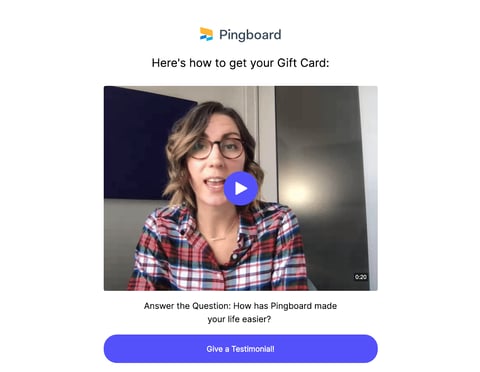 Your customer will pick up on all of the nonverbal cues from your video, and instantly know how they should "be" on camera!
Good luck, and happy recording!