Looking to send personalized videos in Outreach? Follow this step-by-step tutorial to create and share hyper-personalized video emails to stand out in emails and book more emails.
Read on to the bottom to see how to send dynamic videos that automatically personalize for each recipient!
Email prospecting campaigns have become a common practice among companies. Tools like Outreach have made it very easy for companies to automate email campaigns. But this also makes it all the more difficult to stand out from the plethora of template emails.
Video email is a fantastic way to stand out from your competitors. Statistically speaking, 78% of video marketers today opine that video marketing has directly helped them increase sales.
That said, you don't want to miss out on this brilliant opportunity to generate more leads. Today, we are going to take a look at how you can use the Sendspark Outreach Integration to send videos in Outreach emails.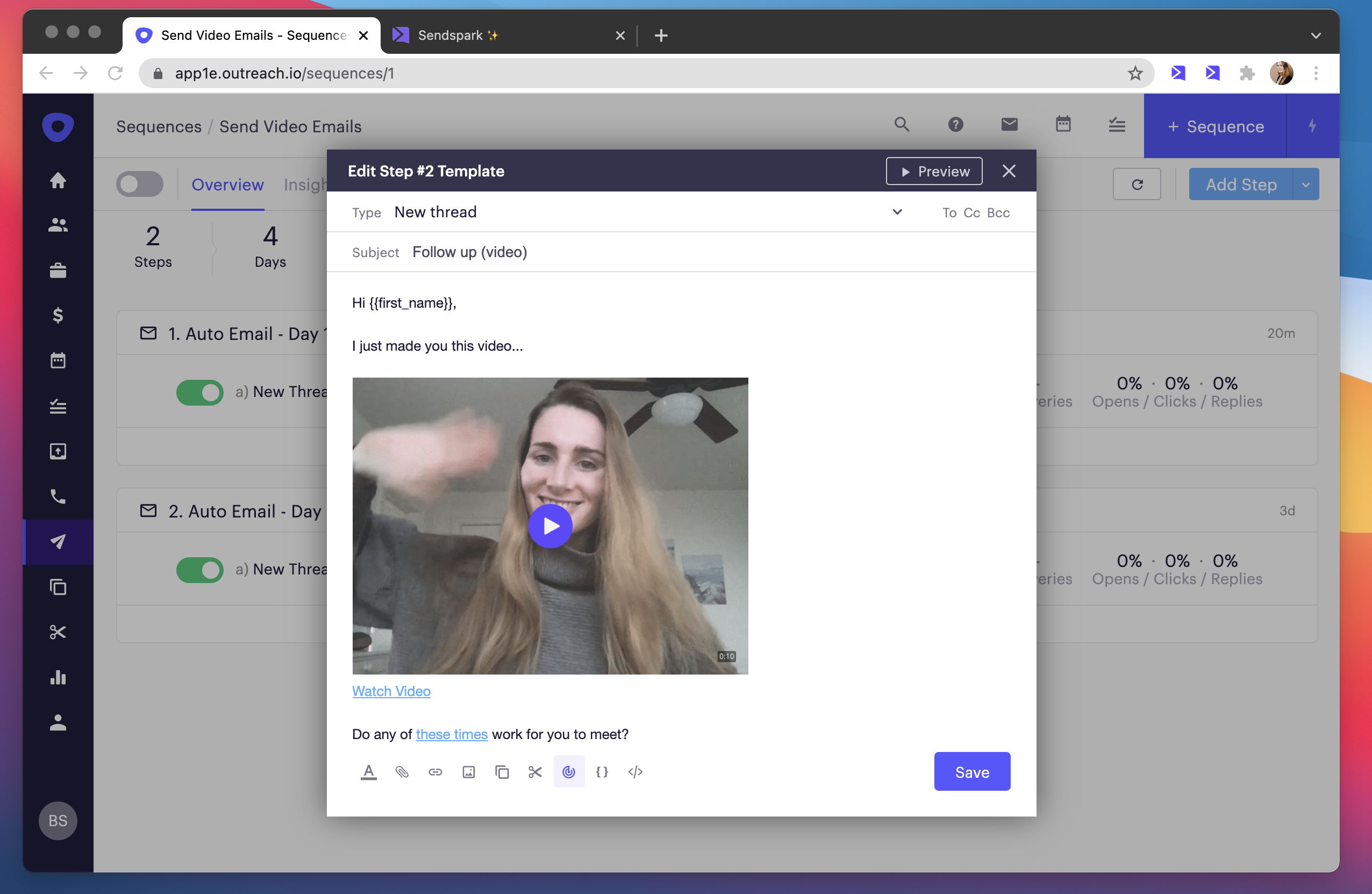 Why Send Videos in Outreach Emails
Videos are highly effective at ensuring your prospects open your emails. There are multiple ways videos can benefit your Outreach emails.
Increased chances of getting an email response
Email automation sequences are very useful, and they can save you a lot of time. But your prospects will usually figure out that you are spamming template emails.
Videos can make emails feel more personal. When someone smiles and waves at your prospects when you open an email, you feel a sense of sincerity from the sender.
When you create a personal connection with your prospects, they are more likely to reply to your emails.
Customize sequences
You should always have a different Outreach sequence for every buyer persona, industry, and use case. Don't make the mistake of approaching all of your sales the same way.
You can customize videos for each sequence to differentiate each of them. You also have the option of pre-recording videos and storing them in a repository for potential use cases. This helps you reuse videos for similar events.
Track your progress
Companies already use various KPIs to track the progress of their marketing campaigns, including open email rate, reply rate, and bounce rate.
When you use videos in your emails, you can add another KPI to your analytics. Videos can give you more accurate metrics for measuring your performance. You can keep track of when a prospect opens a video email, how many times they play the video, for how long they play it, etc.
By keeping track of these metrics, you can better understand your prospect engagement and the success of a service.
Highlight your pros
Video emails are a great medium for pitching your service. A short video can highlight several of your USPs. Moreover, you can draw comparisons with competing services to convince prospects why you are a better option.
Your video can also contain testimonials from previous customers. Customer reviews are highly effective in building trust in your brand.
It gives your prospects another reason to choose you over your competitors, and it might just be the final push they need to make that purchase.
Score Marquee Accounts Using Videos
Marquee accounts are high-profile customers that usually fall under big industries. Using template marketing campaigns on them is useless, and you will need some manual input to get the job done.
Videos are very effective at addressing industry-specific challenges and opportunities. In addition to that, you can make your pitch more personal through the human aspect that video emails offer.
It is important to note that landing a marquee account can be a lengthy process. You will have to go through several stages of the sales cadences. Videos will help you keep track of the communication and make it easier to manage the process.
Adding video to your emails is the perfect medium to score some big fishes without coming off as too pushy.
Revive prospects who have gone dark
Prospects are unlikely to reply to your emails if they think your emails don't provide any value to them or that the time is right.
Videos give you the unique opportunity to potentially revive these cold prospects. You can send a product demo, customer review, a personalized sales pitch, and so on. The sincerity and personal vibe of a video email make it very likely to receive a response.
When to Use Videos in Your Outreach Email Sequence
Now that you know why video emails can be so beneficial to a marketing campaign, you have to focus on the next big step.
Timing is crucial. Overusing video emails in every sequence can make your campaign less effective. So when should you use videos in your Outreach email? Let's take a look.
Video prospecting: Videos can dramatically improve the effectiveness of Outreach sequences. Use videos to reach out to your prospects.
Following up on leads: Video emails are very helpful for following up on leads. You can use a video to introduce yourself and leave a lasting first impression.
Engaging with customers: You can check in on your customers using video emails. This is a great way to engage with customers and keep them up to date.
Reviving prospects: Videos are a game-changer for reviving cold prospects. Remind them of your services with a friendly video email.
Sending tips and news: Video emails can be an interesting way to let your customers know about any updates, offers, and discounts regarding your services.
How to Embed Videos in Outreach Emails
Let's get down to business. It's time to learn how you can embed a video in your Outreach emails. To do this, you will first need to download the Sendspark Chrome Extension (it's free!). You will also need a compatible Outreach account.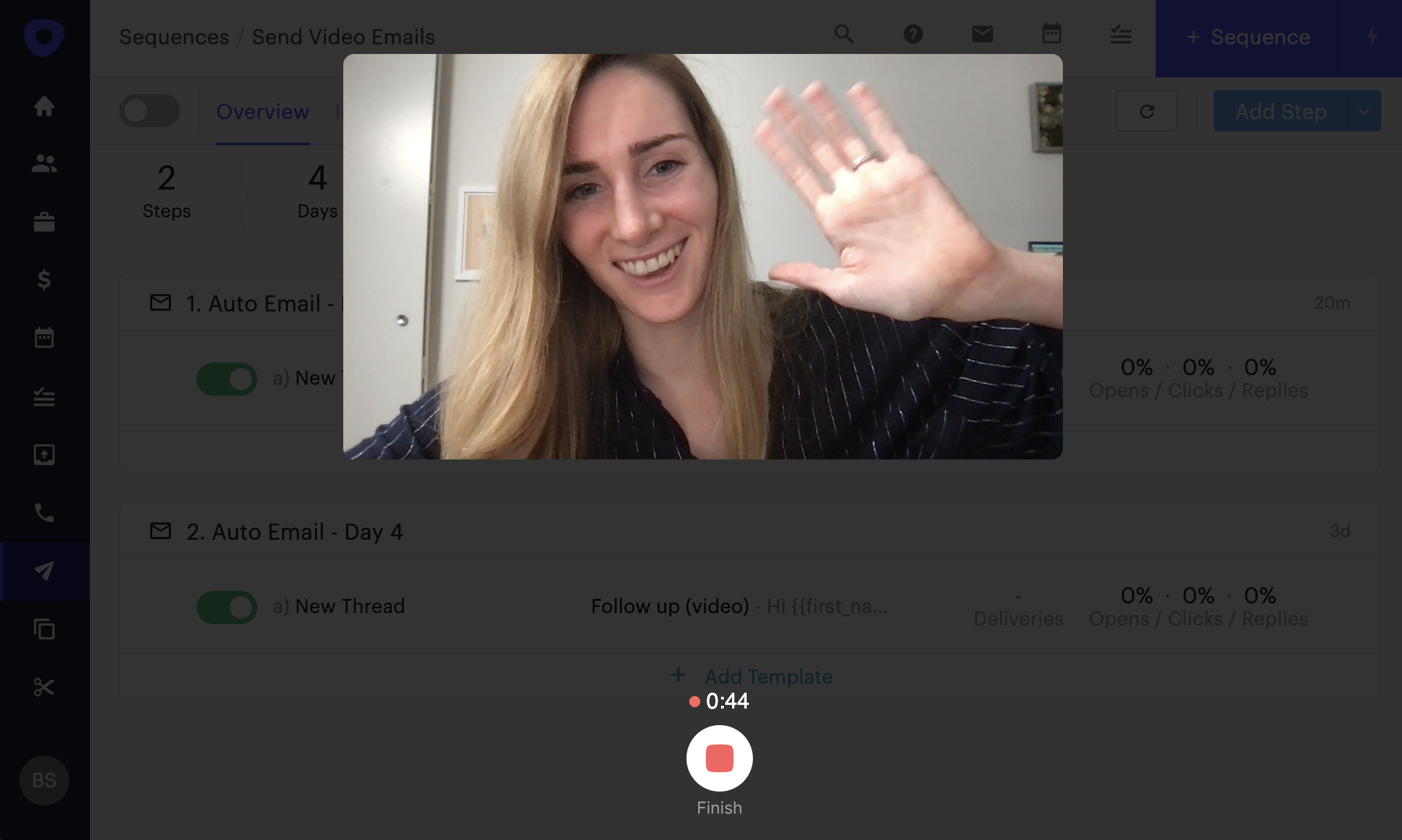 1. Record the video
The first step is to record the video for your email. To do this, you will have to click on the Sendspark Chrome Extension in your browser. This will open up Sendspark.
Here, you will find the option to record your screen, yourself, or your face as a bubble over the screen. You can also drop a pre-recorded video and edit that to your liking.
After you have finished recording your video, click on the Sendspark Chrome extension icon on your browser. This will complete the recording and open up another tab.
On this tab, you can edit the video to fit your agenda. You can also choose to keep the video as it is. You will find a fair share of editing tools that can make your videos seem more personal.
There are options to add a title and message to your videos. The most useful customization option is the option to add a CTA (Call To Action). A good CTA with the video can push customers over the line to make a purchase.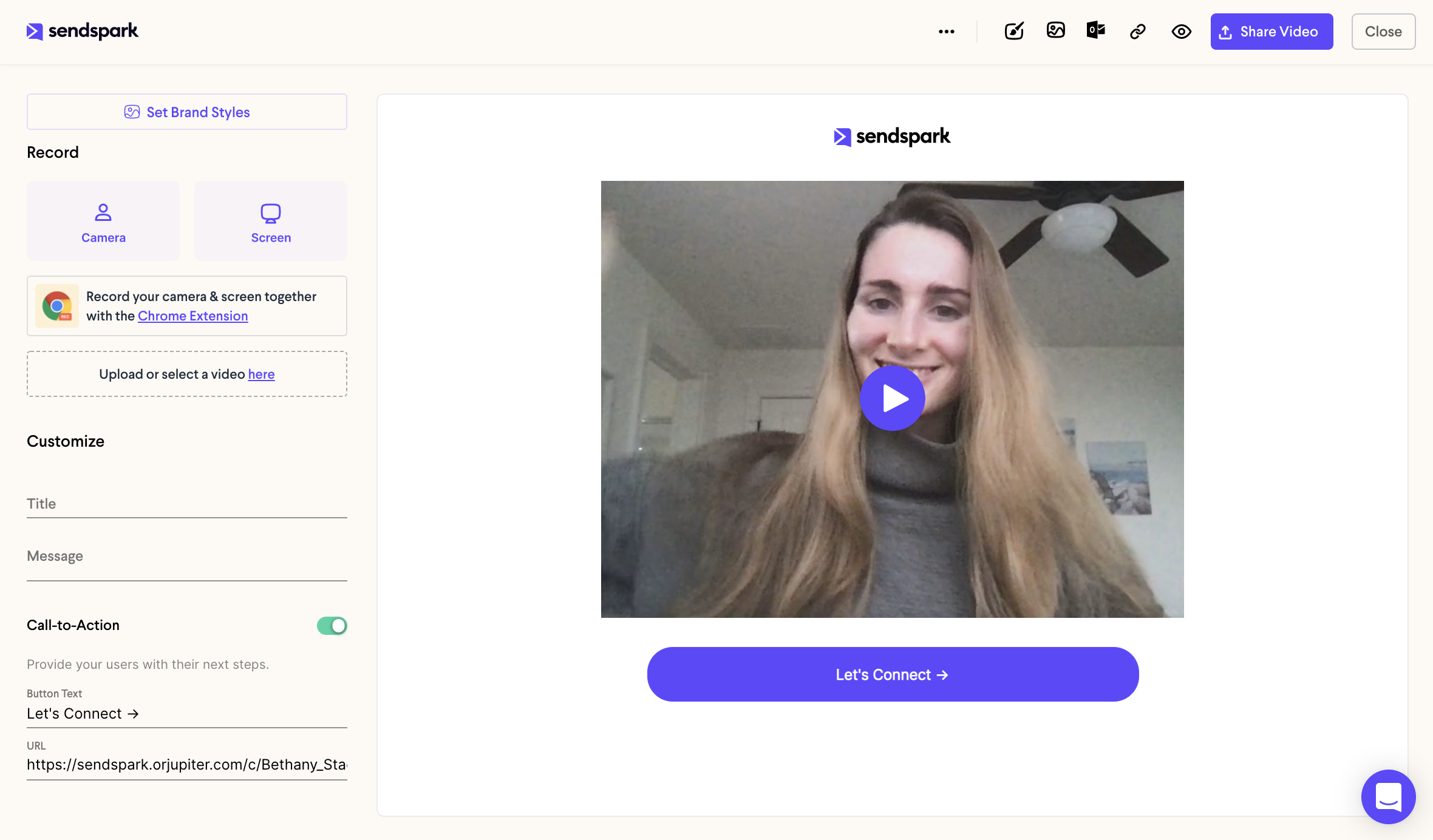 2. Click on "Share Video"
After you have edited your video, you will need to click on the blue share button. This will bring up the Sendspark share module. You will find an option to directly share your video with your Outreach sequences.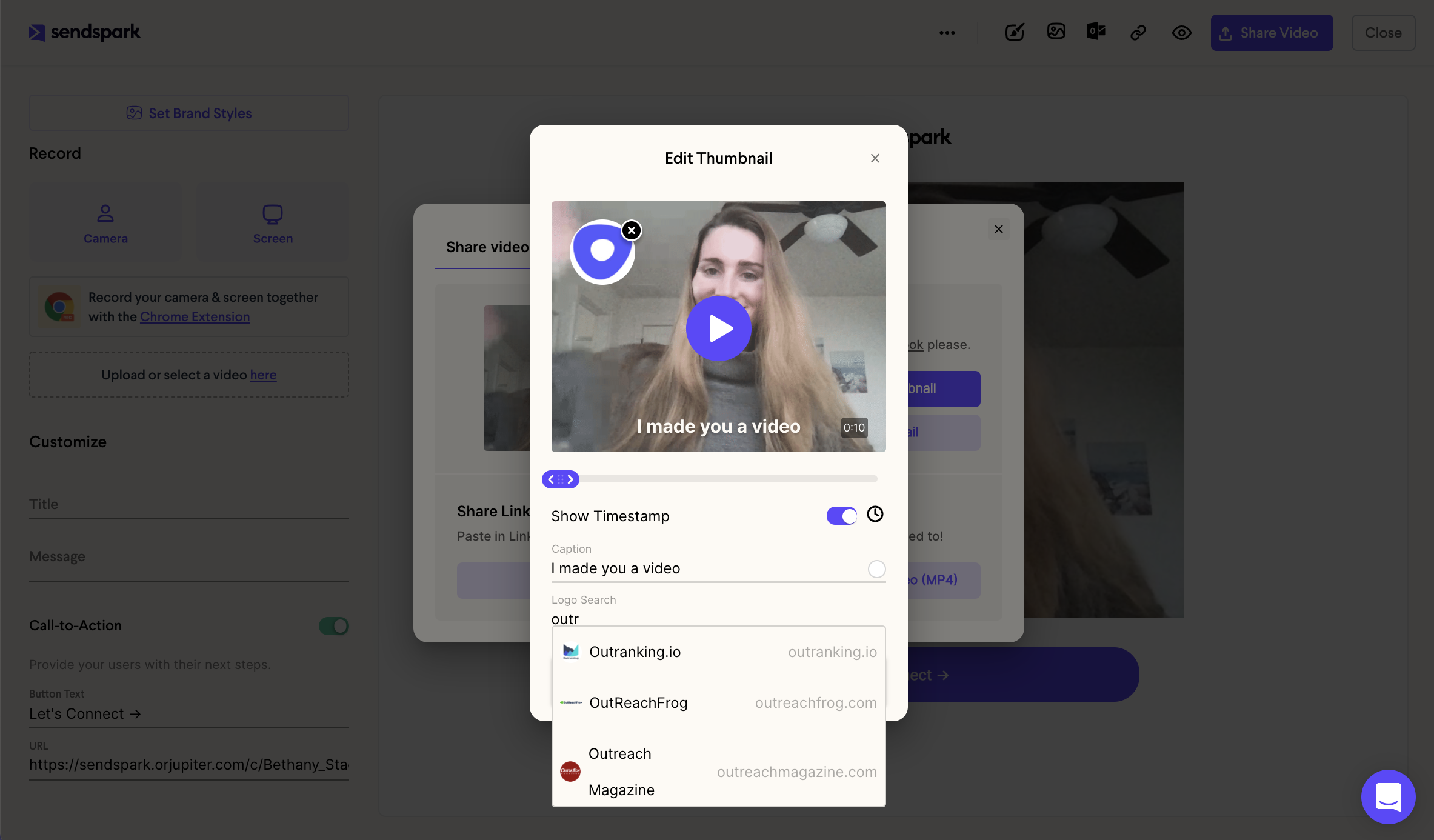 3. Customize your video thumbnail
This step is optional. However, you can get a lot of value from your video emails by tweaking the video thumbnail. It adds another layer of depth and sparks for your prospects.
After all, the thumbnail is the first thing they see after opening an email. So, it's a good idea to take some time to customize it to stand out from others.
To edit the thumbnail, just hover over the video preview and click on "Edit Thumbnail." This will launch the thumbnail editor. Here, you can customize the caption for the thumbnail. You can also select the source for your thumbnail, look up company logos to add, and insert a timestamp.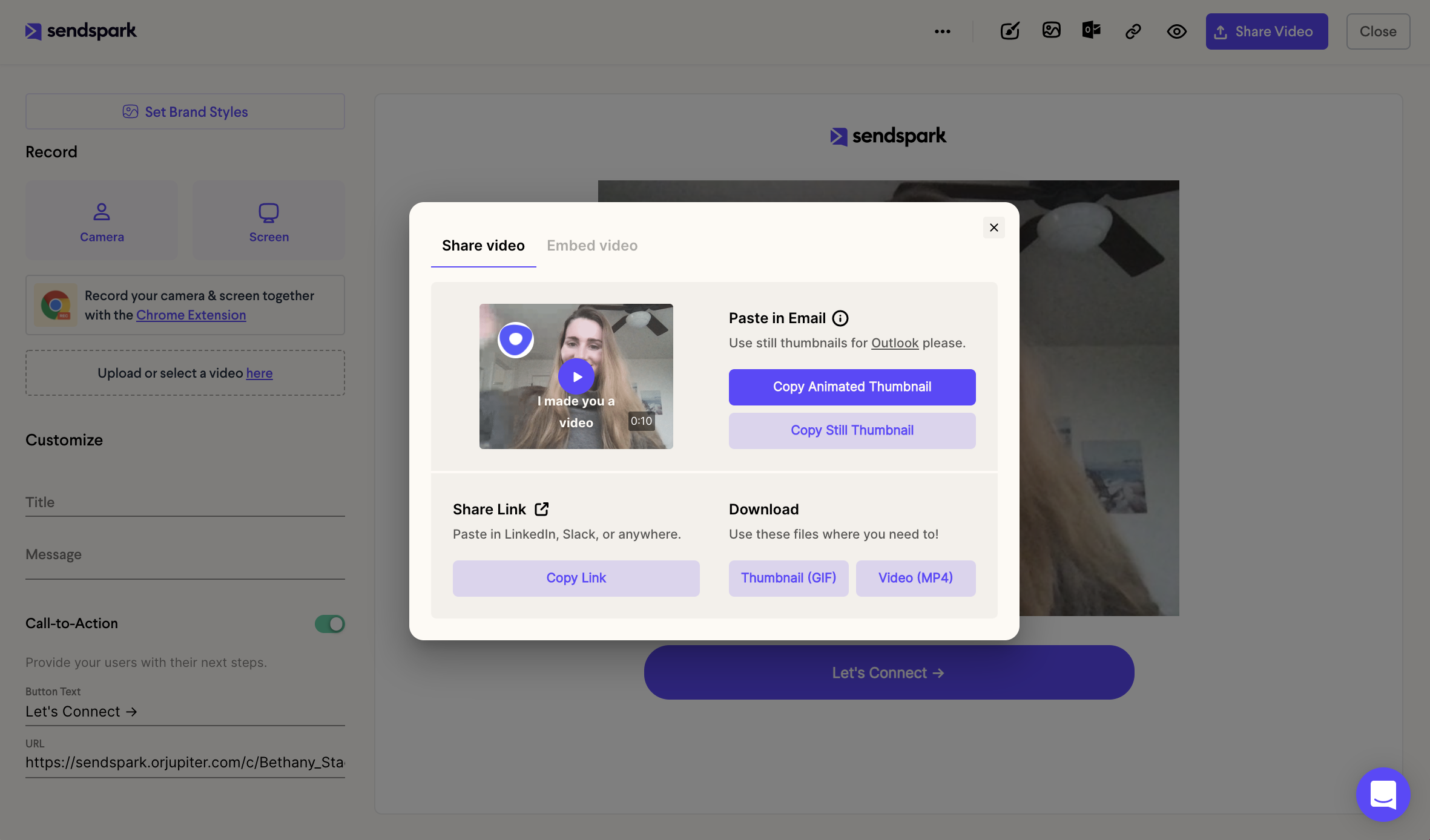 4. Copy the video
You are done with the hard part. Now all that is left is to copy the video.
To do this, all you have to do is click on "Copy Animated Preview." This will copy your video thumbnail as well as a link to your video into your clipboard. You are now ready to embed your video into your Outreach email.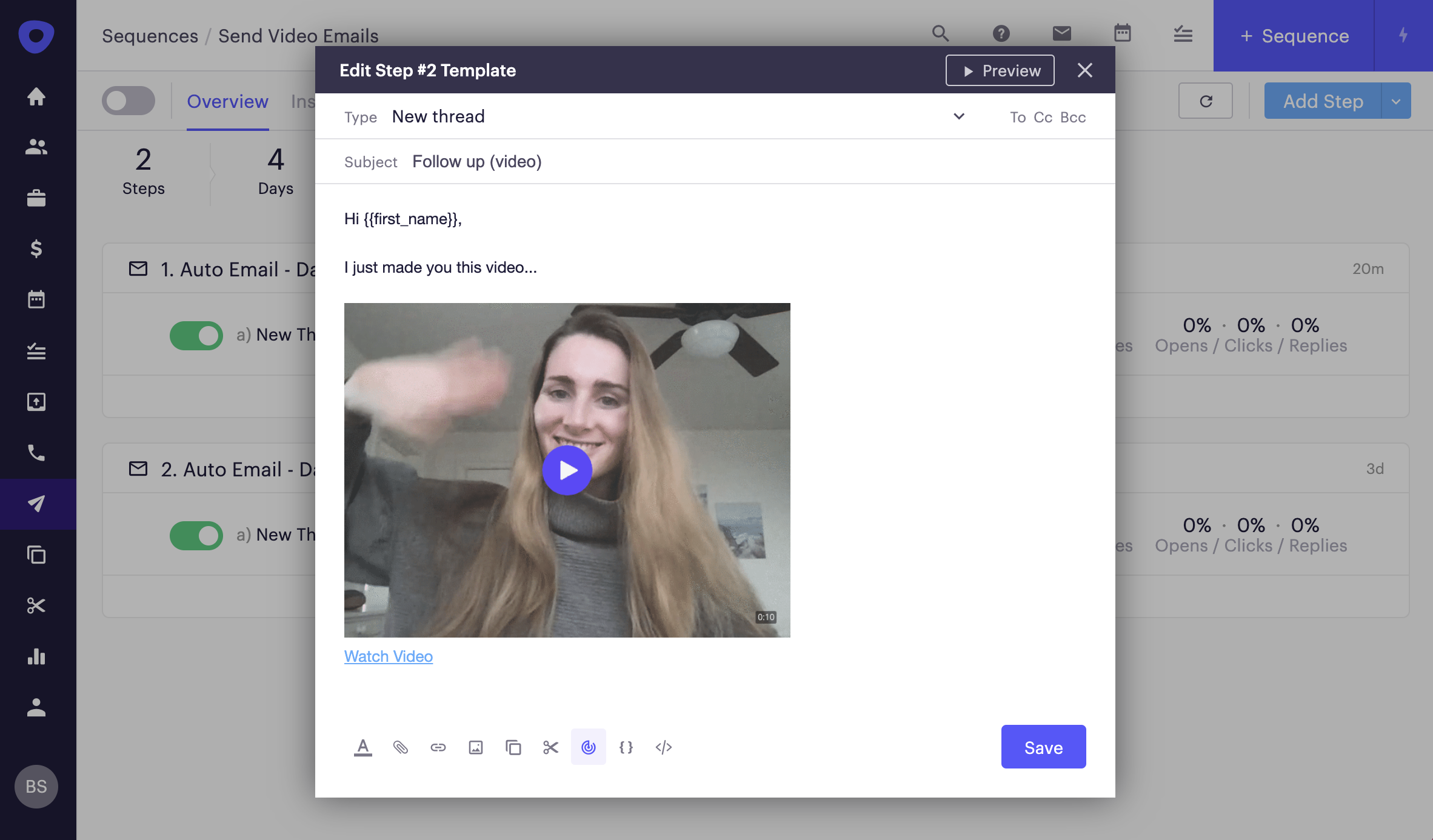 5. Insert the video into your Outreach email or template
The final step is to paste the video into your Outreach email draft. You can paste the video in any email of Outreach. It can be a new email, a template, or a sequence email.
When your prospect receives the video, it will look something like this! (However, the video thumbnail will actually be a moving .GIF)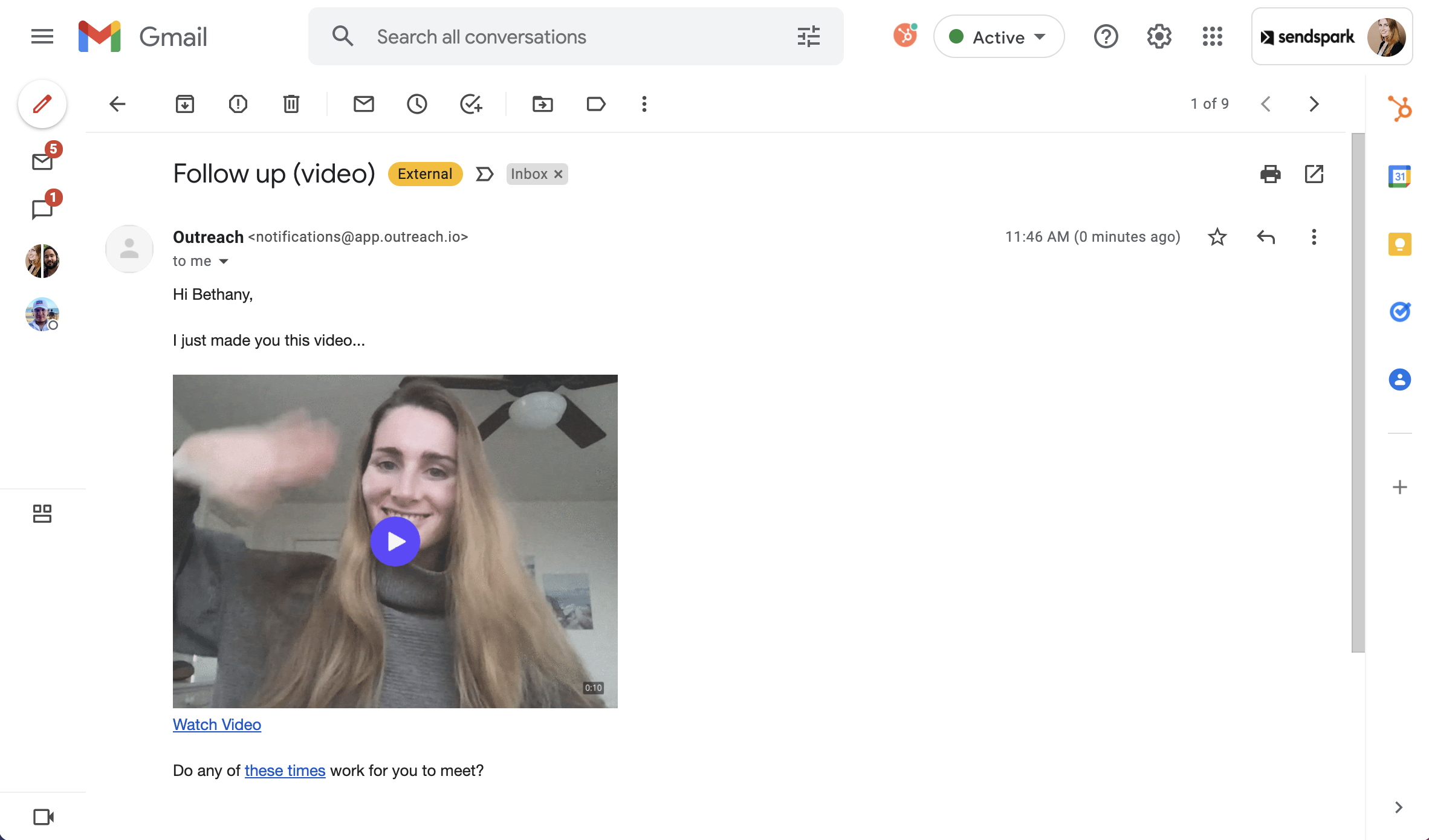 Dynamically personalize videos in Outreach
To save time, you can use dynamic variables in Outreach to automatically personalize videos for each viewer.
Watch this video or follow these steps below to dynamically personalize videos in Outreach:
1. Use Merge Tags in Sendspark
When editing the video share page or thumbnail, simply click "personalize" and then select the personalization token you would like to use from the dropdown menu.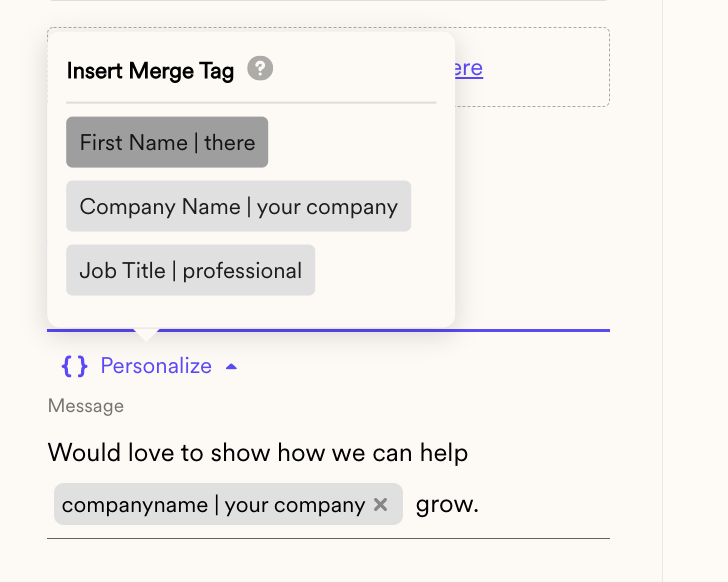 2. Copy the Outreach share snippet from Sendspark
Click "Share" and then select the share code for Outreach.
3. Paste into a template on Outreach
Now, you can go to Outreach and paste the snippet into a template. When you use this template, it will automatically pull in the contact information for the person you are reaching out to to personalize the video for them.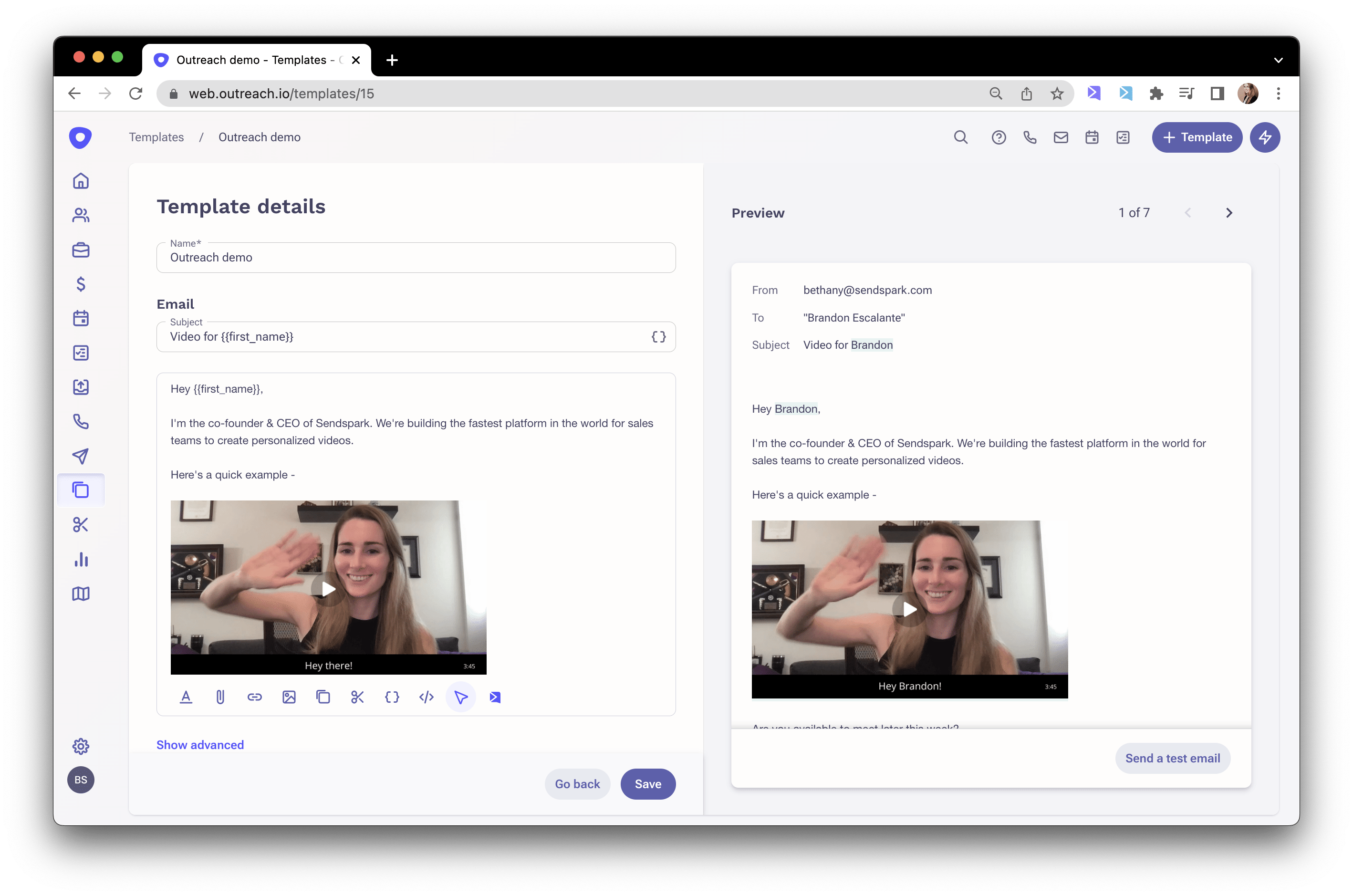 Send Videos in Outreach Emails with Sendspark Today!
Using Sendspark, you can get anywhere from 20% to 800% more replies from your Outreach Emails using Sendspark, so the results should speak for themselves.
So, what's holding you back? Create a free Sendspark account and start sending video emails today!