We are excited to announce our integration and partnership with Outreach: Sendspark Video for Outreach.
With 320 billion emails sent every single day, it's harder than to stand out in email. To cut through the noise, messages need to be thoughtful, engaging, and personalized. Video messaging is one of the best ways to accomplish this, with personalized video messages generating up to 16x more engagement than their text-based counterparts.
"The new wave of prospecting is all about delivering personalization and relevance at scale"

Saad Kahn, Head of Business Development at Dooly.
Using Sendspark and Outreach together, you can deliver personalized video emails to cut through the noise and connect at scale.
Here are three ways you can use Sendspark in Outreach to take your prospecting to the next level
Sendspark Integration Features:
1. Record personalized videos emails in Outreach
After connecting the integration, you will see a Sendspark icon in your Outreach email compose window.
Launch Sendspark to power up your prospecting:
Record New Video – record personalized videos, right from Outreach
Request Video – ask for a video from someone else
Meet Now – send a Zoom or other video meeting link to meet live
Send Calendar – insert your calendar link to schedule a meeting
Copy Last Recording – copy the last video you recorded to your clipboard to quickly paste into to this email
Video Library – view & select previously recorded videos to send in this email
2. Use dynamic videos in Outreach sequences
When there isn't time to record videos individually for each prospect, use dynamic videos.
Dynamic videos use placeholders for prospects' first name, company name, and other properties, so you can automatically personalize videos for each person.
Save dynamic videos in Outreach templates to leverage them for prospecting sequences, follow up emails, and other messages throughout your sales process.
3. Record custom intros
When you want to add a personal video, but don't want to repeat yourself, use custom intros.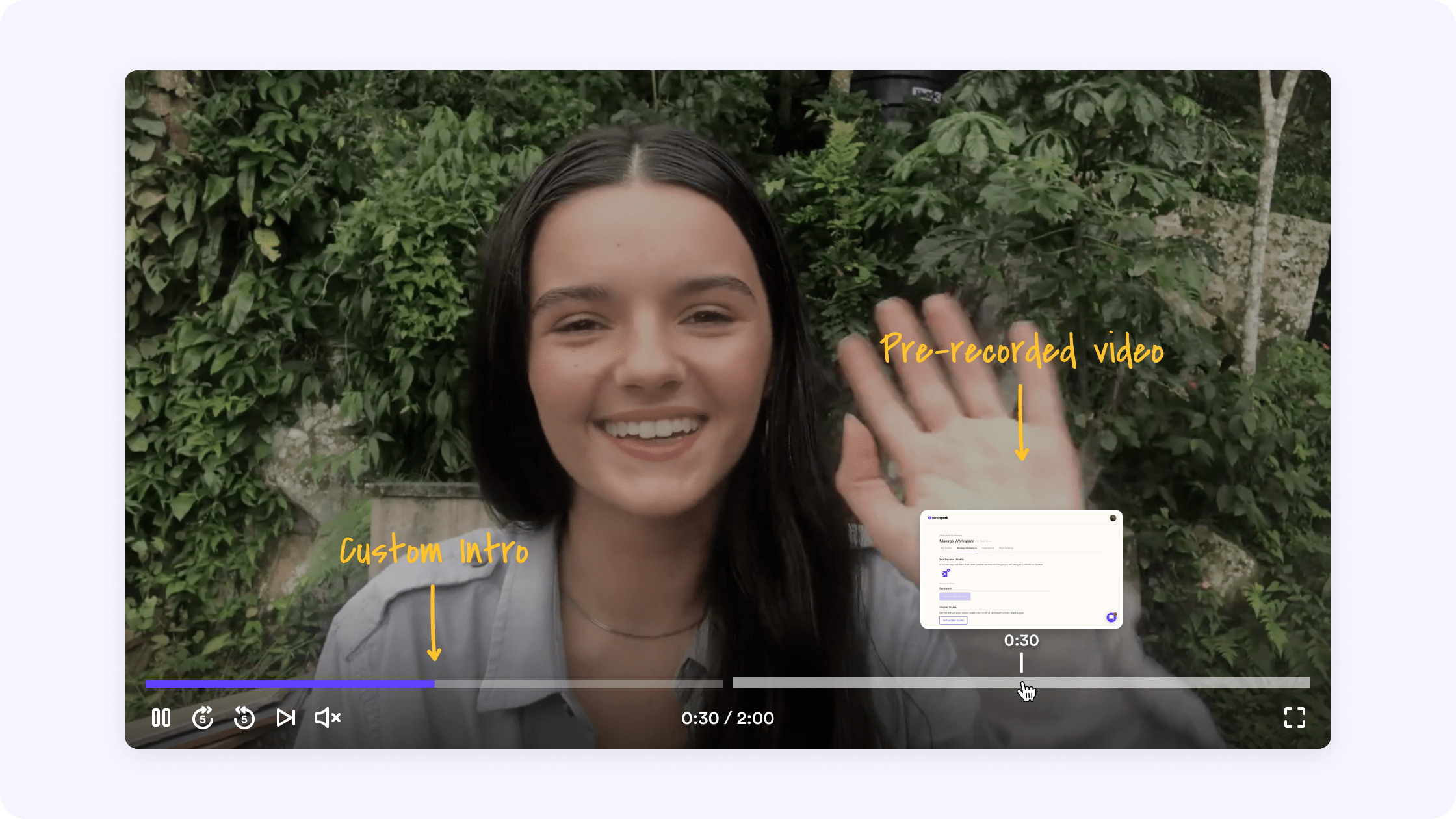 Custom intros are like Outreach templates for videos: you can reuse "core" videos, and quickly personalize each one with with a tailored video introduction.
The blend of personalization and speed lets you scale yourself. You'll see better results in a fraction of the time it would take you to record a full video from scratch for each person you're reaching out to.
How to Integrate Sendspark with Outreach
The Sendspark Video for Outreach integration works primarily through Sendspark's Chrome Extension. Install for free here.
Please review these step-by-step guides for using dynamic personalization and custom intros. Once you're up and running, you can find more helpful tips, strategies, and content ideas on the Sendspark YouTube channel.