Last Friday (Oct 31, 2020 🎃) we were among the first startups to graduate from 500 Startups' fully virtual accelerator program.
I've had a lot of people ask me about what 500 Startups is like now that it's remote, so I figured I'd write about my experience.
If you are considering joining the program yourself or have specific questions, feel free to reach out to me directly.
What is new about 500 Startups?
In March 2020, 500 Startups announced two big changes to their model:
It's remote - so all meetings, programming, social events are now virtual
It's rolling - so startups enter and graduate at different times
You can read more about why they made these changes on their blog.
When we were considering joining 500 Startups, we had mixed feelings about these changes.
They clearly offer a lot more flexibility to the startups. We could time the program and our Demo Day for when it made the most sense for our business and we did not have to relocate ourselves from San Antonio, Texas, to San Francisco.
However, we also worried about "missing out" on social components. There is something to be said for dropping ~70 founders building companies in the same room for four months, and letting organic relationships blossom.
Our goals for Sendspark
For context, this is where our heads were at when we were making the decision to join 500 Startups:
It was late May 2020. The COVID-19 pandemic wasn't exactly new, but it was just starting to sink in that it wasn't temporary. Businesses were just starting to update their strategies to take into account that they would be working remote for the foreseeable future.
Meanwhile, we were an early-stage video company that wanted to help!
Sendspark is a video messaging platform that helps businesses engage customers with personalized video messages. Users can easily record videos from their web browser to share with customers in email, LinkedIn messages, website chatbots, or any other professional communication channel. Users can also request videos from customers to get feedback, support issues, or customer testimonials.
We saw that we could help sales, marketing, and support teams bridge the gap to connect with customers online.
But, we were just barely too early to take advantage of the situation. We were missing key product features (like screen recording 🤦‍♀️), nearly all of our network was in San Antonio, Texas, and we did not have the capital to just "give everything away for free to gain market share" like some of our competitors.
And then we received this video email from the 500 Startups team...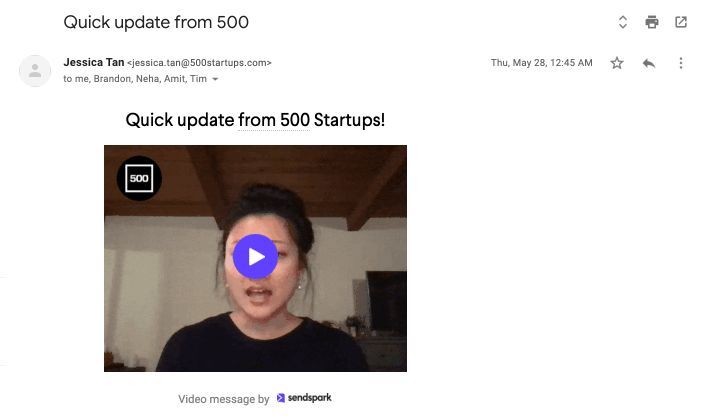 So, we decided that if 500 Startups was willing to make a bet on us, then we'd take a bet on them and their new virtual accelerator modal.
These were goals we discussed as a team as we started onboarding:
Complete the team - make sure we were capable of iterating fast to stay ahead of the quickly-changing market
Complete the product - build a super sticky product that people LOVED
Grow market share - make sure that Sendspark was the #1 choice for businesses when they looked for video tools for customer communication
Expand our network - meet thought leaders and work with the best customers, mentors, and investors, wherever they were in the world
Raise Seed funding - So that we could afford to hire the best team, build the best product, and reach the best customers.
The 500 Startups Virtual Experience
The theme of 500 Startups' new remote, rolling model is that they personalize the experience for each of their startups.
This is what programming looked like for us:
500 Startups Required Programming:
Weekly standup (~1 hr / wk) - every Tuesday, we'd have a standup with all founders in-program to share what we're working on, and make asks to other people in the batch. These meetings were great for learning from other founders and exchanging advice.
Investment lead meetings (~1hr / wk) - every Friday, we'd meet with our investment lead to update her on our progress, make sure we were staying true to our goals, and get her feedback on how we could progress faster.
EIR meetings (~1.5hrs / wk) - twice a week, we'd meet with our EIR (entrepreneur in residence), who would work with us to build an incredibly personalized growth plan. We hand selected our EIR at the beginning of 500 Startups to find one with experience in our industry, and building product-led growth companies. These meetings were critical for learning new ways to grow, and keeping us honest that we were running growth experiments.
Written investor updates (~30 min / wk) - Every Friday (or Saturday, or Sunday, depending on how busy the week was), we'd send a short investor update to the 500 Startups investment team, and other investors in Sendspark through Visible.vc. This was a quick way to keep everyone up to state, and keep track of our progress.
Optional Programming:
Guest speakers & webinars (~1-4 hrs per wk) - there were usually around 4 webinars per week with guest speakers. We were encouraged to only attend the ones that were relevant to us. I usually attended one of the four per week, or would watch while I ate lunch or took a break from work.
Social events (~1 hr / wk) -
we tried to do at least one "happy hour" per week. As these were at different times for all the founders in the program (9am for SF, 12pm for me, and evening for Europe), they weren't usually centered around drinking, but more getting-to-know you games, trivia, and other icebreakers.
Mentor requests (~1 hr / wk) - 500 Startups has an incredible network of mentors. As a founder, you can either request to meet with a specific mentor, or just put out a general ask to be matched with a mentor. We were blown away by the quality of mentors and advice we received here. Now that the official programming is over for us and my calendar has a little more free time, I intend to take double advantage of the mentor network
Pitch practice (~8hrs / 4 mos) - The pitch practice is only around pitch events & Demo Days, but super helpful when needed.
Investor office hours (~8hrs / 4 mos) - Investors have office hours throughout the program, which is a great way to meet investors and get feedback before actually programming.

Additional Events:
Sales Bootcamp - This was a mini bootcamp designed to help us nail our selling strategy. We spent 3 day refining our target market, value proposition, and outreach strategy. At the end, we launched an outbound email campaign (featuring a Sendspark video) and landed our biggest customer at the time.
"Sneak Peak" Pitch Event - We had a "sneak peak" pitch event, which was a bit of a practice Demo Day. This gave us a chance to work on our pitch and get tons of feedback & introductions to investors before the Demo Day.
VC Unlocked - This is a separate program that 500 Startups also runs, which helps emerging VC fund managers accelerate their careers. 500 Startups founders met with some of the VCU students, so that we could both practice investor conversations.
Demo Day - For us, Demo Day is not until February, so I can't speak much on this here. However, I will say that our team really appreciated that Demo Day was not the big focus on the 500 startups program. Instead, we spent the four months focused on building our company.
My thoughts on the 500 Startups virtual programming
500 Startups does a great job on making sure that we have all of the programming and check-ins we need, without overdoing it. Very few events are required, and the ones that are, like the Investment Lead and EIR meetings, are hyper-personalized to our company, so they are incredibly valuable.
Shoutout to especially amazing people
As I'm writing this, I can't resist giving special shoutouts to the people who made 500 Startups experience exceptional for us:
Jess Tan for believing in us early on, and being there every step of the way as our investment lead.
Timur Daudpota, for being the best EIR we could have asked for. He pushed us just the right amount, and was instrumental in our growth.
Sarah Staatz, took the reigns of program manager right as our program began. She dove head first into the fire, and was a constant source of energy and positivity throughout the program.
Dan Levin was our "buddy," and despite being the president of multi-million dollar company, took time to meet with us every two weeks to answer every question we wouldn't have thought to ask
The other investment leads (Kate, Neha, Clayton and Amit) who were always there for pitch practice and all kinds of advice
Tim Chae for dropping all of the knowledge bombs and new perspectives for thinking about things
Aaron Blumenthal for being a wealth of knowledge for all things growth and fundraising - and never holding back his advice
Natalie, Zina, and Tracy on the 500 Startups Marketing team for going above and beyond to use and promote Sendspark
The previous batch alums for always making time for in-program founders when we had questions
The mentors for going above and beyond to dig deep and think through tough problems with us.
All of the Batch 27 founders with us (too many to list here), for always providing ideas and support
So, did we hit our initial 500 Startups goals?
Yes! Between May and now, we made huge progress on all of our goals:
1. Team
Perfecting our team was our first focus for 500 Startups. We hired an exceptional CTO, and offered our incredible part-time software developers full-time positions. We also hired a content marketing intern to help us create customer welcome videos (using Sendspark!) and blog content.
2. Product
After Team, our next focus was Product. High level, our goal was to "build a product people love."
Our KPIs have been mostly around usage and retention.
Specifically, we were looking at…
How many new sign ups successfully record and share videos?
How many videos are people recording per week?
What is retention after 1 week? 4 weeks? 12 weeks?
With the guidance of our EIR, we ran weekly growth experiments over the course of the program to target these key metrics. We experimented with templates for new signups, event-triggered marketing emails, "hijacking" Gmail compose windows and so much more.
In the end, we were able to double our activation rate (from ~22% to ~44%) and increase weekly recorded videos from ~15 videos / week to 200+ videos / week.
3. Revenue & Market Share
We wanted to increase market share, but not simply by giving away Sendspark for free. We wanted to build something that people valued enough to pay for!
During 500 Startups, we built a billing portal in our application, so users could actually pay us. We started experimenting with different pricing models (shoutout to Ammanuel Selameab, our batchmate and founder of Run Pricing Tests, who helped us figure out the best way to experiment with pricing).
We also ran 20+ other growth tests to help us quickly gain market share and revenue. Throughout the entire program, we grew 4.90% WoW on average, and we're just getting started. 🚀
4. Relationships
While our biggest concern joining 500 Startups was about not being able to build relationships remotely, that was far from the truth. We met so many amazing founders, mentors, and investors over our four months of the program.
While large group events didn't always have the best turn out, people made an extra effort to show up to one-on-ones, and were always there when it counted.
If anything, this was a positive of remote: normally, meetings with mentors, investors, and other founders are more casual, so you may only chat for a few minutes, and might not engage with the person you most want to. With remote meetings, we'd get 30 minutes of uninterrupted, focused time with the right people.
Also, many of the mentors & investors we met were not located in Silicon Valley - they were in other parts of the country - and even Europe, Latin America, Asia - so us being in San Francisco would not have changed much!
5. Funding
I'll update this section after Demo Day in February, when we are looking to raise our round! (In the meantime, investors, my DMs are open 😜)
What's next after 500 Startups?
One of the funny things about the remote / rolling 500 Startups program, is that because it was so flexible and customized, it doesn't feel like it's over.
In a weird way, the remote-first accelerator model has extended this program. 500 Startups feels like less of a sprint, and more of a way of life.
We're officially done with our EIR and Investment Lead weekly meetings, but of course we'll still communicate with them and the other founders. We'll continue running growth experiments - likely forever. We'll still attend the virtual events that look interesting. And if anything, I'll take more advantage of the mentor network now that I have a bit more free time.
And Demo Day isn't for 3 more months, so we still have more to look forward to!
Advice for founders
I believe the remote-first model for 500 Startups is the future for accelerators.
As startup founders, time is the biggest limitation we have. The 500 Startups remote model offers far more flexibility and personalization than other accelerator models.
We were also able to save 4 months of paying for SF rent and relocation costs that we have been able to invest directly into our business.
I can't compare our experience in 500 to what the program used, because I only know this version... But, I can say that this program was exceptional. Of course, starting a company is a lot of hard work. And while an accelerator might provide access to networks, and frameworks, no one is going to do the work for you. You get what you put in.
My advice would be: if you have the opportunity - take it. Especially if you are a first-time founder. Especially if you are building outside of Silicon Valley. And especially if you are willing to put in the work.