Account-based marketing, or ABM, is one of a business's most important strategies. You could miss out on a high sales volume if you're not using it.
That's because marketing has evolved. An ABM strategy is one of the newest and best ways that you can boost your lead generation.
Learning about and implementing these different ABM strategies gives you more success in reaching out to your target audience.
Account Based Marketing Defined
Account-based marketing is a customer approach strategy that often leads to lead generation. It's about finding companies or people who will likely buy your products and tailoring your campaigns to each one of these accounts.
An excellent ABM lead generation plan focuses on creating a selected list of target accounts. As soon as these target accounts are chosen, your marketing and sales teams will work together to find your needs and how you can nurture these needs in your funnel in making a sale.
It's more than knowing what your target's name is. Instead, it's all about knowing the challenges that your target audience face and how they could be able to overcome these challenges. Check out these handy account based marketing examples.
Now, here are the ways how you can use your ABM strategy to generate more high-quality leads:
1. Use Your Network to Connect
ABM doesn't just work with cold calls. Instead, it would be best if you were working your network. Consider referrals from your existing clients, people you come across at industry events, long-time clients, and clients that you're vying for.
Instead of spinning your wheels on finding potential leads, you use who you know. By starting with what you have, you can generate more leads.
2. Syndicate Your Valuable Content
Content syndication is one of the most effective ABM tactics, and it works so well with ABM lead generation.
When you work with a lead gen supplier, you can easily syndicate valuable content like whitepapers, eBooks, case studies, and research reports that professionals often use with your target audience.
Through content syndication lead generation, your content is actually promoted to target your ABM prospects, which in turn, access your content for free in return for their business contact details.
Working with a reputable content syndication specialist allows you to create a highly effective ABM lead-generation campaign based on the target audience that you want to reach.
3. Offer Value From The Get-Go
Regarding ABM lead generation, focus on giving your target audience value from the beginning. For instance, you can offer free educational content.
As a result, your leads will be happier hearing from you and more open to communicating. They already know you as a trusted and valuable person in your industry. Check out the practical ways to improve client communication.
One of the most significant benefits of ABM is that it creates a two-way relationship with your marketing leads before you sell to them, and they're more likely to engage with you when you do so positively.
It's also likely that your ABM leads already know who you are because they've already been exposed to your brand several times before reaching your CRM.
For instance, if you run a content syndication campaign nurturing your ABM leads before they're delivered to you, they're likely more receptive to follow-up communications.
4. Embrace Face-to-Face Meetings
One great way to start business communication are cold emails. However, you'll have to open up to prospects and provide more opportunities for discussing any concerns and issues.
Research shows requests in face-to-face meetings are 40% more likely to be followed through than requests done via email. While your email templates may be great, sometimes they might not be good enough to significantly boost your close rate and stand out in your niche.
There will always be another competitor who may be more willing to provide something more personal, such as a lovely chat during a trade show or a surprise visit to their city or state. For this reason, you need to give as much flexibility as possible for face-to-face meetings.
Also, make sure you keep an eye on your schedule and find places where doing a face-to-face meeting helps you stand out.
5. Use Video Messaging
In between the face-to-face meetings and Zoom calls, video messaging is the best way to connect with prospective customers. Using a video messaging platform like Sendspark, you can easily stand out in email, educate buyers on your solution, and build strong human relationships.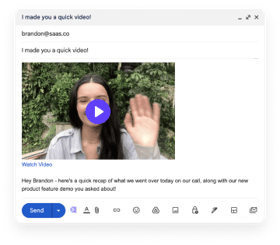 Whether you're prospecting new customers, setting agendas before calls, sending follow ups after calls, providing demos, answering questions, onboarding new customers, or driving success and expansion, Sendspark is your sales sidekick for communicating more personally throughout the sales process. Get started for free.
6. Use Social Media Channels
Many companies are reluctant to include social media in their ABM tactics. However, by using the right strategy, social media can help you create meaningful relationships. It also prevents your leads from dropping out of your sales funnel.
In what ways can you use social media?
Social Proof: If you can inform your audience about your achievements or best reviews, then make sure to do so.
Content sharing: Your social media can also be transformed into an info hub wherein you answer top-of-mind questions and share your professional take with anyone who needs it.

Prospecting

: Reach your prospects where they are. Email is great, but a direct message via LinkedIn, Twitter, Instagram, or even TikTok could get to them faster and feel more conversation. Read more about best practices for LinkedIn prospecting here.
Support: Your prospective customer will also appreciate seeing you active on their preferred social media network. It's an excellent reminder that whatever issues or problems they might have, you're always there to help them.
Similarly, social media is one of the best ways to determine whether a company is dormant.
7. Validate Your Leads
As soon as you generate your ABM leads, you want to ensure they're validated to a high standard. You want to feel confident that the data you're receiving is accurate.
You're aware that the business contact details of people change regularly. A contact might move roles, change their name, or get a new email address. If you combine these changes to the details of the individual with business priorities and strategies, it's easy to understand why validating your leads is vital.
Another benefit of working with a professional ABM lead generation company is that they'll be authenticating leads for you before they're delivered. Having leads validated gives you peace of mind knowing that all the information you're getting is correct.
8. Align With Your Sales Team
Your sales and marketing teams should be aligned with one another. This first involves working with your sales team to identify target accounts.
Running ABM lead generation campaigns, this alignment also extends to finding significant pain points that your target audience is experiencing. By understanding your audience's challenges, you'll develop the right messaging that appeals to them.
Communication with your sales colleagues helps create the right campaign for your audience.
Final thoughts on ABM
So there you have it. These are practical ways to use an ABM strategy to get more high-quality leads. At first glance, it may seem that ABM is counterintuitive. It may cost you more and use more of your time and resources.
But the great thing about it is that your time and resources are also better spent closing rates, getting deals, and making quicker transactions. Thus, this leads to enhanced engagement, increased marketing ROI, and a shorter sales cycle.
Furthermore, ABM outperforms conventional sales strategies. Many businesses using ABM for at least a year saw increased sales and revenue. So, it's best that you choose a couple of methods on this list based on your business model and don't try to use them all at once.
Keep a couple in your arsenal, and use them whenever you need them. Good luck!