A screen recorder is an online tool that allows you to record your screen and audio at the same time. A good screen recorder is simple to use and doesn't require any installation. It is a great tool for creating how-to videos, product demonstrations, and more. For businesses, the online screen recorder can be used to create training videos, product demonstrations, and more.
Online Screen Recording Trend in the Business World
There's no doubt that online screen recording has become one of the most popular methods for businesses to create marketing and training videos. The trend has been driven by the popularity of video-sharing sites like YouTube and Vimeo, as well as the rise of mobile devices. Screen recording, also, is a quick and easy way to create high-quality videos that can be used for a variety of purposes.
Meet Sendspark: The #1 Screen Recorder for Sales & Customer Communication
Sendspark is a screen recording platform designed to help you communicate with customers with personalized video messages. You can easily record yourself, your screen, or both together.
Once you have your video, you can easily share it in direct emails, LinkedIn messages, or automation. This helps humanize all of your communication to connect better, build rapport, and improve results.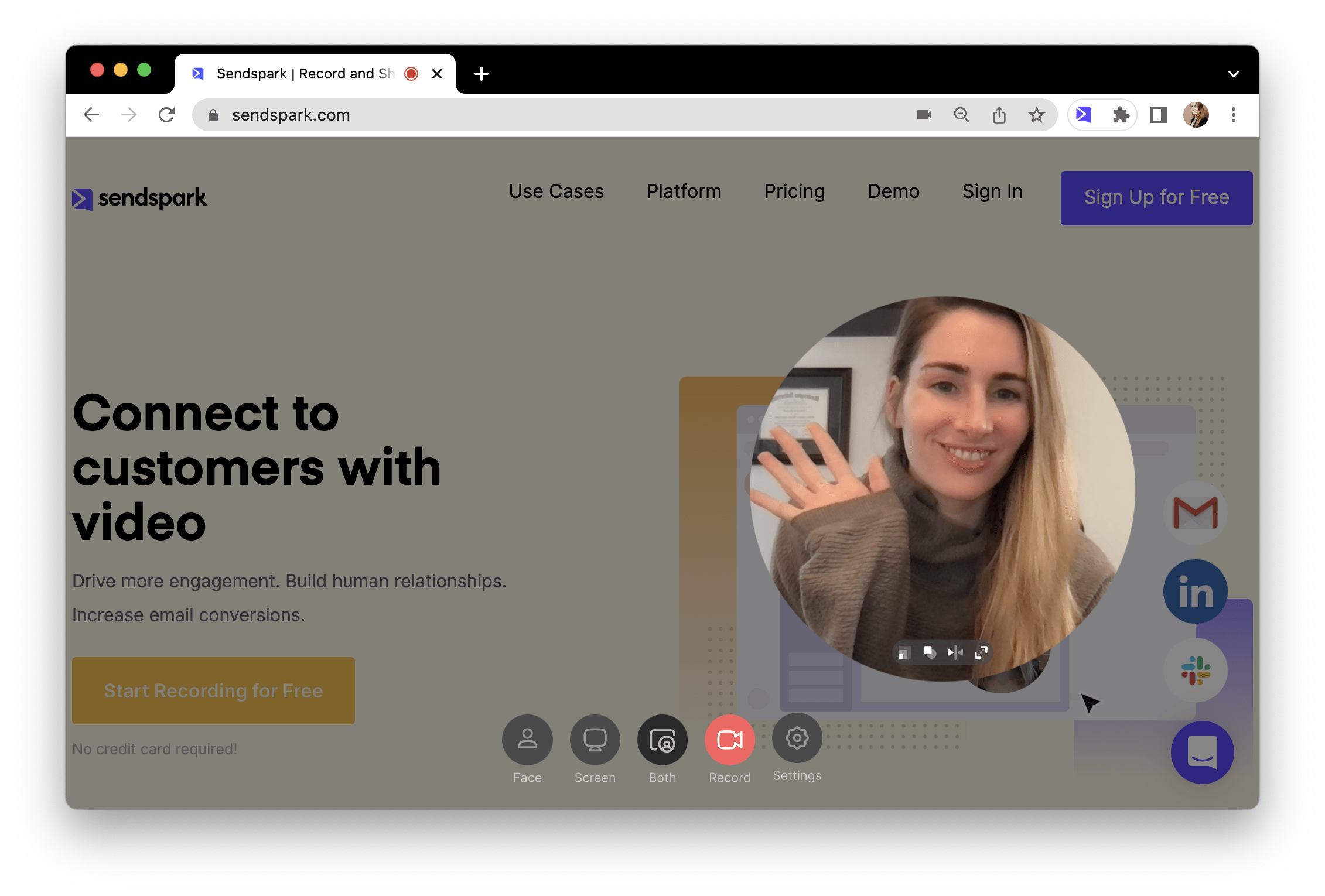 To use the online screen recorder, you will need a computer with an internet connection. You will also need a microphone and webcam if you want to record your audio and video at the same time.
Features to Enjoy in Using Screen Recorder Software
Aside from the fact that the innovative tools nowadays are created with an easy-to-use interface, most of the screen recorder tools today require no installation as well. This means that you don't need any special skills or knowledge to use the online screen recorder. Even if you're not tech-savvy, you'll be able to figure out how to use it within minutes. There are also other many features that you can enjoy while using the screen recorder software. Read on and find out a few of them.
You can record your audio and video at the same time
One of the best features of online screen recorder is that you can record your screen and audio at the same time. This is great for businesses because it allows you to create training videos, product demonstrations, and more. It also lets you create videos that are more engaging. Aside from that, you can also add a personal touch to your videos by recording your voice-over. This can also make your videos more effective. There is no need to hire a professional voice-over artist. Just record your voice-over using the online screen recorder feature and add it to your video.
It's Great for Creating Training or How-to Videos
The online screen recorder is great for businesses that need to create training videos. Screen recording is also a great way to create how-to videos that can be used to help customers use your product or service. Aside from that, it is also the best tool if you are planning to create tutorial videos. Using it, you can record both your screen and audio simultaneously. The benefit of this tool for businesses is that their videos will be more engaging.
You Can Record HD Video
Sendspark's online screen recorder can record high-quality video. Businesses will benefit from this since it allows you to create high-quality videos that look good on HD monitors and TVs.
It's Easy to Share
Once you're done recording your screen, you can easily share your video. You can download it to your computer or share it online.
If you're sharing your video online, you can use the online screen recorder's built-in sharing features. Or you can share your videos directly on YouTube, Facebook, Twitter, and more. You may even share your video via email or by embedding it on your website.
These are just a few of the many advantages of using Sendspark's online screen recorder. The tool is handy for businesses, as you can see. It's easy to use, it's free, and it's great for creating high-quality videos. If you're looking for an easy way to record your screen, you can always find an online screen recorder on the internet as the perfect solution.
Advantages of Screen Recording Software to a Business
Ever wonder about the benefits that screen recording can give to a business? As you read this article, you will learn more about the many advantages of screen recording software to a business, how it can help you with your job and how important it is that you learn its basics.
Lets You Connect to the Customers
If you have a business, there are many ways that a screen recorder tool can help increase your connection with your customers. Screen recording is the best way to make your business connect to the customers because it lets you record your screen as well as the sound of your voice. This can be used to explain well the uses of a product or use it to make a presentation on a particular subject.
Build a Community
This type of software also can help build a community into a business by allowing you to stream videos on your computer screen, then share those videos on streaming platforms such as Twitch and YouTube. By completing this process, you have the ability to build a community of people who are interested in seeing what you do with your business every day without having to ask them directly.
Onboard Customers Faster
Sendspark's screen recorder tool is essential for businesses that want to onboard their customers more quickly and efficiently. Through the screen recording tool, you can create a self-documented training video that provides a comprehensive set of instructions. This video can help eliminate human errors. Also, it can help speed up the process of learning about how to use your product.
Helps the Business Sell Better
Sendspark's screen recorder tool is great for public speaking, presentations, and demonstrations. It's really a powerful tool to record business sales as well. If you are not good at speaking and explaining things, can simply record your video marketing and post it on Social Media Platforms.
Recording Tips for Better Videos for Business
Recording better videos do not have to be complicated. Just following a few simple tips can make a big difference in the quality of your final product. Keep reading and find below a few tips to help you get started with screen recording.
Choose the Right Software
Several different screen recording software programs are available, so it's essential to choose one that's right for your needs. If you're planning on creating videos for marketing or training purposes, you'll want a program that's easy to use and has a variety of features.
Plan Your Video
Before you start recording, it's important to clearly understand what you want your video to achieve. What is the purpose of the video that you are planning to create? Who is the audience that you target to reach out to? What information do you want to include in your video? Answering these questions will help you create a more focused and effective video.
Keep it Short
Most people have short attention spans, so it's important to keep your videos concise. If you're creating a marketing video, aim for 2-3 minutes only. If you're creating a training video, aim for 5-10 minutes only. It is important to remember that people will likely lose interest if your video is too long.
Lighting is Key
Proper lighting is essential for recording high-quality video footage. If possible, record during the daytime or in a well-lit room. If you're recording yourself on a video, be sure to position yourself so that there's no backlight. This will help you avoid any unwanted shadows on your face.

Poor lighting can make your video footage look grainy and low quality. You must try to record in a room with plenty of natural light, or use artificial lighting to brighten up the space.
Use A Microphone
Using a microphone is a critical step to ensure that your audio is clear and easy to understand. If you're recording yourself on a video, be sure to position the microphone close to your mouth. For best results, use a lapel microphone or headset. This will help reduce any background noise and ensure that your voice is clear.
Edit Your Video
Once you've recorded your video, it's time to edit it. This is where you'll cut out any unwanted footage, add any graphics or transitions, and generally polish up the final product. There are a variety of different video editing software programs available, so choose one that's right for your needs. You may also add video footage for your edited video project. There are plenty of free stock video footage and clips shared by talented creators that you may use for free.
Add A Call to Action
Make sure your video has a clear call to action. If you want people to visit your website, make sure to include a link at the end of the video. And if you want people to sign up for your newsletter, don't forget to include a call to action at the end of it.
Wrapping Up
Creating high-quality videos does not have to be a difficult or time-consuming task for everyone. By simply following these simple tips, you can create better videos that your business needs. With the use of a screen recording tool, you can easily create professional-looking videos that will help you achieve your business goals. But before you post your video, make sure to compress your video using a video compressor tool. This will help you lessen the size of your video without losing its quality.