Email marketing is here to stay. As long as you do it right, email marketing is one of the most effective tools for any business to reach engaged customers. That is why there's no shortage of email marketing services.
We have analyzed some of the most popular platforms and have compiled a list of the best email marketing software to use in 2022.
What is email marketing software?
Email marketing software provides tools to design, monitor, and implement various email marketing campaigns. Professional email marketing software can help you increase your business and sales effectively.
An email marketing software also helps you-
Manage your email list
Write and design emails without hiring a full-time designer
Personalize your emails by segmenting them
Automatically send emails to multiple people
Determine campaign effectiveness using advanced analytical tools
Why do companies use email marketing software?
Email marketing software includes features that help businesses create targeted emails you can send customers. It also involves automation, list segmentation, analytics, personalization, reporting, etc.
How does email marketing software work?
Email marketing software allows brands to create and send mass emails to multiple customers. Without email marketing software, brands can't perform essential tasks like sending emails, easily maintaining email lists, tracking the effectiveness of email marketing campaigns, etc.
Can I send videos in emails?
While typically videos are too large to send in emails, you can use Sendspark to send videos in any of the platforms listed below!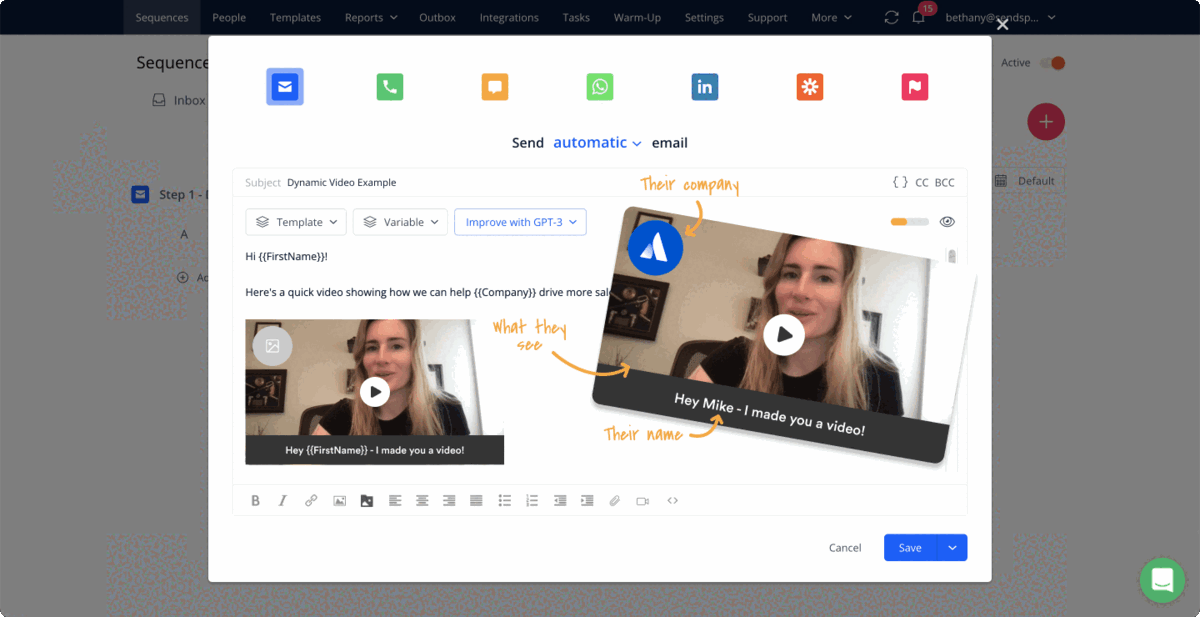 You just need to record or upload your video, and Sendspark will automatically generate email embed code that you use in any email marketing platform.
Get started with Sendspark for free here.
9 best email marketing platforms
1. HubSpot
HubSpot is a popular business platform that gives you everything you need to grow your business. Their email marketing service is part of their free CRM plan and includes a landing page builder, form builder, meeting builder, and live chat.
It automatically records all the information about your contacts and how they interact with your business. You can then use this data to personalize your emails deeply.
You can easily create a landing page using a signup form that allows you to capture a new email address to be automatically added to your CRM.
Hubspot Features
Live Chatbot
Ad management
A/B testing capabilities for faster conversations
Pre-made templates that you can modify according to the requirement and purpose
Integration with popular tools, including WordPress plugins
Hubspot Pricing
HubSpot's free plan allows users to send up to 2,000 emails per month. Paid plans start at $50 per month and give you access to all HubSpot's marketing tools.
2. Mailchimp
Mailchimp is a popular email marketing software with numerous clients. Not only does it help users run relevant campaigns, but it also allows them to create websites.
It helps send personalized emails to customers and avoids sending them to spam folders.
Mailchimp integrates seamlessly with your e-commerce store and social media profiles to promote across multiple platforms.
Mailchimp Features
Design and execute effective email campaigns
Targeted email marketing using automated customer journey builder
Integration with e-commerce stores, social media, and developer tools
Real-time analytics
Marketing Almanac
Mailchimp Pricing
One of the reasons Mailchimp is so popular is its free service. You can send an email to 2000 subscribers via their free plan. Paid versions start at $11 per month, allowing you to edit emails and perform A/B testing.
3. NotifyVisitors
It is regarded as one of the best email marketing software. It lets you design engaging campaigns with a few clicks.
It helps you design professional, personalized campaigns within minutes. Employing NotifyVisitors' robust email marketing features leads to your business improvement.
This platform is trusted by thousands of clients worldwide and offers various email marketing functions.
NotifyVisitors Features
Contact Management
Lead nurturing
Managing Campaigns effectively
Segmentation
Email Marketing Automation
Marketing Analytics
NotifyVisitors Pricing
A free plan is available on the website; however, the software is not free of cost. Price is available on request.
4. Sendinblue
Sendinblue is among the best email marketing software that offers a range of nurturing tools to lead your customers easily. It includes a direct registration form option, a landing page builder, and a straightforward and responsive email editor.
SendinBlue offers advanced reporting and many customizable templates, making it one of the best email platform options available today.
With Sendinblue, you can quickly set up an email marketing strategy, handle text messaging and website chat, integrate Facebook ad management, and easily track through the built-in CRM.
SendInBlue Features
Integrate Facebook ad management
Design emails, signup forms, and landing pages
Audience segmentation
Real-time analytics
SendInBlue Pricing
The free version of SendinBlue allows users 300 emails per day. The software provider follows a pay-as-you-go model, which means you only pay for the features you choose.
5. ActiveCampaign
ActiveCampaign is another popular email marketing software for marketing automation. It helps you create newsletters faster than ever with an easy-to-use email builder. It also offers a variety of templates.
Activity tracking is also great for monitoring the specific activities of your contacts. It also offers personalization.
Active Campaign offers sophisticated automation features suitable for experienced email marketers.
ActiveCampaign Features
Activity Tracking
Customizable templates
Built-in CRM
Multiple integrations
ActiveCampaign Pricing
ActiveCampaign offers a 14-day trial that allows users to try out the platform. Its premium plans start at $15 per month and give you access to email marketing, spreadsheets, automation, etc.
6. Unlayer
It is an email design tool that lets you create responsive emails without requiring coding or design skills.
One can easily choose and customize from a library of over 1,000 email templates. There's a template for everything you need.
You can also use its email editor to embed images, personalize content, change font styles, and more.
Unlayer Features
1,000+ professional templates
Personalization features
Reusable custom blocks and tools
Unlayer Price
Paid services are determined by the type of user and start at $15. You can choose a risk-free 14-day free trial, with no credit card details required!
7. AWeber
AWeber, an email marketing solution, offers various automation options for creating, selecting, and sending email marketing campaigns and targeted messages. You can integrate the software with some of the best e-commerce platforms like WooCommerce and Shopify, as well as CRMs like Salesforce.
AWeber features can ensure the quality and appearance of your email.
AWeber Features
You can test email on multiple devices
Multiple integrations
Email templates for any occasion
Free high-quality stock images
AWeber Price
The platform has a free plan limited to 3,000 messages per month. The paid version starts at $20 per month and unlocks all the platform's features.
8. ConvertKit
Popular with bloggers and online content creators, ConvertKit offers a more straightforward marketing tool. Anyone with marketing and design skills can successfully use this software to create attractive email campaigns.
Convertkit Features
Drag and drop email builder
Automated emails
Detailed statistics for each email
Email List Management
Convertkit Price
The free version of ConvertKit allows you to send emails to up to 300 subscribers. As the number of customers and advanced devices increases, so do the prices.
9. Benchmark
Benchmark is one of the leading email marketing providers with ample customer support and a simple drag-and-drop email editor.
Benchmark will give you access to the personalization needed to increase your click-through rate as a simple email marketing service. The email preview feature can also be handy.
Benchmark Features
Drag and drop email builder which can be used to create newsletters
List management
Basic automation
Live chat, phone support,and email in several languages
Benchmark Pricing
Free plan offers 250 emails per month for unlimited subscribers. Paid plans start at $15/month for 500 subscribers.
Final thoughts on the email marketing tools
There are many email marketing programs available today. The trick is to figure out which is the best for you. Your final choice will be based on your business needs and personal preferences.
Hopefully, the list above will give you a good starting point. Please take a look, contact customer service about them, and use the list to help you make the final decision for your business.