The best way to send a heavy video is as a streamable link. This way, you can send videos quickly and easily without adding large attachments to your messages.
One way to do this quickly and easily is using our app: Sendspark. Below, we'll give you step-by-step instructions and best practices to guide you.
How to send a video that is too large?
Step 1 - Install Sendspark
To use Sendspark, just add it to Google Chrome as an extension via this link. No need to download and install a standalone app.
To log into the Chrome extension, you'll need a free Sendspark account. You can get one here.
Step 2 - Record or upload your video
To record a new video, click the Sendspark icon in Chrome's top-right corner and follow on-screen instructions.
To upload an existing video, log into Sendspark and click "New Video" in the top right corner.
Now drag the file you want to send into this box - or click the hyperlink to find it on your computer.
Step 3 - Copy the link
If you're using the Sendspark extension, click the icon in the top right corner again…
Then click Copy Link to get a text link - or Linked GIF to get one with an animated video preview.
If you're using Sendspark's website, click Share Video in the top-right corner…
And get a text link (Copy Link), link with still image (Copy Still Thumbnail) or link with GIF (Copy Animated Thumbnail).
To customize your GIF or still image, click "Edit Thumbnail" on your video page. Choose your GIF frames using the slider below your video - and add text if you want to.
Step 4 - Send link
Now take the video link you created and send it via email, messenger, text message, or any other channel.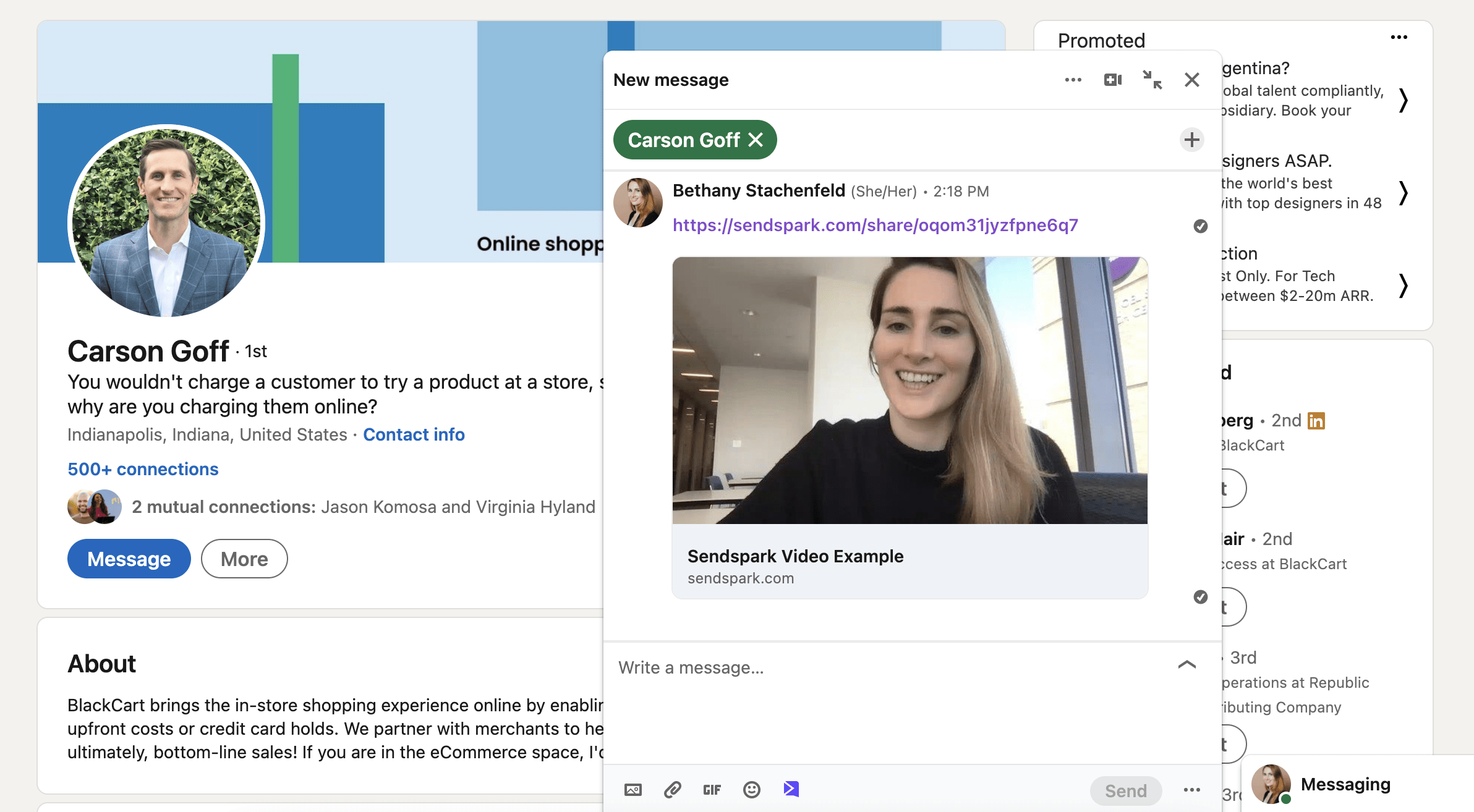 Why use Sendspark to send videos that are too large?
The main reasons to send videos with Sendspark are...
Send full-length, high-quality videos
Messengers and e-mail services limit video file size; usually to 16-25 mb. Many compress video files by reducing quality, length, or both.
This can make important videos look grainy, choppy, and low-quality. In some cases, it can mean that a long video arrives in parts to adhere to an email provider's file size limits.
Sendspark lets you avoid all these problems. You can use the app to send long videos at resolutions of up to 1080p. This way, your videos always look good and stay in one piece.
Upload once, deliver at scale
Attaching large video files to individual e-mails and messages can take hours. But with Sendspark, you don't have to do that. Upload or record your video once - then send a shared link to send it to any number of viewers.
Fewer clicks, less time wasted, and as many recipients as you want to include.
Everything you need in one Chrome extension
Sendspark's extension is a 3-in-1 app. It's a video and screen recorder; a cloud storage service; a video link generator. You can use it to create, upload, and share videos seamlessly.
This saves you from having to download and use multiple apps. Even better, Sendspark works directly from your Chrome browser - so you never have to look for it or turn it on.
Embed videos easily
Embedding a video usually means sending it as an email attachment. But with Sendspark, you can use special codes to embed videos without attaching them. This feature is compatible with Mailchimp, Gmail, Outlook, and other services (full list of Sendspark integrations).
When should you send large videos with Sendspark?
You should send large videos with Sendspark in the following situations.
1. When you need high-quality videos
Many apps will send compressed video files instead of your original recording. This includes WhatsApp, YouTube, and many others.
Sendspark gives you a way to avoid this. Anything you send through our app will reach audiences in high quality (up to 1080p), with no video compression or quality loss.
2. When you're sending to multiple recipients
Sending a large video as an attachment is fine with small numbers of recipients. But when you need to reach 10, or 50, or 100 people, attaching files takes ages.
The smart thing to do is create a video link with Sendspark. A video link takes microseconds to send. It can be shared with hundreds of people instantly, and without reducing video length or quality.
3. When they can't download video files
Not sure your recipients can download video files? Then give them a way to stream recordings online with Sendspark. They'll be able to see anything you send them on our website.
Best practices for sending a large video file
Here are some tips for sending a big video file.
1. Use visual pattern interruptions
Long videos can be boring to watch. To help viewers stay engaged, use visual pattern interruptions. These could come in the form of engaging images, full-screen text banners, or blank screens. Anything that breaks your video up into sections and lets people take short breaks will increase engagement.
2. Rehearse before recording
Nothing's worse than a video that stalls every few minutes. But when you have lots of material to get through, recording without interruptions can be tricky. It pays to rehearse everything you need to deliver before hitting that "record" button.
If you're recording a really important video, consider rehearsing in front of someone else. This can be in person, via a Zoom call, or via Sendspark recording. Getting a second opinion will help you nail presentation.
3. Send video links
Attaching files to messages and e-mails is problematic. You can't exceed a certain file size limit, which limits quality and length. Your recipients have to download a whole video to watch it. And if viewers are on their desktop computer, they may need a special app to play the file.
Using Sendspark links fixes all these problems. It lets viewers stream videos of any length without downloading apps or files. This is a cleaner, simpler, and safer way to share videos.
4. Create a personalized video landing page
If you're sending your video as a link - as opposed to embedding it - we've got good news. Sendspark makes it easy to enrich videos with custom CTAs, brand colors, logos, and captions. These can increase engagement and help you drive better business results.
To learn more, check out our video templates page.
The Bottom Line
With Sendspark, you can share long, heavy videos without sending large attachments to your recipients. It's a more elegant solution than recording videos, then uploading them to your cloud service.
To get started with Sendspark for free, check out our Getting Started Guide.