When focusing on growing a business; email marketing, analytics, and social media are all incredibly important areas of focus. VBOUT is a wonderful resource for nurturing these values, as it provides a hub for email automation, lead management, and more.
But whilst generating email campaigns and automating follow-ups, how can you ensure that your message reaches and impacts your customer?
How do you solidify yourself as the best choice compared to your competitors? The answer is simple: send videos!
Why Send Videos in VBOUT Emails
It's always difficult to find ways to really stand out from the crowd in terms of marketing your product. Especially when it comes to digital marketing, it's incredibly important that your company is able to make waves in an inbox. If you want to really make your message heard, video is the way to go. Video messages have consistently proven to drive more user engagement. In fact, personalized videos can actually spark a 500% increase in email engagement for your company.
Video is also a fantastic way to show, rather than tell potential customers about your product. It is significantly more impactful for a customer to see a product in action through a video message, than it is for them to read about it in a lengthy blurb.
Additionally, video messaging provides a more authentic way to connect with customers and increase your chances of successfully marketing your product. With video, you can formulate a more personalized connection. Video allows you to simulate a real conversation and make a customer feel like you are actually speaking directly to them. You can humanize yourself in a customers' inbox that may otherwise be filled with automated and robotic messages from other businesses.
When to Send Videos about VBOUT Emails
There are plenty of different scenarios that call for a video to be sent, as opposed to a text-based message. Below are a few different use cases for sending videos:
Sales Outreach
Video messages are perfect for sales outreach - use video to stand out, pitch yourself and your product, and make a personal connection for sales prospective emails.
Marketing nurture
Use video to keep customers engaged and invested in your brand until they're ready to purchase. You can use Sendspark and VBOUT together to embed customer testimonial videos, thought leadership videos, and other engaging content.
Product launches
Video emails are a wonderful way to announce new products & services to show, rather than tell.
Customer activation
Provide detailed how-to videos to help new clients get started without having to read long manuals. You're far more likely to maintain their interest and attention in a video message than with a lengthy text manual.
Customer activation & expansion
Continue to send video emails throughout your client's lifecycle to help them get the most out of your solution – and even demo premium product offerings to increase their account.
How to Send Videos in VBOUT Emails
Using Sendspark and VBOUT, you can send dynamic videos that are personalized at scale for your customers. Follow these steps to help you capitalize on Sendspark's VBOUT integration:
1. Make a video with Sendspark
When opening Sendspark, you can record, upload, or request a video
2. Add placeholder variables
After you've recorded or uploaded your video, take advantage of Sendspark's merge tags in your thumbnail text or video page.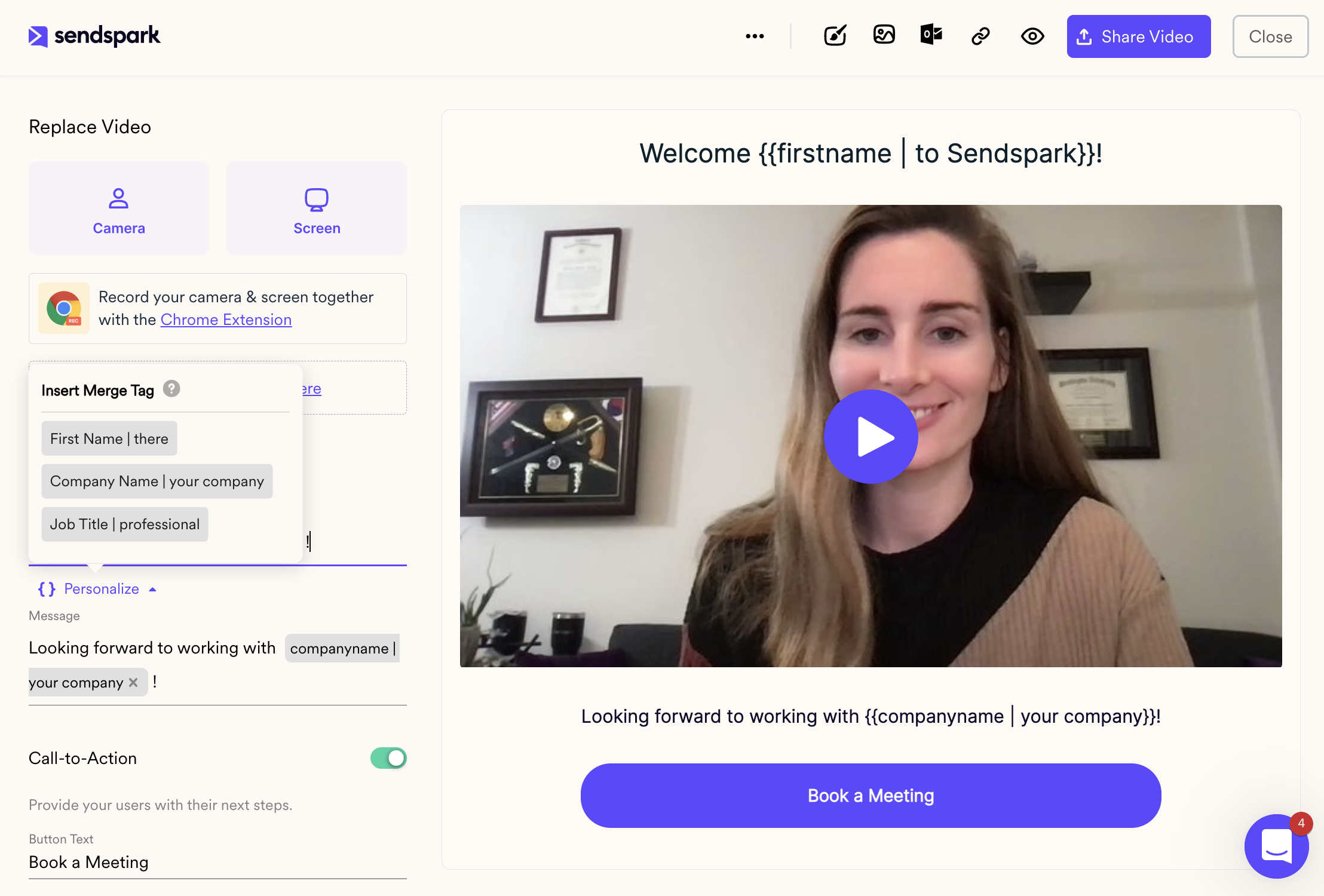 If you have your recipients information, the merge tag will automatically update with their respective info.
If you don't know their information, don't worry! The customer will see a fallback message for a more general audience.
3. Share your video in VBOUT
Now that you're ready to export your video, click the "Share Video" button.

This will lead to a share modal with two different buttons.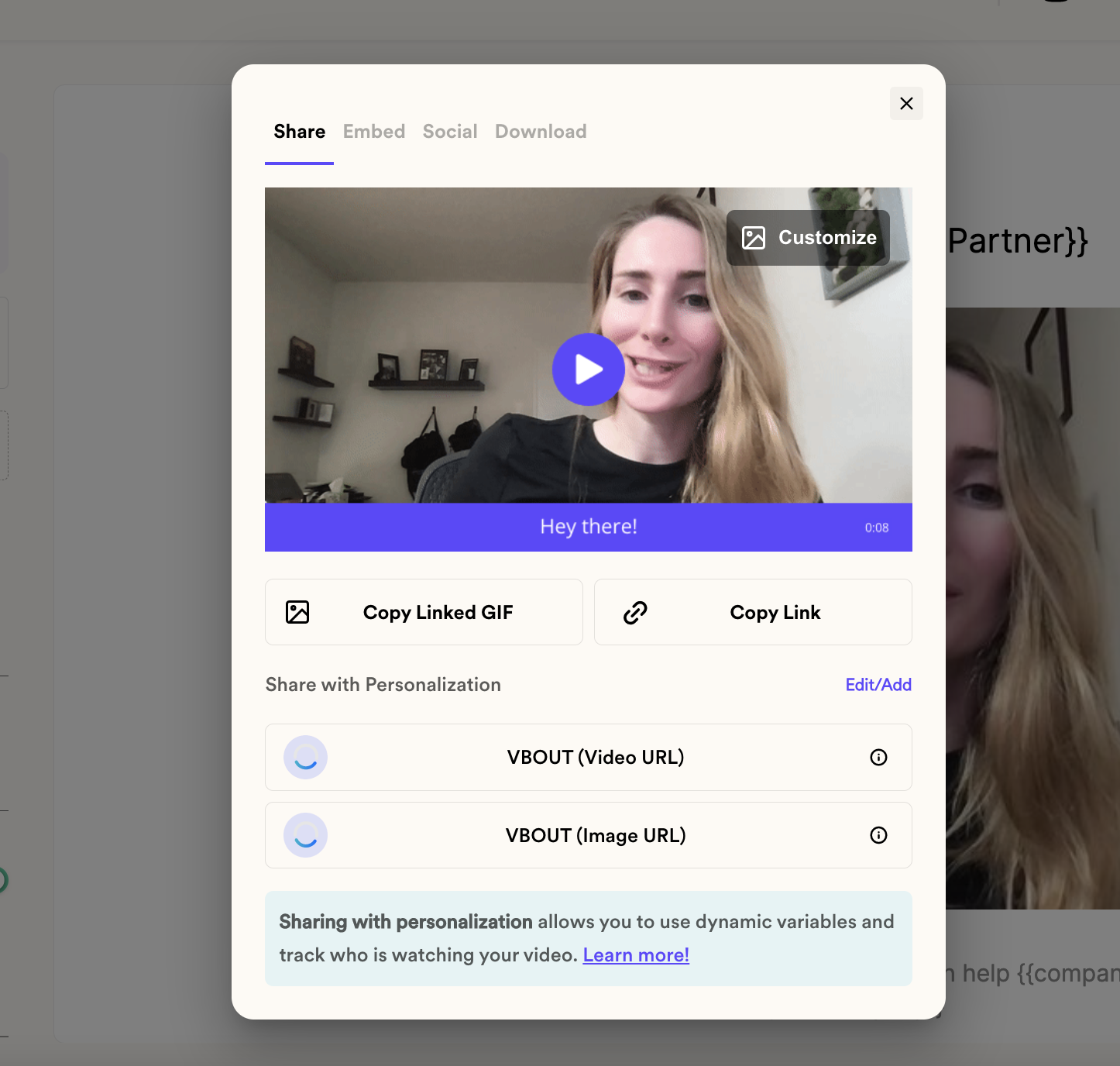 First, you'll want to click the "VBOUT (Image URL)" button. This will paste the image URL to your clipboard, which you can then paste under "Image Path" in your image block in the VBOUT editor.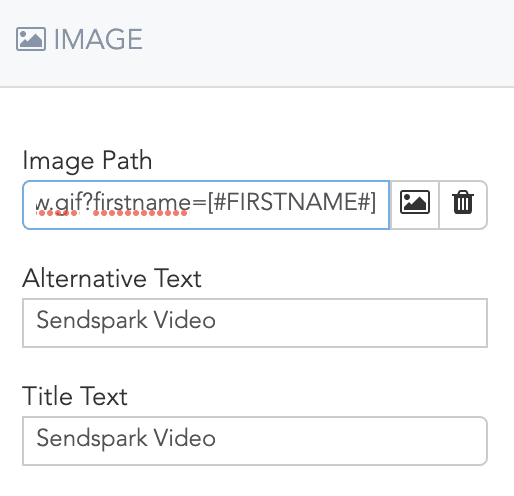 Then you'll want to click the "VBOUT (Video URL)" button. This will copy the video landing page URL to your clipboard, which you can then paste into the "Link to" area of your VBOUT image.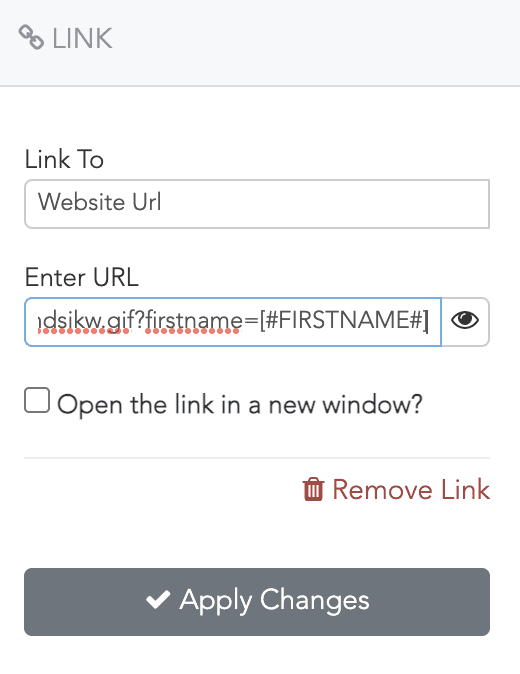 By performing these actions, you can make sure that your video will appear smoothly on a video landing page, so that your recipient can view it on the web.
4. Send your video!
Once you've previewed your video to ensure it looks beautiful, go ahead and send it off!
For more information on sending videos in VBOUT, click here.
Get Started Sending Videos in VBOUT
The best time to start is now! By using Sendspark and VBOUT together, you can easily and efficiently send video messages to your customers. Don't wait to improve your marketing campaigns. Sign up for Sendspark and VBOUT, today!