What's new?
Over the last few months, we've gotten a lot of requests from customers who want to embed videos in email so they play in-line without viewers having to open an a new webpage.
While it is possible to play videos in-line in some email clients, it has been a little bit tricky because not all email clients handle video the same way, and some do not support video at all (looking at you Gmail 👀).
Today, we're releasing a new Embed Video feature that handles all of the complexity for you, so recipients can watch Sendspark videos right in their emails.
Why play videos in email?
Having videos play in-line in email reduces friction, so recipients can watch your video without waiting for an external webpage to load. This is a great way to increase engagement anytime you...
Announce new features & products
Onboard new customers
Share customer testimonials & other video content
What about deliverability?
We hear this question all of the time! While many people are concerned that embedding videos in email affects deliverability, the truth is that when you embed videos correctly, there is no negative impact on deliverability. And sometimes, videos even have a positive impact on deliverability because they get more engagement, and email clients prioritize emails that get more engagement.
However, it is important to know that videos will NOT always play in-line. Videos will only play in email clients that support videos...
Video WILL play in these email clients:
Apple Mail (web & mobile)
Samsung Mail
Outlook for Mac
Thunderbird
Videos will NOT play in these email clients:
Gmail
All other Outlook versions
(We know, it's a real bummer that Gmail and most Outlook clients do not support video right now. But the fallback version is still very good, so Gmail / Outlook users will still have great experiences watching your video!).
What happens when the video doesn't play?
When recipients open video emails in Gmail, Outlook, or other email clients that do not support video, they will still have a great viewing experience. Viewers will see an animated video preview, and then be able to click to watch the full video in their browser.
How can I embed a video in email right now?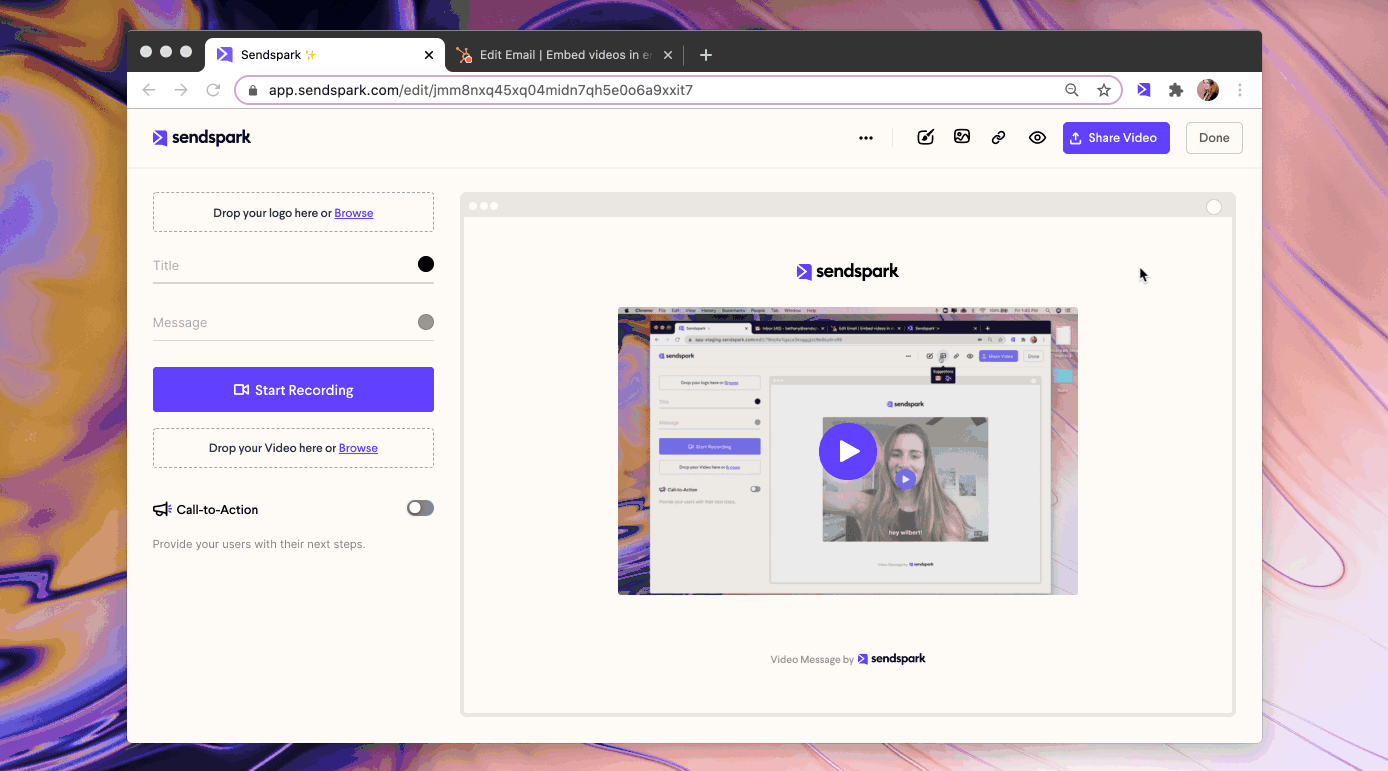 It is now super fast and easy to embed videos in email with Sendspark. Follow these steps to embed videos in emails in just 30 seconds:
Record or select the video you want to share
Click "Share"
Under Embed in Email, click "Copy Code"
Paste this in an HTML block in any email automation platform (Hubspot, Mailchimp, etc.)
For more details, check out our help center to see specific articles on how to embed videos in emails in Hubspot, Intercom, Customer.io, Mailchimp, and Constant Contact.
What do you think?
We'll love to hear from you! Please message us through our website chat, or email us at hello@sendspark.com.