With the Sendspark + Hubspot Marketing Hub Integration, you can create personalized videos at scale to drive engagement and increase conversions. Make every recipient feel special with a video personalized just for them!
What is Hubspot Marketing Hub?
HubSpot Marketing Hub is a suite of software tools that helps businesses attract, convert, and close more customers. Key features include…
Email marketing: Create and send email campaigns, track opens and clicks, and segment your lists based on interests and behavior.
Landing pages: Create high-converting landing pages that capture leads and nurture them through the sales funnel.
Website optimization: Improve your website's SEO, CRO, and usability with HubSpot's website optimization tools.
Social media marketing: Manage your social media accounts from one place, create and schedule social media posts, and track your results.
Reporting and analytics: Get insights into your marketing performance with HubSpot's reporting and analytics tools.
This article will cover how to send personalized videos at scale in Hubspot's marketing emails.
Why Send Personalized Videos at Scale?
Personalized vides can make a big impact on your customer journey. Stats show that video emails convert ~300% higher than their text-based counterparts, and 59% of senior professionals like to watch a video before making a purchase decision. These are a few reasons why we recommend sending video emails to customers.
Increase email engagement across your sales outreach, onboarding, or nurture campaigns
Build brand loyalty
Look innovative to prospective customers
That being said, if you have a large email list, it's virtually impossible to personalize each video email for each recipient. You have to be more efficient.
By using dynamic variables, you can personalize videos at scale. This lets you automatically fill in customer data for your viewers, so no matter how many people are on your email list, each recipient always sees their own name or company name on their video.
You will see the same great conversion rates across your entire email list.
Can you add videos to Hubspot emails?
Yes, there are a few ways to embed videos in Hubspot emails:
For the video to play in email: Use an HTML block in your email and embed an HTML video player
For the video to open in a new browser: Use an image or GIF preview of your video in email, and link to a video hosted on the web
Can you bulk personalize video emails in Hubspot?
Yes, you can bulk personalize videos in emails using Hubspot and Sendspark together. If you create your video on Sendspark, you'll be able to pull in data from your Hubspot CRM to dynamically change the video thumbnail or content around the video. This lets you automatically deliver personalized video experiences to customers, no matter how many people are on your email list.
What information can you personalize?
The Sendspark + Hubspot Marketing Hub integration support a few personalization tokens:
First name – will pull in the contact's first name
Job title – will pull in the contact's job title
Company – will pull in the contact's company name (note: this is a contact variable in Hubspot, not a company variable)
You can set fallback variables for all of these variables, so if the information is unknown in Hubspot, your viewer will see the fallback variable that you set.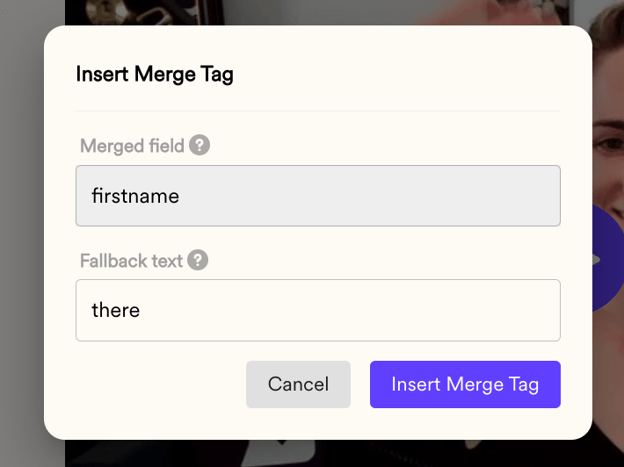 How to Personalized Videos at Scale In Hubspot
1. Record, upload, or request your video in Sendspark
Create your video in Sendspark by either recording a new video, uploading an existing video, or requesting a video from someone on your team or outside of your organization. Once the video has been created on Sendspark, it will be easy to share as a dynamically personalized video.
2. Add personalization tokens
From the Sendspark video page editor, you can add personalized variables. The will automatically populate with your viewer's information when they receive the video. There are a few places where you can add dynamic variables:
On the Sendspark video landing page
This is the page that viewers watch the video on. You can add personalization tokens to the title or message area on this page to improve the viewing experience for your contacts.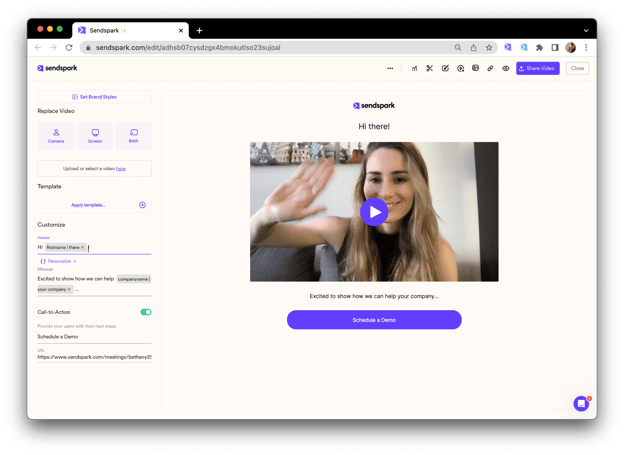 On the Sendspark video thumbnail
This is the preview that viewers see in email when they review the video email. Take advantage of the personalization areas in this place to increase your email conversion rate. The better your video thumbnail is, the more people will watch your video.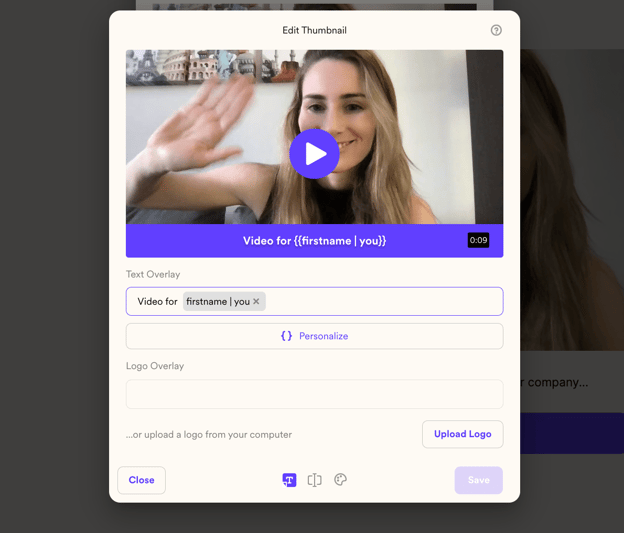 3. Copy Hubspot video embed code
Click "Share" and then copy the snippet for Hubspot marketing emails. This will copy the email embed code to your clipboard.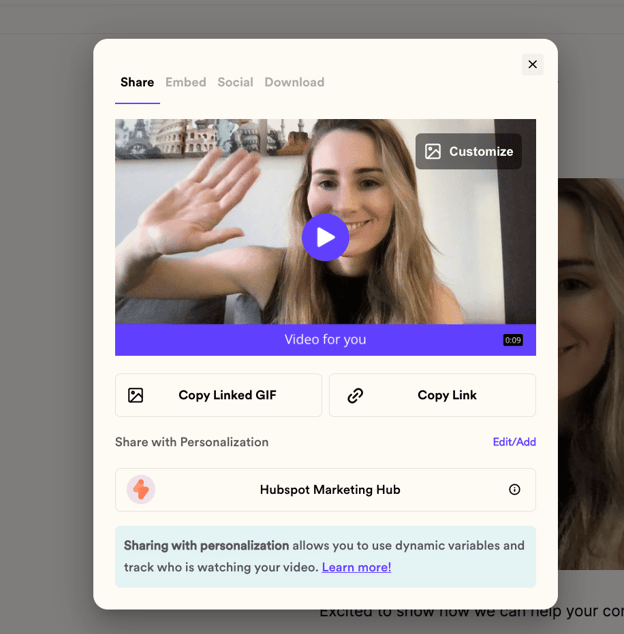 4. Paste into an HTML snippet in a Hubspot marketing email
From your email draft in Hubspot, drag in an HTML snippet. You can now paste the snippet you just copied from Sendspark right into the HTML snippet in Hubspot.
Note, you must follow these steps to share your video Hubspot sales sequences.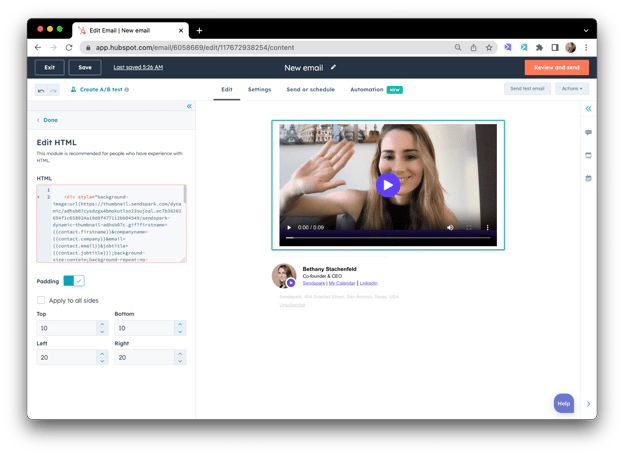 5. Send your video email!
That's it! Send your email to woo your contacts and grow your brand. You got this!
Start sending personalized videos in Hubspot today!
Create a free Sendspark account here. Let us know if you need any help or have any feedback. We'll continue to improve the experience for you. Happy recording!