Are you looking for a Dubb alternative that's easy to use and fairly priced? Then you're in the right place. Sendspark is a free Dubb alternative that gives you easier recording, editing, and uploading with a simple user interface.
We've compiled a list of key differences below to help you make the right choice easily. Read on to find out more.
Sendspark's clean, simple user interface
The core feature for both Dubb and Sendspark is video recording for sales teams. Many of the features are the same: record, change audio source, etc.
That being said, Dubb's user interface can be difficult to use. Its features are spread through tabs, and require lots of clicking to get to what you want or need.
Sendspark's a lot easier to use. The Chrome extension's interface makes it easy to find all the features you need instantly. There are only five buttons; you don't need to cycle through tabs to find anything, ever.
The other part of Sendspark's user interface is the web app. The web app is where you edit, create custom landing pages, upload new videos, and more.
The web app is easy to use and navigate. Instead of tabs, which is what Dubb uses, you just navigate to different pages and site sections. This lets you embed videos in social media, send them via email, or more. Super easy to use and navigate:
It's worth mentioning editing separately. Dubb has an advanced editing tool that resembles a lo fi, scaled-down Photoshop. It can get a bit confusing and laggy.
Sendspark's editing options are more straightforward. You can do all the customization you need to quickly. Features are simple but powerful, e.g. picking a preview thumbnail or creating templated, customized landing pages.
Budget-friendly and fairly priced
Both Dubb and Sendspark offer free trial versions. Dubb's basic version is limited, with few features; Sendspark's is more comprehensive. Here's a comparison:
| | |
| --- | --- |
| Sendspark | Dubb |
| Screen & video recording | Screen & video recording |
| Video editing | Absent |
| 100+ integrations | Limited integrations, including LinkedIn |
| Up to 30 HD videos | Up to 100 SD videos |
| Advanced reporting | Basic reporting |
Sendspark outpaces Dubb by including over 100 integrations in their free version. It also gives you more features; you can use the free version to edit your videos, customize thumbnails, and review video analytics.
Dubb's feature set - which is missing advanced reporting and only lets you upload SD videos - is lacking in comparison.
Now let's take a look at the paid versions. The basic features are similar for both Sendspark and Dubb, but Dubb is a lot more expensive (nearly 70% more expensive). Let's compare:
| | |
| --- | --- |
| Sendspark Pro ($144/year) | Dubb Pro ($384/year) |
| Unlimited Videos | Unlimited Storage |
| Dynamic Variables | HD Videos |
| Custom Logo & Branding | Custom Logo & Branding |
| Video Analytics | Advanced Reporting |
| Call-to-Action Buttons | Calls-to-Action Buttons |
| Whitelabel Option (custom domain for extra $49/month) | No Whitelabel Option |
Two things to note here. First, Dubb's Pro version is expensive at $384/year. Sendspark's Pro version is just $144/year - and you get more features.
Second, the Dubb Pro feature set is similar to Sendspark's free feature set. If you're looking to get the best value-for-money, Sendspark is the clear winner here.
Business Versions
Dubb and Sendspark both have high-end subscriptions made for teams that actively use video. Sendspark's Business plan is specifically made for teams who…
Have 5+ team members
Want to host videos on their own URLs
Want dedicated customer support
With Sendspark's Business plan, you also get a dedicated customer success manager (CSM). Your CSM will help set up a custom domain, answer any questions you have, and more. Dubb can't quite match the time investment the Sendspark team devotes to its clients.
Here's how the two versions stack up:
| | |
| --- | --- |
| Sendspark Business ($1,788/year) | Dubb's Pro Plus ($960/year) |
| Space for 5 Team Members | Automation features |
| Team Overview Dashboard | Custom Integrations |
| Custom Success Manager | Phone Support |
| Whitelabel Add-on Included | No Extra Add-ons! |
| 4 Training Sessions | No Training Sessions |
Sendspark Whitelabel
Whitelabel is an add-on package that allows you to present yourself independently from Sendspark. You can share your videos from your own domain URL, with your own favicon. Your customers won't realize you are using a third party app to share and upload videos.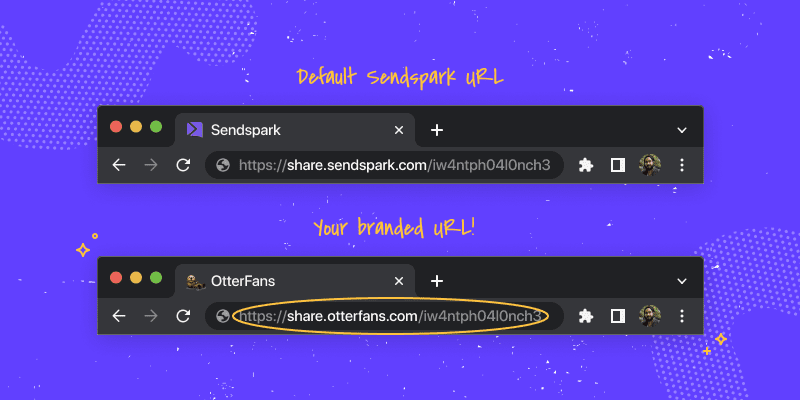 This package is part of the business version, but you can add it to the pro version of Sendspark for $49 per month. It's handy if you need to record, upload, and share lots of videos… Or if you want to offer whitelabel video services to clients from your own web assets.
Dubb has no answer to the Whitelabel feature set. If you think you'd like to use your own branding and domain(s), Sendspark is the service you need.
Advanced Analytics
Sendspark and Dubb have a lot in common when it comes to analytics. Here are metrics common to both pieces of software:
Anonymized viewer analytics (location, IP, etc)
Completion percentage (how much of your video did they watch?)
Actions taken (like clicking on your call-to-action button)
Real-time notifications showing when email is opened, video is watched, etc.
CRM Integrations with Video Insights
That being said, Sendspark's analytics are a little more detailed; Dubb doesn't quite go as deep and broad. The first of these is a Heatmap. This feature lets you know how much of a video your targeted leads watched - and which actions they're taking.
It's also worth noting that Sendspark gives you basic analytics for free, unlike Dubb. To see data in Dubb, you need their Pro version.
Order Any Integration You Want with Sendspark
Dubb has a solid list of integrations including Gmail, Facebook, Zapier, and Hubspot. However, Dubb only gives you access to a few integrations when testing the free version. If you want more integrations or custom integrations, you need to pay for the Pro or a Pro Plus subscription.
This can make using Dubb a bit problematic to use. You either need to pay for the Full version or limit yourself. For a complete list of Dubb integrations, check out this link.
Sendspark includes over 100 integrations like Gmail, Outlook, Salesloft, Hubspot, Salesforce, and Calendly. Integrations with Sendspark focus on client-facing roles and sales apps, but categories also include marketing, CRM, data, and social integrations.
What's nice with Sendspark is that you can immediately embed videos into Gmail, LinkedIn, and other messengers and social networks. All embed integrations are available immediately, out-of-the-box, with the free version.
If Sendspark doesn't integrate with an app you need, you can request integration for that app. Check out this link for a full list of Sendspark integrations.
Customer Support
Sendspark receives consistently high reviews for its customer support group. They are quick to respond and knowledgeable. Their service and attention to detail have been a big part in building a loyal customer base. Sendspark also builds in customer support value with its paid versions. The customer success manager available for business subscriptions is a good example of this.
Here is a chart from G2 that shows a user-based report on how Sendspark beats Dubb with its support and service:
Dubb generally gets high marks for its customer service, but scores less than Sendspark in customer satisfaction. One of the main issues with their service team is lack of quick responses. They usually give good information, but sometimes it is tricky to get the process started. Due to a focus on scaling, you can feel a bit left out if you have a smaller team, or are just starting out.
In Summary
Sendspark gives you a full feature set for free. If you opt for the Pro or Business versions, you get a deep bag of tools to work with for very little money; as little as $12 a year. Integrations abound and customer support is stellar.
Sendspark is also fast and secure to get started with. All you need to do to get started is register a free account. No need to install any apps or go out of your way; recording, uploading, editing, etc all happen from the Chrome extension and Web interface.