Are you looking for a Bombbomb alternative that's good for all channels - not just email - and fairly priced? Then you're in the right place. Sendspark is a free Bombbomb alternative records videos quickly and easily across all your apps.
We've compiled a list of key differences below to help you choose the best app for yourself. Read on to find out more.
Sendspark has the better interface
Sendspark's Chrome extension works anywhere, including your browser, apps, and email clients. Accessing the extension is easy. You simply click the button with Sendspark's logo in your Chrome extension list, then choose the option that works for you:
BombBomb's Chrome extension is a little more limited. When you compose a new message, you get an icon with the BombBomb logo that shows up in the body of the message. Clicking this icon opens a small popup window to start your video recording. Hovering over the icon gives you access to your video library and snippets. Here's what that looks like:
Sendspark has a number of ways to personalize your video. You can resize it, change the shape, and flip the camera. Sendspark even has a new beta feature called "Spotlight" that lets you switch the size of your video self. This helps you direct the focus from your screen, to your person.
Check out the Sendspark chrome extension and the Spotlight feature:
The ability to use Sendspark's Chrome extension within any app or email client gives a lot of utility. Sendspark also has more editing features to customize your video. This is an easy win for Sendspark.
Web Apps: Which App Has the Better One?
The BomBomb web app is easy to use, with a sleek looking appearance. But some of the advanced features are hard to find, and the video recorder does not offer a lot of functionality. Here is what the BombBomb web app dashboard looks like:
Sendspark's web app has a lot of features, but organizes them in an easy to use way. The dashboard has all the important features displayed. This includes the template customization feature, share buttons, and more. You don't need to cycle through tabs to find different functions.
When you have recorded your video and are ready to send it, Sendspark gives you a lot of options for sharing it directly from the extension as well as the web app. This includes quickly sending it via social media, email, or saving the links for your website.
Take a look at the Sendspark web app dashboard below.
Sendspark offers much better value
Sendspark starts you off with a free version full of features. BombBomb has a 14-day free trial with limited features. Let's take a look at some of the features that Sendspark gives you in their free version:
Screen and Video Recording
Video Editing
100+ Integrations
Up to 30 HD Videos
Advanced Reporting
Now let's check out how the paid versions compare. BombBomb's prices are a lot less attractive. You need $69/month to send anything other than 1-1 messages… With Sendspark you get everything for $15. This is another easy victory for Sendspark.
Here is a comparison of the features between Sendspark Pro and BombBomb Essentials:
| | |
| --- | --- |
| Sendspark Pro ($144/year) | BombBomb Essentials ($396/year) |
| Unlimited Videos | Unlimited Videos |
| Custom Logo & Branding | Branded Video Landing Pages |
| Video Analytics (Detailed) | Video Analytics |
| Dynamic Variables | Canned Responses (Snippets) |
| Call-to-Action Buttons | Email Support |
BombBomb's Essentials package costs $250 more per year for providing less features. Sendspark also has call-to-action buttons you can place in your videos, while BombBomb doesn't.
To get access to similar video analytics that Sendspark offers in its Pro version, you need BombBomb Plus. This costs you $588 per year! This does get you perks like a templates library, but, you need to open your wallet wide to get basic features like mass email sending.
Sendspark's Special Whitelabel Add-on! (Included in Business Version)
Whitelabel is an add-on package that allows you to present yourself independently from Sendspark.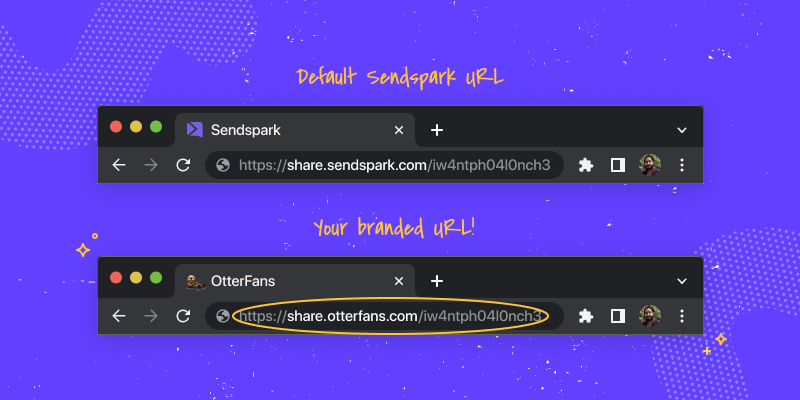 Your videos will live on your own domain and come with your own logo. Your customers won't realize you are using a third party app. This gives you a professional and fully branded look to your videos.
Whitelabel includes offering hosting and services to other parties - like agency clients. BombBomb has no equivalent feature or service. This package is part of the business version, but you can add it to the free and pro versions for $49 per month.
High-end version comparison
Now let's take a look at the high-end offerings from Sendspark and BombBomb, feature by feature:
| | |
| --- | --- |
| Sendspark Business ($1,788/year) | BombBomb Enterprise (Custom Pricing) |
| Space for 5 Team Members | User Identity Security |
| Top-rated Customer Service Team | Full Customer Service Support |
| Team Overview Dashboard | Custom Team Onboarding |
| Custom Success Manager | Custom Success Coach |
| Whitelabel Add-on Included | Quarterly Business Reviews |
Both BombBomb and Sendspark give you a custom success manager (CSM). This is a dedicated person who's there to help you make sure you reach your goals with Sendspark. Your CSM will help set up a custom domain, answer any questions you have, and more.
Sendspark's Business service stands out for its top-rated customer service. The Whitelabel add-on is another high-end feature that BombBomb can't match. If you have an agency or want to whitelabel video recording as a service, Sendspark is the definite winner.
Analytics Comparison
Both apps offer a similar set of video analytics, but Sendspark offers a little bit more information. Here are metrics both services show you:
Viewer analytics - IP, times video has been watched, location
Completion percentage (what percentage of your video did they watch?)
Total Video Playtime
Bombbomb has email tracking features and segmented contact lists designed to keep track of your email responses. You also get a "most engaged video" list that tracks plays and likes.
Sendspark offers more in-depth video tracking that includes viewer IPs, actions taken on your landing page, and video heatmaps.
Sendspark has the edge here based on value-for-money. Sendspark starts off by giving you basic reporting analytics for free and then includes a detailed suite for less than $150 per year. You have to go more than 3x that amount to get the same from Bombbomb.
Who is Better Integrated?
BombBomb
BombBomb includes integrations like Gmail, Salesforce, Agent Locator, and Hubspot. Several of these integrations have a built-in button that makes recording super easy. BombBomb also has some unique integrations in niches like insurance.
Check out BombBomb's integration coverage here.
Sendspark
Sendspark includes integrations like Gmail, Outlook, Salesloft, Hubspot, Salesforce, and Calendly. Integrations with Sendspark focus on comm and sales apps, but they offer many other categories including marketing, CRM, data, and social integrations.
If Sendspark doesn't integrate with an app you need, you can request integration for that app. Check out this link for a full list of Sendspark integrations.
Integrations Goes To….
Sendspark. Sendspark offers over 100+ integrations for free, while BombBomb maxes out at 50+ for all their packages combined. Sendspark has a stronger overall offering and a track record of adding relevant integrations. No contest here,
Customer Support
With Bombbomb, you get a generally responsive customer support group. Unfortunately, they have shifted towards referring many queries to documentation on their site. Unless you have the Enterprise plan, you may be feeling a bit left out.
Sendspark receives high grades for its customer support group. They are quick to respond and knowledgeable. Their service and attention to detail have been a big part in building a loyal customer base.
In Summary
Sendspark gives you so much more value and features for less money. It's. an brainer that you should choose Sendspark for your video email platform.