Adding a logo to your video messages is a fantastic way to personalize your customer correspondences with a professional look.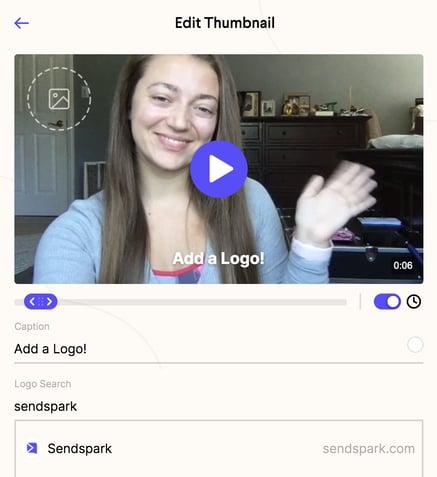 Virtual correspondence is revolutionizing the business world - and it's happening rather quickly. With this increase in virtual conversations comes an increased need for video.
Text-based messages with customers can be bland and boring. Video messages with customers are lively and personalized!
When sending video messages to customers, it is important that your video is representative of your brand. A simple way to incorporate your brand and curate a professional-looking message, is to add a logo to your video.
Why Add a Logo to a Video?
Placing a logo on a video is a great way to customize your video thumbnails. In fact, custom thumbnails are the common denominator in 90% of the best-performing videos on Youtube.
There are two main ways in which adding a logo to your video can be beneficial.
Adding your own logo to a video is a fantastic way to incorporate your brand into your messages. It looks crisp, clean and professional. Additionally, having your logo displayed on your video will help to tie your brand with your face. After receiving a few logo-clad videos, customers will begin to associate you with your brand.
Alternatively, if you're B2B, adding your customer's logo to your video is a wonderful way to personalize videos for your customers. By adding your customer's logo to your video messages, you can showcase your acknowledgement and respect for their brand. It is also a great way to let your customers know that you made this video just for them.
How to Add a Logo to a Video:
1. Record or upload a video
When you open Sendspark, click the large purple "New Video" button. This will open a page in which you can either record a new video, or upload a pre-made video.
2. Edit video thumbnail
Once you have finished recording or uploading your video, select the purple "Share Video" button that sits in the top right corner of the page. This will open a smaller window. Hover your mouse over the video, and select "Edit Thumbnail." With the editing feature open, you can add a caption, a time stamp, and a logo to your video preview image. Learn more about how to create the perfect video thumbnail here.
3. Select or upload a logo
At the bottom of the thumbnail editor, you'll find a logo search bar. Type the name of the business you want to showcase into the search bar. If the business logo does not appear, click the dotted lined image in the top left corner of the video preview. This will open a page where you can upload a 1x1 square logo of your choosing. With this upload option, any graphic logo design can be represented on your video thumbnail, regardless of whether they appear in the search feature. Once you have selected or uploaded your logo, click the purple "Save Changes" button at the bottom of the window.
4. Share your video
Now your thumbnail is complete with your desired logo on display. You can share it with customers or colleagues through email, Slack, LinkedIn, text, or even on your website.
Get Started With Sendspark
Adding a logo to your video creates a professional-looking message that is personalized for your customer. Sendspark's video editing feature makes it quick and easy to add a logo to your video. Get started with Sendspark today!