It can be difficult to stand out on LinkedIn. Video messaging is a great way to make an impression on a customer. Follow this guide to learn how to easily send video messages in LinkedIn.
Everyone in business uses LinkedIn. LinkedIn allows you to broadcast your message to a large audience whilst also providing space to have individual conversations. It's perfect for targeting customers. However, because everyone uses LinkedIn, it can often be quite difficult to build connections.
As a result of its open accessibility, it is easy to get a bit lost in the noise of LinkedIn. You can shout your message from the virtual rooftops, but sometimes it's hard to get a customer to listen. The solution? Humanize yourself and your message with video.
Sendspark allows you to record and share videos with prospective and current customers. Video is a wonderful way to grab a customer's attention on a site where they may not know what to read or where to look. It shows that you are a real human with a genuine desire to connect. With Sendspark, you can send personalized videos to prospective customers on apps like LinkedIn, opening up a friendly and inviting conversation.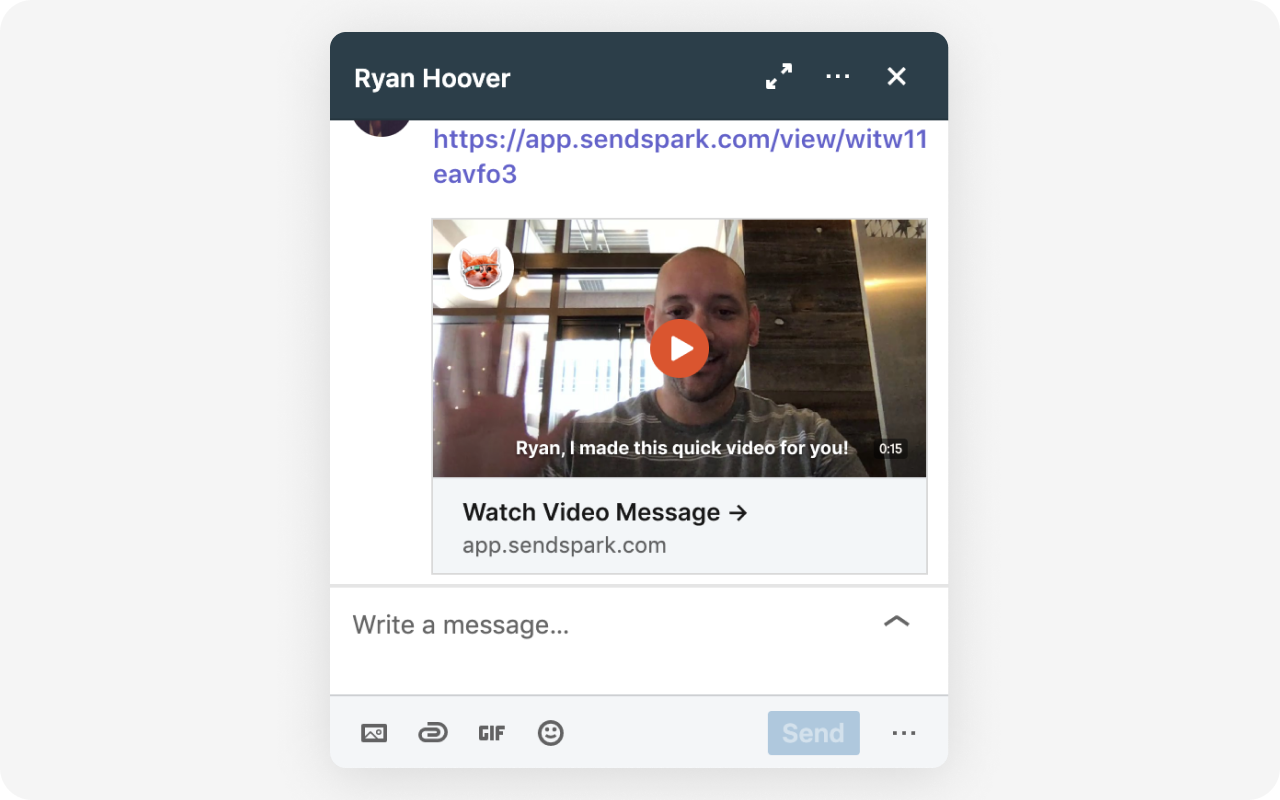 Why Send Video Messages in LinkedIn
LinkedIn can often feel like a daunting platform to navigate. There seems to be an endless stream of content on the app. It can be particularly difficult to cut through the noise and stand out to a customer.
Video is a fantastic solution to this problem. On its own, video is said to directly increase sales by 80% of video marketers. But video is specifically helpful on LinkedIn. In fact, video campaigns on LinkedIn have view rates of 50%.
Additionally, 59% of senior executives claim that with both options available, they prefer watching a video on a topic over reading it in text. This means that a customer browsing LinkedIn is significantly more likely to engage with a video message than they are with a blurb of text.
When to Use Video Messages on LinkedIn
Whenever you are trying to reach out to a customer on LinkedIn and show that you are different from the rest, a personalized video is your best bet. Here are a few examples of videos you might send:
Personally introduce yourself to target accounts
Showcase your product with a video demo
Personally follow up or check in with potential clients
How to Send Video Messages in LinkedIn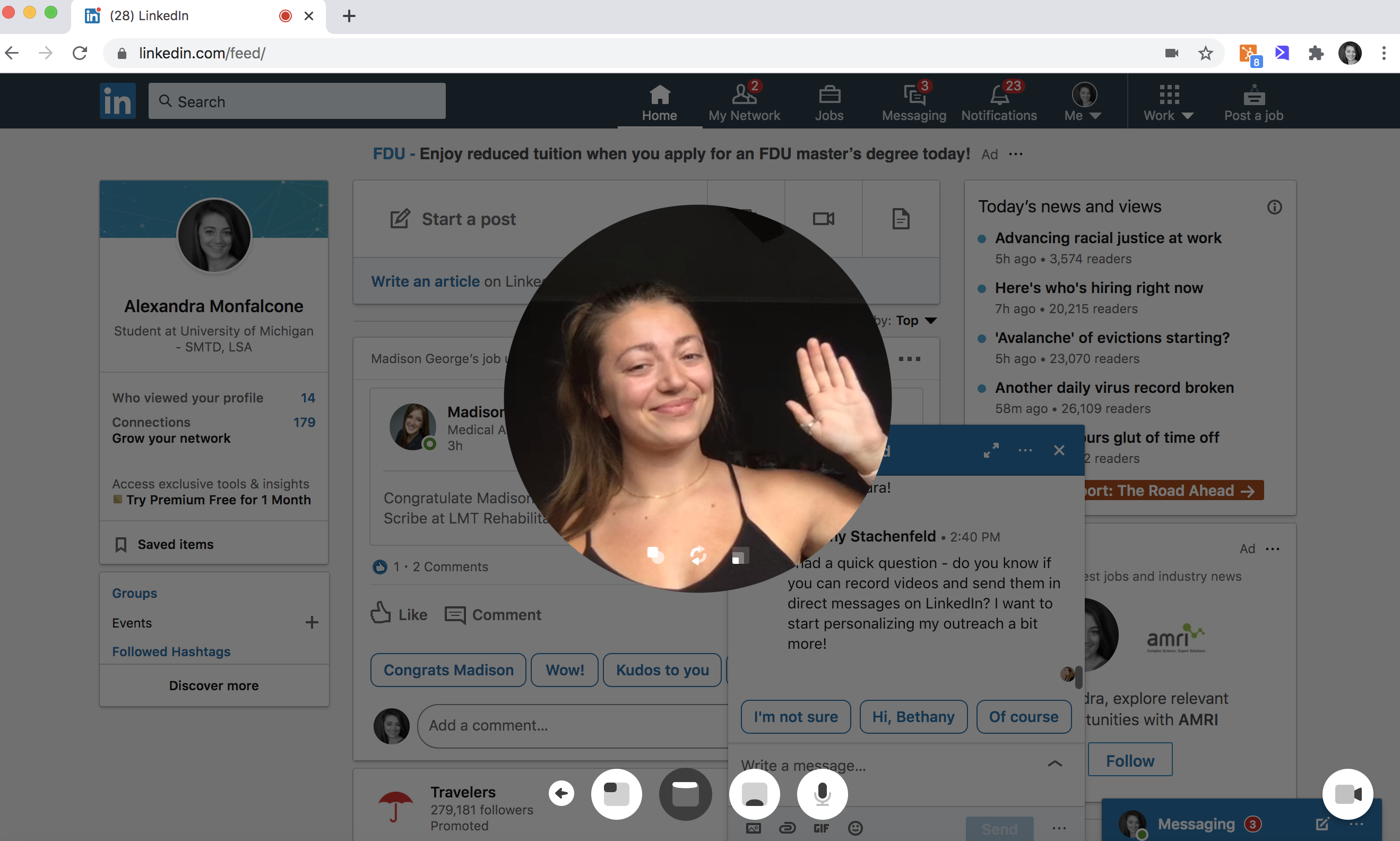 1. Record or upload a video
You can launch the Sendspark chrome extension from LinkedIn to record yourself, your screen, or both. Once you finish recording, the video will open in a new tab where you can customize it to your liking: add a title, a message, and a call to action.
2. Select "Share Video"
With your freshly recorded or uploaded video, you can now begin the process of exporting. Click on the purple "Share Video" button, which sits in the top right corner of the screen.
3. Edit your thumbnail for LinkedIn
After clicking "Share Video," you will be brought to a smaller window. Hover your cursor over the video preview and select "Edit Thumbnail." A thumbnail is a perfect way to advertise your video - much like an album cover advertises a song. Sendspark offers multiple features for you to edit your video thumbnail so that it accurately promotes the content of your video. Make sure that your thumbnail is engaging to your audience - something to catch a customer's eye!
4. Paste your video preview into LinkedIn
Now it's time to share your video on LinkedIn. From the "share" modal, select "copy url" to copy the link to your video. Open LinkedIn, and paste the video url into your message on LinkedIn. The URL will unfurl in LinkedIn, so your prospective customer will see both the link and the thumbnail of your video. Once you click send, your customer will be greeted with your newly personalized thumbnail. They simply won't be able to resist clicking on the video.
Send LinkedIn Video Messages with Sendspark
Sendspark is designed to make it easy to send video messages on LinkedIn. You can create a free account to start sending videos to customers on LinkedIn right away! It's simple. Get started with Sendspark, today!