In today's digital world, incorporating video in your sales strategy has become more important than ever. Not only does video offer a more efficient way to share information, but it also allows for a more personal touch and a chance for prospects to see the team behind the company.
Video can be particularly impactful for sales prospecting, where immediately showing value and personalization is especially important. In this blog post, we'll be sharing 8 effective video scripts that can be used to give your prospecting efforts an edge.
(👉 Check on this post to see some real life prospecting videos!)
Whether you're seeking to connect with potential clients, promote your product or service, or close more deals, these scripts are a great place to start. Each script will come with tips on what to feature on camera, an example script, and an explanation of why it works.
When you're ready to start recording, create a free Sendspark account to record, edit, and share videos with prospects & existing customers!
What Makes a Good Video Script?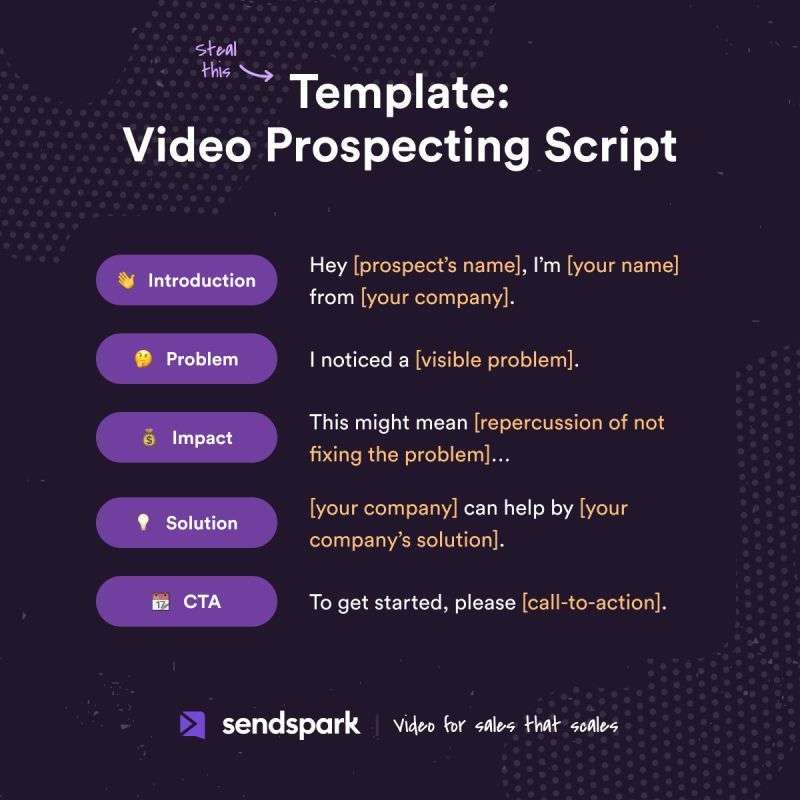 A good video for sales prospecting should have the following characteristics:
Clear and concise message: The video should clearly communicate the value proposition of the product or service being offered and how it can benefit the viewer.
Targeted audience: The video should be created with the specific target audience in mind, addressing their pain points and concerns.

Strong call-to-action:

The video should end with a clear and compelling call-to-action that encourages the viewer to take the next step in the sales process.
Professional production value: The video should be well-produced, with high-quality visuals and sound, to make a positive first impression and convey a professional image.

Personalization:

If possible, the video should be personalized to the viewer, such as using their name and company, to increase engagement and interest.
Relevancy: The video should be relevant to the viewer and solution to the specific problem they have.
Short and sweet: Keep the video short and to the point, as the attention span of viewers is limited. We recommend 30 seconds to 1 minute, unless you're really engaging!
8 Video Scripts for Sales Prospecting (with Examples)
1. Show you solve their problem
With this type of video, you want to visually point out a problem that they have. Record yourself in a camera bubble over their website. (You can achieve this using the "both" option when recording with Sendspark's chrome extension). For example, you could show that their website isn't responsive, old job postings are unfilled, blog is not properly optimized for SEO, or any other pain points that can be solved by your solution.
Video script
"Hey [Name], I noticed while visiting your website that [visible problem]. Are you finding it difficult to [accomplish X]? I'd love to show you how our platform [name] can help by [how your solution works] and you can [achieve results]. Schedule a demo with us now with the button below the video."
2. Pitch product-qualified leads
Want to book a call with qualified leads using the free version of your product? Record a quick video with helpful tips, and suggest that they book time with you to discuss further. This shows that you're not just in it for the sale – you can offer them valuable information to help them hit their goals.
Video script
"Hey [Name], while reviewing your [Your platform] account, I noticed some areas where you could improve performance and achieve better results. I'd love to have a quick conversation with you to discuss these opportunities in more detail. Please select a time that works for you on my calendar and let's schedule a call to optimize your performance together!"
3. Reach out to people who use software that integrates with yours
This is a great way to show relevance at scale. You can reach out to people who use related software to yours, and show them a video that's perfectly relevant to them. Meanwhile, you don't have to record an individual video for each person, you can send the same one out to everyone on the target list. It also makes your solution seem super low friction and easy to use. You're not reinventing the where, you're just making it spin better!
Video script:
"Hey [Name], I see that you're using [partner platform] for [use case]. I want to share with you an easy way to [get specific results]. With [your platform]'s integration with [partner platform], all you have to do is [how it works]. My goal is to help you [achieve results]. I'd love to show you how it works and give you a demo. Please select a time that works for you on my calendar!"
4. Introduce yourself as an expert in the industry
This is a good way to establish yourself as an expert – and also a relatable person. People buy from people, and the more you can establish your credibility and build rapport, the more likely you are to win over their trust and business. For the best results, use a high quality webcam or a virtual camera like Snap Camera to look polished and professional.
Video script
"Hi [Name], I understand that as a [industry] professional, you may be facing the challenge of [problem]. I have extensive experience in this field, having worked in the industry for [x] years, and have successfully helped many clients like yourself achieve [results] by implementing a [specific strategy] approach. I would love to have the opportunity to discuss how I can help you reach your goals and overcome this challenge. Please let me know if you're available for a call, and I'll be happy to schedule a time that works best for you. Thank you for your time and consideration."
5. Explain why you're better than a competitor
If someone uses a competitive solution, you can be confident that they have the problem you solve for! Now you just have to show why your solution is better that your competitor's. If you can get a list of your competitors' customers, you can reach out with a simple video script to win them over to your side.
Video script
Hi [Name], I noticed that you're using [competitor] to solve a problem. I wanted to introduce my solution [your company name]. We are similar to [competitor] in [these ways], but we go above and beyond for [competitive advantage]. I believe if you switch, you'll see [expected results]. I'll add a link to my calendar below so you can set up time to chat more!"
6. Reach out after seeing intent online
If you see someone show intent online by commenting on an influencer post or making their own social post, it might be the perfect time to reach out with a personalized video.
Video script
"Hey [Name], I noticed you posted about [topic]. [Your company] is actually designed to solve just that! It's easy to use, you just [quick explanation of how it works]. If you use it, you'll be able to see [expected results]. I'll put a link to my calendar below for you to schedule a demo."
7. Re-engage ghosts, closed lost or canceled accounts
Personalized video is a great way to re-reconnect with leads because you can show rather than tell. Record yourself over your screen to make this video the most effective. You can either record over a single page slide, or flip through your application for visuals.
Video script
"Hey [name], it's been awhile since we chatted. We've added [new features] to help you achieve [expected results]. Would love to catch up and discuss how we can work together to solve [problem you spoke about in the past]. Please feel free to book time on my calendar below!"
8. Ask your best customers for referrals
Make your customers WANT to help you by asking for their referrals in the best possible way. Send them a personalized video message to reassure them that this isn't a "spray and pray" message, and you generally value their referrals (and will treat their friends well!).
Video script
"Hey [Name], hope you're doing well, and things are still working great for you with [your platform]. I was wondering if you know anyone facing [their original problem]. I would love to help them get started and achieve similar results to you. Please let me know if you can make an introduction"
Final Thoughts on Video Scripts
In wrapping up, incorporating video into your sales prospecting efforts can be a game-changer for your business. The scripts provided in this post can serve as a foundation for creating your own videos, but it's essential to remember to personalize them to align with your brand, target audience, and unique selling points.
Don't be afraid to infuse your own story and personality into the scripts. As you begin to utilize video in your prospecting efforts, pay close attention to what resonates with your audience and what doesn't and continue to adjust and test your approach.
Lastly, make sure to include clear calls-to-action in your videos to guide potential customers on the next steps to take.
Start recording today and good luck on your prospecting journey, you got this!
Get Started with Video Prospecting!
Sendspark is the #1 video platform for sales teams to connect at scale. Get started for free to record personalized videos of yourself – and use "superpowers" to scale your outreach. You'll be able to book more meetings from outreach, communicate better, and build stronger relationships. Start recording today!