Recently, there has been a lot of buzz from sales influencers on LinkedIn against traditional check in emails.
The argument goes that sending simple check in emails like "how are things going?" do not provide the customer any value. You're placing the burden of checking in on the customer instead of yourself.
So what should you say instead?
This is our 3-step process for sending better customer check in emails.
How to Send Better Check In Emails
1. Identify your leading indicators of retention
Start by identifying your leading indicators of retention. These are the actions that your best customers – who end up paying you the most and sticking with you the longest – do early on when using your product.
For Slack this is sending 2,000 messages.
For Hubspot, this is using 5 out of the 25 platform features.
For Sendspark this is getting a meeting booked from a video.
Take a minute to list out your leading indicators of retention. You will likely have more than one:
There are some that are unique to each user based on their objectives (are they trying to schedule sales meetings, or collect customer feedback)?
And some general ones that apply to everyone (did they create an account? Install an application? Set up their brand styles or custom domain?)
Mark Robarge, co-founder and former Chief Revenue Officers of Hubspot writes a lot more on how to identify and measure leading indicators of retention here.
2. Check your stats to see how things are going.
Your customer shouldn't have to tell you how things are going… You should already know!
Ideally, you'll be able to view the leading indicators of retention that they have (or haven't performed) visible right in your CRM, so you can easily skim through their timeline and see if they've performed the events we're looking for.
If you don't have this set up already, I'd recommend using Segment to track user events and send them to your CRM or other analytics platforms.
Platforms like Fullstory and Smartlook can also be beneficial to give you a more holistic view of how customers are using your platform. They provide screen recordings of your users performing every action, so you can really dig in and understand what's working well and where users are getting lost throughout the customer experience.
Source: Smartlook
3. Send video check in emails
Instead of a generic "how are things going" email, make Sendspark video emails showing the #1 thing they can do to improve their experience. You can congratulate them for what they've already accomplished, and then suggest the next thing that they can do to truly be successful with your platform.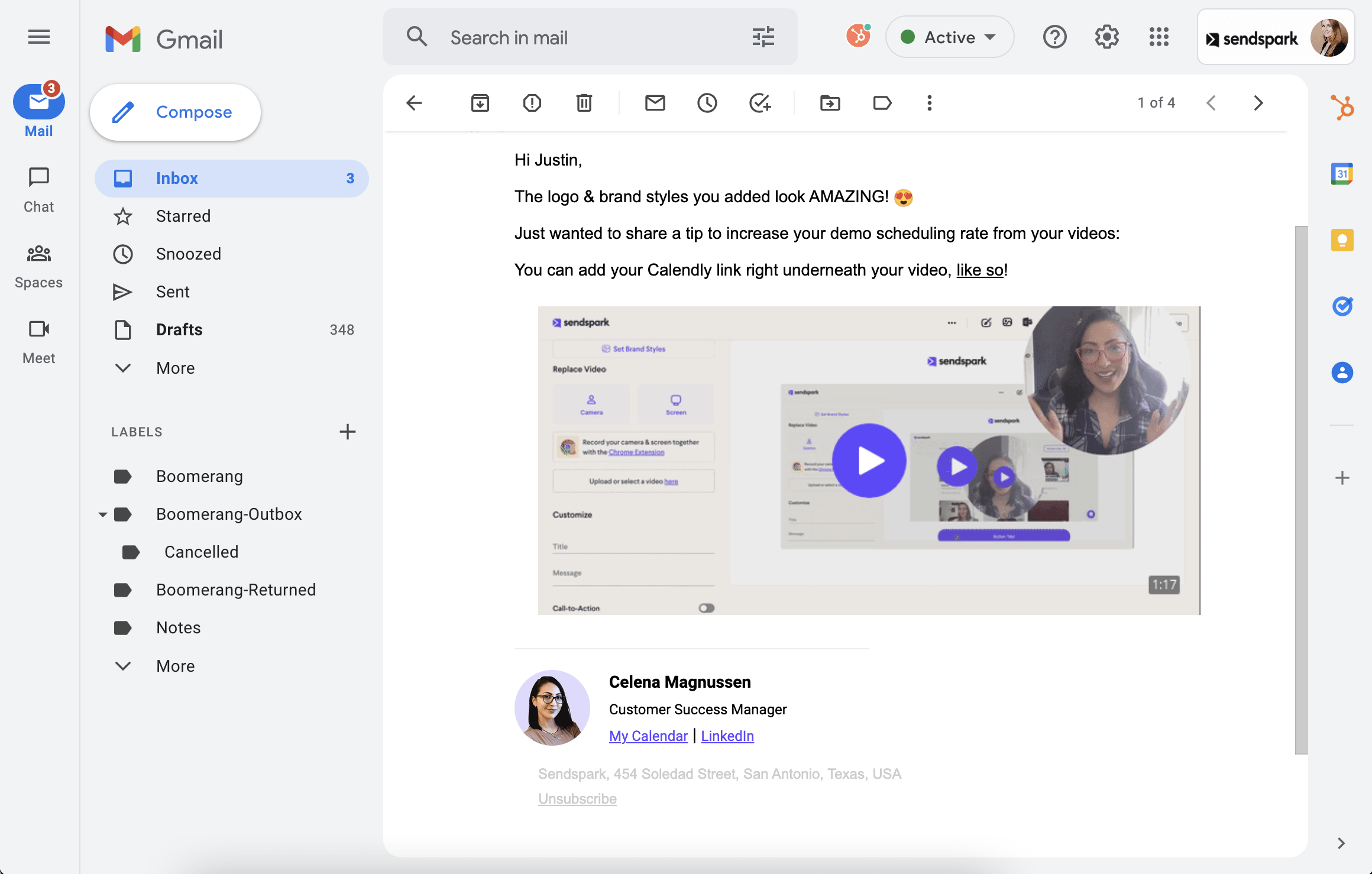 For example, we might send a video email to a new Sendspark customer who has set up some of their account styles but not used a call-to-action a video email showing how they could increase demo bookings with this feature.
Or if our customer has already sent out quite a few high performing videos, we might send them a video email showing them how they can create video templates or use hyper-personalized videos to send videos 10x faster.
Here's a quick template for sending video check in emails
Use Sendspark to record yourself and your screen, and use this script:
Congratulate them on what they've already done. Not only is it nice for them to hear kind words, it makes it clear that you've done your research and aren't wasting their time.
Get to the value right away. Say "I have a suggestion that can help you achieve x results," so they know why this is important
SHOW them your recommendation. Record yourself doing exactly what they need to do to accomplish this result, so they have all of the information they need to do it for themselves. Make sure to have all of the relevant screens open on your computer before you start recording, so you can do this part quickly.
Add a call-to-action under your video. Direct them to where they need to go to take this action themselves.
Offer to help if needed. You're not just meeting to "check in" or upsell them, but helping them achieve this specific outcome.
4. Bonus: automate your most common emails
Once you start finding that you're repeating yourself, you can add videos to automation to save yourself time. There are several ways to do this:
Semi-automation – you can save your most common video emails as templates in your email sending platform, so if you need to send it to someone, you can send an existing video instead of recording a new one.
Complete-automation – you can automatically send video emails based on the actions your clients have or have not taken.
We always recommend starting by sending videos personally so you can iterate and improve your messaging, and then adding automation only after you find that you're constantly repeating yourself.
Start Sending Video Emails Today!
Sendspark makes it ridiculously easy to record and send video emails in any platform – Hubspot, Zendesk, Intercom, Gmail, Outlook and more! If you're not already using Sendspark, you can get started with a free plan here!