Using video with LinkedIn prospecting is a silver bullet. With video, you are able to stand out from the noise, show you're a human (not a bot! 🤖), and get your message across better. Video can increase opens, replies and meetings booked on LinkedIn by 300% and more!
Before getting started, you might have some questions on how to send videos in LinkedIn, and whether or not you can embed videos in LinkedIn InMail. Here's what you need to know about using video on LinkedIn:
1. Can you send videos on LinkedIn InMail?
Yes! You can send a video on LinkedIn InMail by pasting the link to a Sendspark video into a LinkedIn message. LinkedIn will automatically grab the video from the URL to show to your prospect.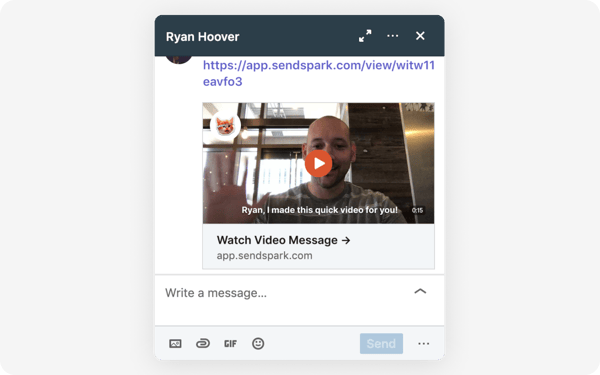 Your prospect can click this video to watch it on a custom video landing page, where they can also schedule a time to meet with you.
2. Can you embed video in linkedin messages?
Yes! You can embed videos in LinkedIn messages from the LinkedIn mobile app. With LinkedIn's mobile app, you can record or upload a video so that it plays right within the message.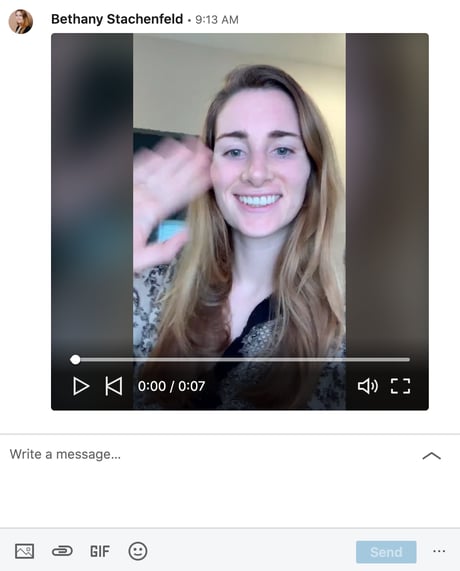 3. What is the best way to send a LinkedIn video message?
There is no "best way" to send a video through LinkedIn. When deciding between using a video url or embedded video file, here are a few things to consider:
The device you are using: If you're using a computer, send video URLs will be faster. If you're using a mobile device, you can use the LinkedIn mobile app to embed videos.
The call-to-action: If the call-to-action is to schedule a meeting, a video landing page with a call-to-action is more seamless. If the call to action is to reply, an embedded video is more seamless.
Size of your list: If you're sending similar videos to a lot of people using video links will be much faster. If you're only sending a video to a few people, recording and sharing videos through the LinkedIn mobile app will be feasible.
Insight on engagement: You will be able to get more detailed tracking using the video links and landing pages.
Start Sending Videos on LinkedIn!
Get started with Sendspark to make personalized video emails and send videos on LinkedIn. Whether you want to send a video link or embed the video file directly, Sendspark has all you need to record, share, and track videos on LinkedIn. Learn more about how to send a video on LinkedIn with Sendspark here.