Creating personalized videos for your customers is the best way to make meaningful connections. Follow this tutorial to learn a simple way to make professional-looking videos for your customers, using Sendspark.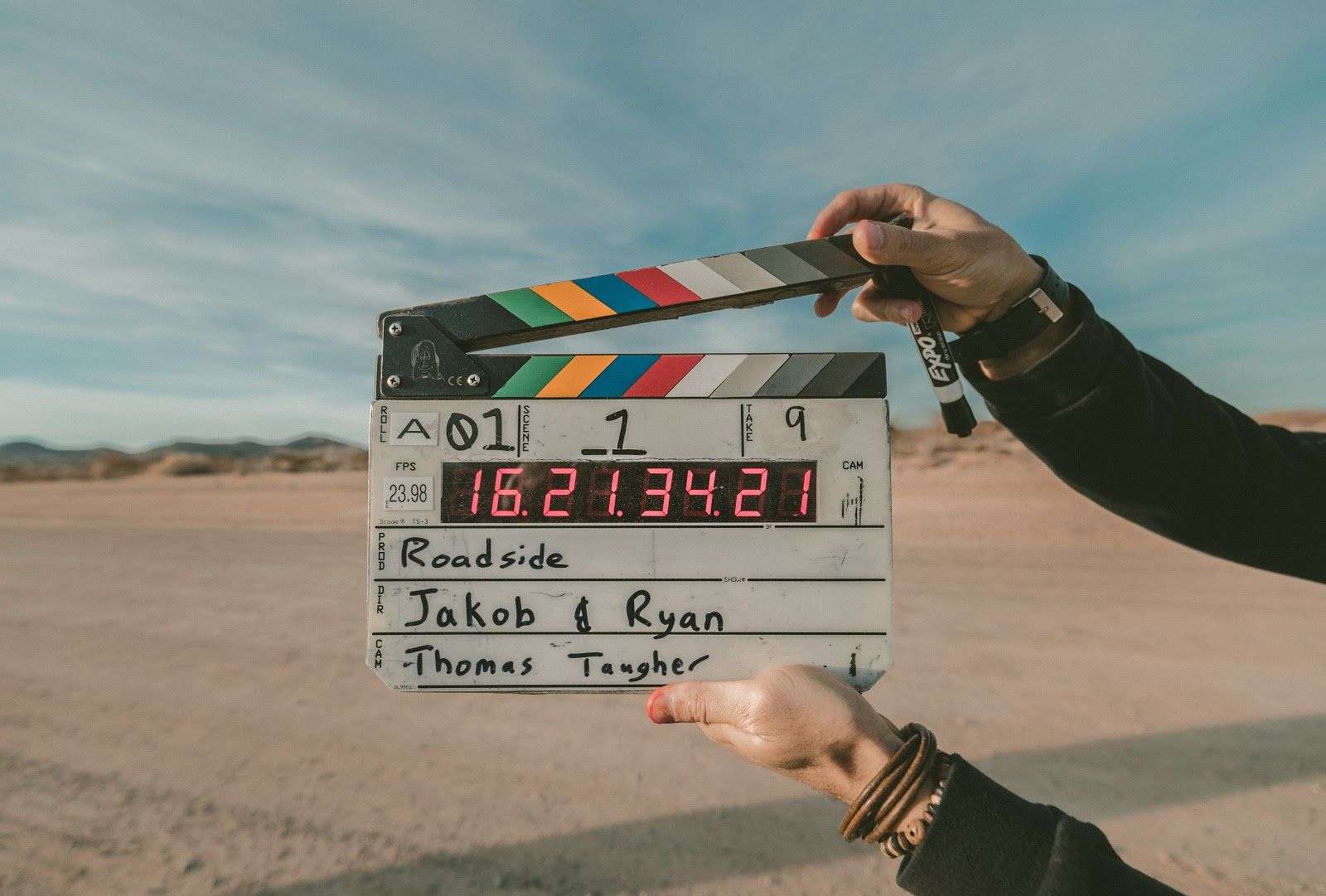 If you want to connect with a customer instantly, video is the way to go. It can be quite hard to catch a customer's eye when competing for a click in an inbox. Text-only messages lack the ability to create humanized connections. Video is a game changer.
However, you can't just send any old video to your valued customer. A video that represents your business should have a professional look. You want to send a video that is both appealing to a customer and representative of your business.
Sendspark provides the tools you need to make the perfect professional-looking video. You can record, upload, edit, and share business videos with your customers on multiple channels. With Sendspark you can prove to your customers that you are a real human being, engaging in lively and inviting conversations.
Why Make Videos for Customers?
Reaching out to customers is an integral aspect of any successful business. Modern day correspondence is becoming increasingly remote, especially due to significant events like the COVID-19 pandemic.
Video is a perfect way to maintain your humanity and individuality when speaking to customers, even when restricted to the confines of your own home. It allows you to connect with your customers in a personalized way.
✨I send welcome videos like this one to new users to build a personal relationship early on in their journey.
Incorporating video into your marketing and outreach models increases engagement and conversions. In fact, video can be credited with aiding in generating leads by 83% of video marketers. Similarly, positive ROI was declared a result of employing video with 88% of video marketers.
A good business video, whether displayed on your website, posted on social media, or sent directly, sparks a conversation with a customer. It encourages them to pursue humanized correspondence with your business.
When to Use Videos For Customers
Reaching out to your customers with video allows you to humanize yourself and your business. Utilizing video with customers can be beneficial in any of the following examples:
Personal welcome videos
Marketing newsletters - this can include a personal video from the CEO
Product announcements - show your product in action!
Activation email campaigns
Sales outreach
Custom check-ins and follow-ups - see how your customers are doing!
Customer support
💡The same rules apply for internal videos. Try these techniques to send professional-looking videos to your colleagues for team updates or standups.
How to Make a Business Video
Approaching the idea of making a business video for customers may seem slightly intimidating at first. Especially if you have no experience with video, it is difficult to figure out where to start! Fortunately, Sendspark makes it quite easy. If you follow this straightforward guide, you'll be making professional-looking videos for your customers in no time.
1. Organize your thoughts
Before recording your video, it is helpful to figure out what exactly you plan to say. You don't want to turn on the camera and find yourself babbling for 10 minutes, or derailing into an unrelated topic.
✍️Set a goal for this video:
What is the purpose for this recording?
How do you plan to communicate this purpose?
It can be helpful to organize your thoughts and key points in an outline - this way you have a sort of road map to follow.
However, the suggestion to write an entire script for your video is outdated and unhelpful. This video simulates a conversation with a real person.
We don't read scripts when we talk! Set your goal and write your outline - avoid the script.
2. Record your video
Now is the time to record your video!
When setting up your recording device, whether it be a computer, phone, or camera, make sure that you have a source of light. Your customers want to see you! Having a light source, like a window, in front of you does a great job lighting your face.
It is also important to make sure you are positioned properly on the screen. Sendspark's record feature displays exactly how you'll be framed while you are recording. Try and center yourself within the display image.
While you are recording your video, try and remember that this is a conversation with a person. You don't want to sound like a robot - if a customer wants Siri to read their emails for them, they can do that already.
Even if you're speaking to more than one person, remember that they will each open the video individually. Record your video as if you are just speaking to one person. It creates a more intimate conversation with your customer. The beauty of video is that it allows you to humanize yourself with your customers. Allow your message to flow naturally and don't get flustered at a stutter or a pause. You're not striving for perfection here!
Try not to record for too long. Human attention spans are rather short-lived. After the duration of about 30 seconds, around 33% of people will stop watching a video. After 60 seconds, around 45% of viewers will no longer be watching. At two minutes, 60% of people tap out. On the positive side, the videos that tend to garner the most engagement average a length of two minutes or less. Keep it short and sweet!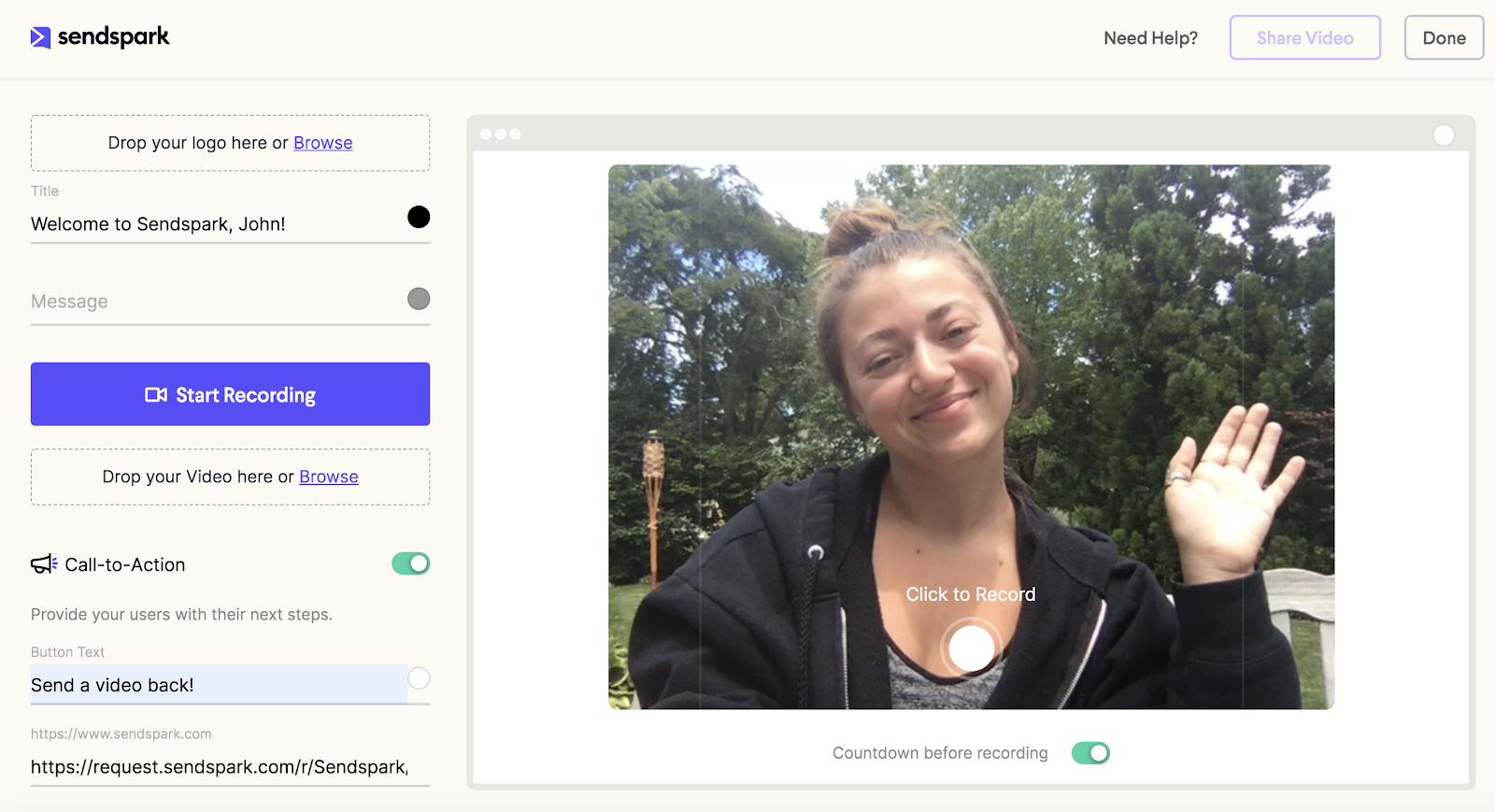 3. Edit and optimize your video
Within the Sendspark video recording and uploading page, there are many features that you can use to your advantage.
At the top left of the screen there is a dotted-lined box that provides the option to upload your company logo. This feature allows you to add branding to your video, making it appear professional. Underneath this, you can give your video a title and write a message to your customer. The title alerts your customer to the theme of your video. The right title will catch their attention, beckoning their cursor to open your video and click play.
At the bottom left of the page, you'll find the "Call to Action" switch. Click the switch, and type out a short call to action. This will encourage engagement with your customers. You can attach a request video link here and ask them to send a video back.
Once you are done recording or uploading your video in Sendspark, you should edit your video thumbnail. This is the preview image that your customer will see when you send your video. It needs to look good, or they won't bother watching!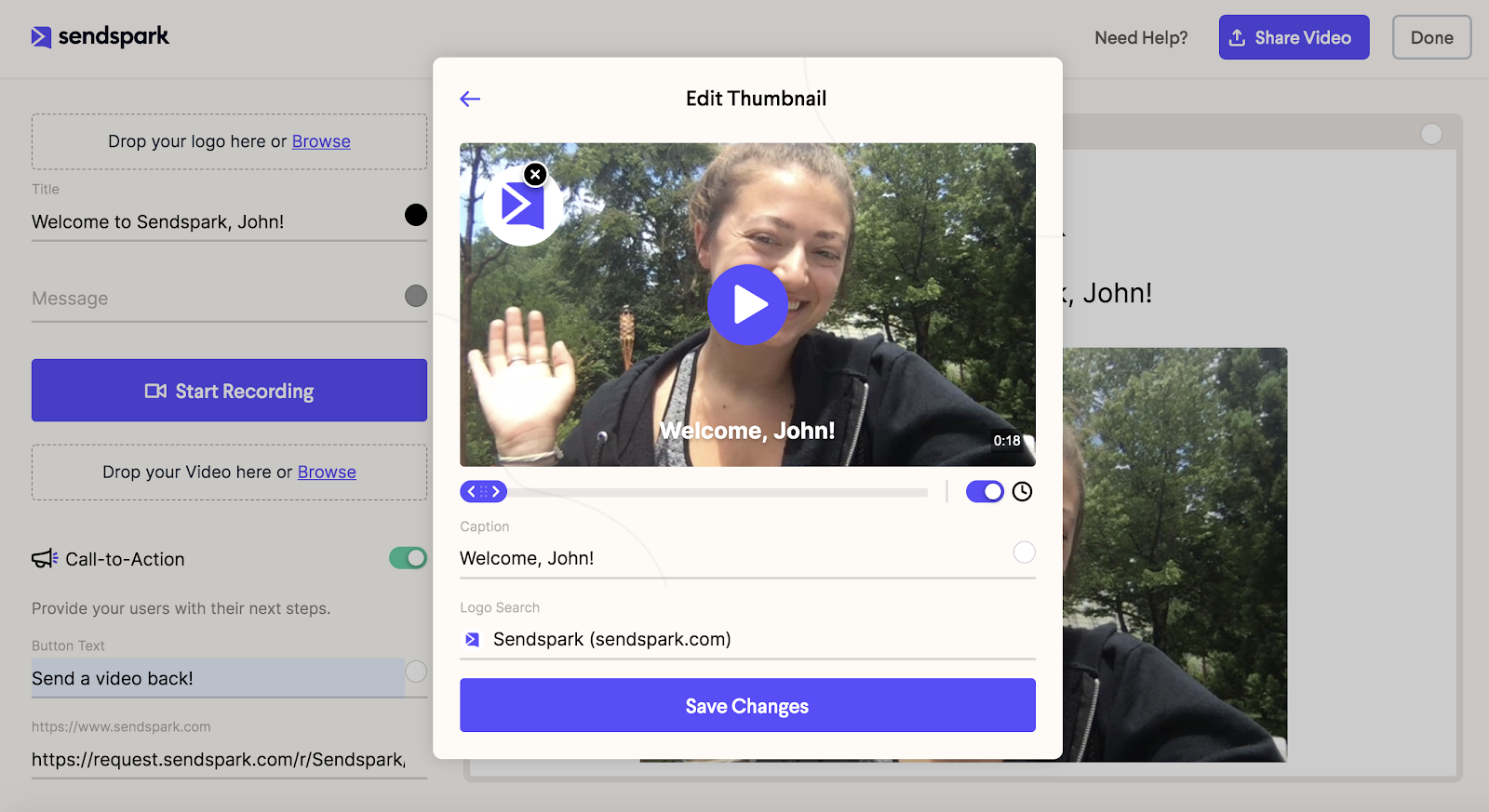 4. Share your work
You've planned out your video. You've recorded your video. You've edited your video thumbnail so that it looks clean and enticing, and you've given it an inviting title to match. Now it's time to share your video!
With Sendspark, you can share your video in an email by clicking the purple "Share Video" button. This will open a smaller window, where you can select "Copy Video Preview for Email." Once you open a new email, simply paste in your video preview, and your video is ready to send.
You can also embed your video into a website or blog. Adding a video to your website can be exceptionally useful, as it makes your site 53 times more likely to make the front page of Google. After clicking "Share Video," select the "Copy Embed Code" button at the top of the window. Paste the video embed code wherever your please within your website or blog post.
By selecting the "Copy URL" button in the "Share Video" window, you can show your video to customers on numerous social platforms. You can send a video in LinkedIn or send a video in Slack if you want to reach out via direct message. You can also post the video file on social media platforms such as Facebook, Twitter, and LinkedIn.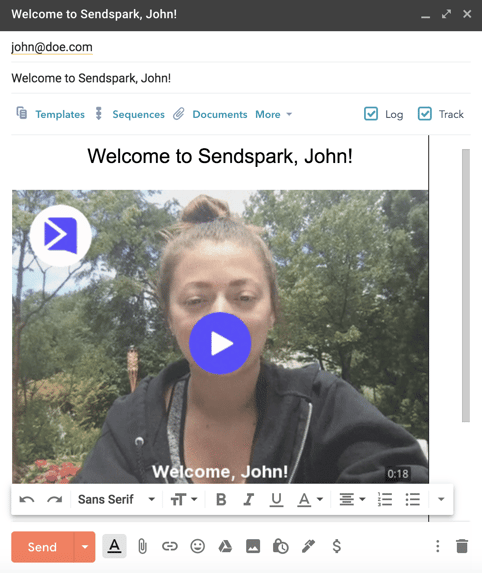 5. Rinse and repeat
Learn from the engagement on existing videos to improve future videos. In your Sendspark dashboard, you can keep track of your video engagement metrics. This will inform you how many visits, plays, and clicks each of your videos will receive. Make more videos, and monitor which ones garner the most engagement.
Start Recording With Sendspark
Making a professional-looking business video for customers is quite simple with the help of Sendspark. You can record, share and track your customer-facing videos with ease. Sign up for Sendspark and start making videos for your customers today!