Email is one of the best ways to reach customers. For years, stats have shown that emails have the best ROI of any marketing channel.
However, with the average professional receiving 200+ emails per day, it's ridiculously hard to cut through the noise to connect with customers in email.
Why send personalized video emails?
Personalized video emails work because they're different. When 200 emails look the same, the personalized video email stands apart. It doesn't match the other templated emails that we're used to seeing in our inbox.
Statistics have shown personalized video emails garner 3x the increase in email engagement, 8x the email replies and nearly 2x revenue as usual text and image email messages.
And it's easy to see why: personalized video emails bring a whole new dimension. They're personal, they're engaging, and they're fun. And they're truly authentic in a way that mimics real, in-person interactions.
Especially now that 50%+ of the workforce is working from home, it's more important than ever to slip in personal communication where we can.
Sendspark's platform makes it easy to create personalized video emails. This blog post will walk through how to create and share personalized video emails with Sendspark - in just 5 minutes!
How to make personalized video emails in 4 steps
1. Record or upload your video
Start by creating your video. You can either create one video for one specific prospect or customer, or a more general video to use for a specific campaign (targeted outreach, automated onboarding emails, etc).
As you record your video, keep in mind these tips to make a super engaging, effective video:
👋 Make it relevant. It is not as important to say someone's name out loud as it is to keep your video relevant to your viewer. Start by touching on a problem, or a specific experience, you know your viewer can relate to.
🩳 Keep your video short. Between 25-45 seconds in video length is perfect. This video should spark a conversion. You don't need to boil the ocean here when you have a full conversation coming later, just pique interest.
😁 Smile! If nothing else, this video is a spark to delight your customer in the middle of their day. Be sure to smile and add some extra positive energy.
Read more tips for recording great videos of yourself or check out some video email examples for inspiration.
2. Personalize the video with your customer's name
When you send the video out by email, it's important that your customer knows this is a personalized video made for them, so they click to play the video.
Adding their name to the video thumbnail is a great way to show that this video has been made for them!
Sendspark provides an editor, so you can just write their name and a quick caption, like "Jess, I made you a video."
Or, if you're sending videos in bulk, you can use a placeholder variable that will automatically update for your viewer when sent through any of our email platform integrations.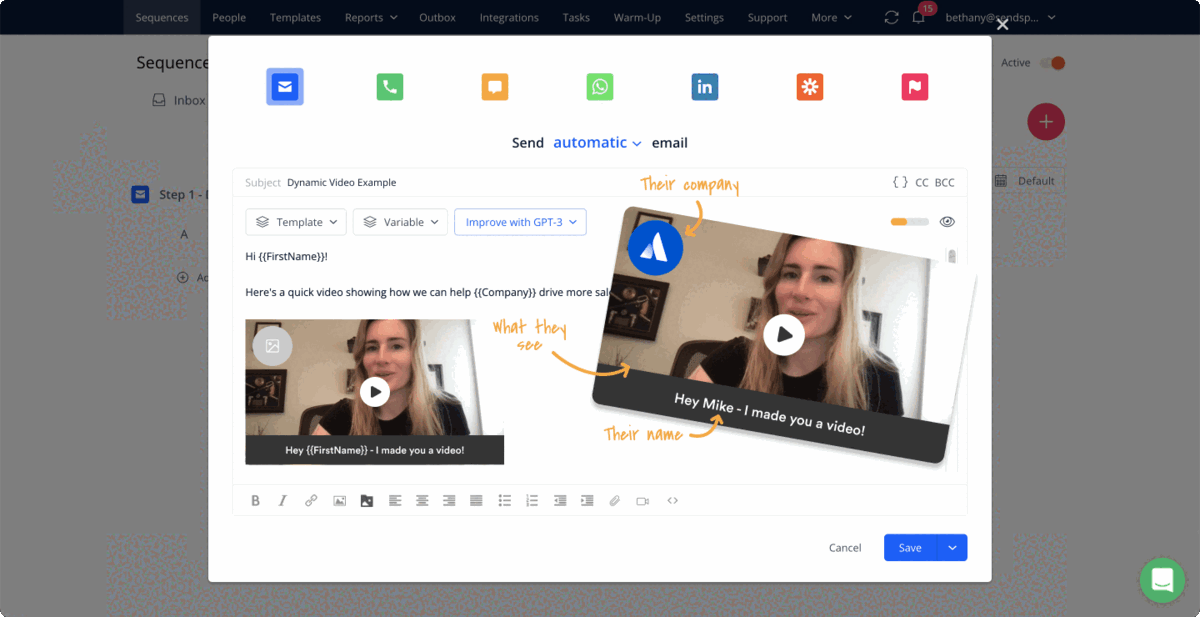 3. Personalized the video with your Customer's Logo
Adding their company logo is the cherry on top to create a polished video. The logo shows that this video has been sent for a professional context, and is relevant to them right now while they're working.
Sendspark offers a logo search feature, so you can just search for their company logo based on their website domain.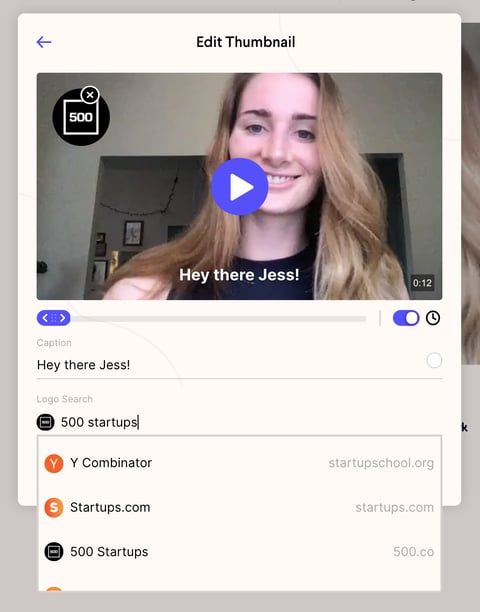 When used together, personalizing the video with your prospect's name and logo garners well over a 50% click-through rate!
4. Send video email
To send out the personalized video email, simply click "share" and then click "copy linked GIF."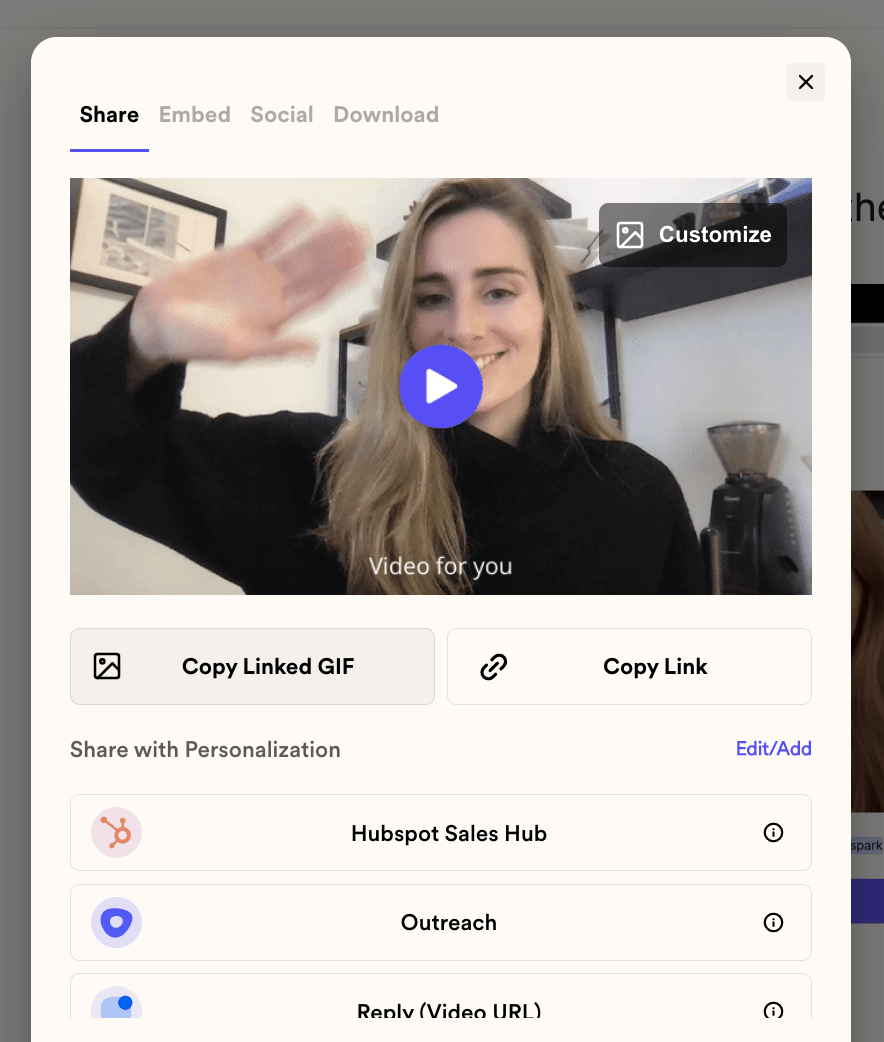 Now, you can "paste" into an email draft in Gmail, Outlook, or your email marketing platform of choice. Use some of these great video email subject lines to make sure your email gets opened.
The video thumbnail that you just personalized will show up for your recipient in their inbox, and then they can click to watch the full video on a landing page.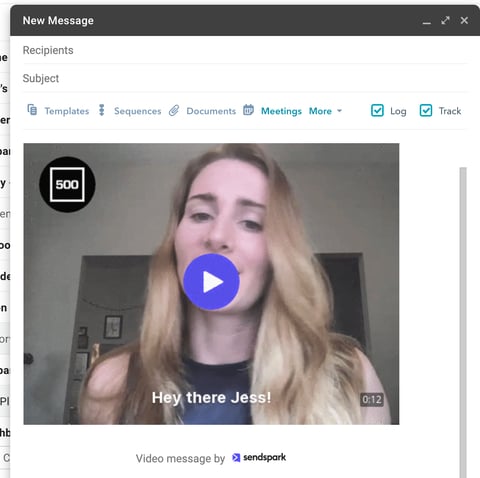 (Note, if you prefer viewers to be able to watch the video in-line, see more about how you embed the video in the email).
You're also not restricted to email! Read more about send the video through LinkedIn or send the video through Slack)
Create personalized video emails with Sendspark
The future is video, and the future is here. Get started with Sendspark for free to start personalizing your customer journey with video today.